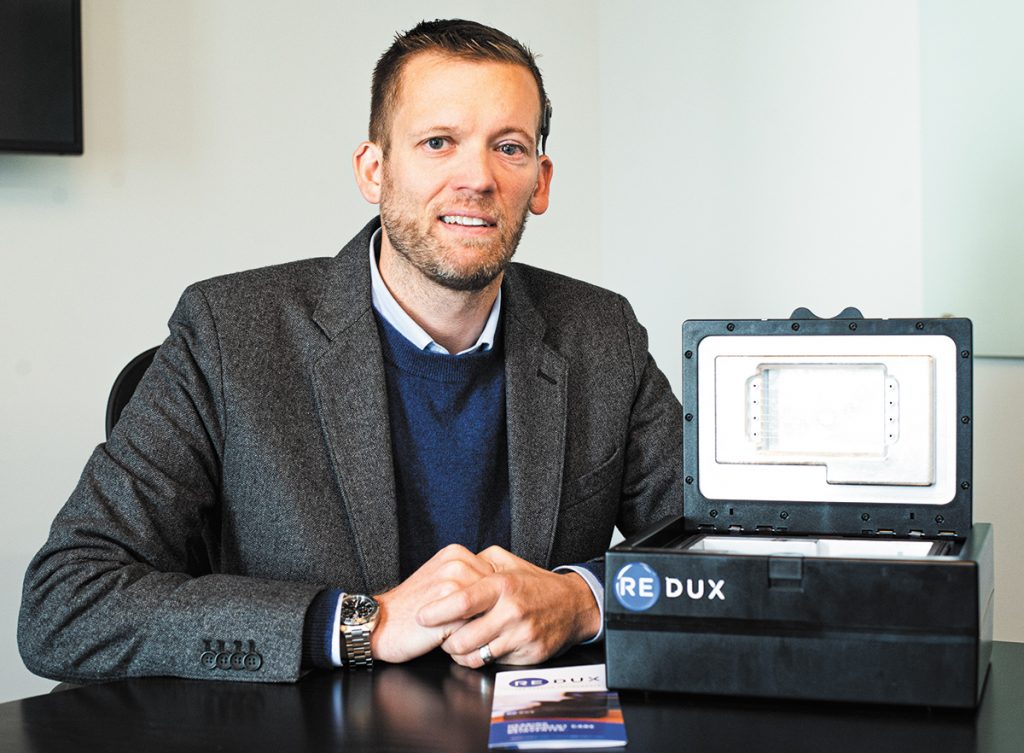 When Matt Hay lost his hearing—and then his job—the father of three worried he might have serious trouble finding work.
But the 42-year-old Westfield resident soon discovered that what he thought was going to be his biggest liability was actually a huge asset.
Hay has an electrode sewn to his brain stem that conveys sound coming through a tiny device on the side of his head. But he still hears with difficulty, unable to talk on the phone and differentiate voices of different people without looking at them.
Hay, who has business and MBA degrees from Indiana University, became a sales director at Indianapolis-based Redux—which makes a device that dries and restores hearing aids—and said he finds his new job extremely gratifying.
How did you lose your hearing?
I had always had poor hearing, and in my sophomore year in college, I totally lost my hearing in one ear. I went to an audiologist … and found out I had benign tumors on both of my hearing nerves. I was diagnosed with neurofibromatosis type 2, or NF2. It affects one in 40,000 people. NF2 causes tumors to grow along nerve sheaths. I finally lost my hearing totally on both sides in my late 20s. Nothing in my ear works, so traditional hearing aids or cochlear implants don't help.
What went through your mind when you realized you would be deaf?
In some ways, it was waiting for a steam roller to arrive. I didn't have a lot of resources and it was scary not knowing what the next steps were going to be. That moment of fear and isolation prompted me to get involved … to help ensure other people didn't endure those same feelings.
In 2002, I had a tumor on my spine. They removed it, but when I woke up I couldn't walk. It took me a full year to recover and become fully mobile. That year was me just trying to get out of bed and put my shoes on. That's what prompted me to get into endurance events to help various organizations. In 2011, I finished a full Iron Man triathlon for the Children's Tumor Foundation in New York. Due to balance issues, I had to ride a heavy three-wheeled bicycle.
How has this impacted your career?
I was fortunately very young when I got to a senior account level [sales] position. As my hearing started to be affected, I noticed I couldn't hear a voicemail or listen to a phone in a car. It got very frustrating. I worried about being honest about my hearing loss and how that might affect my career.
Any difficulty finding work due to your hearing loss?
News America Marketing, where I had worked since 1999, downsized 18 months ago, and I lost my job. My company was generous to me in a lot of ways. But for the first time, I was asking, "How do I interview with this hearing loss?"
How did you end up at Redux?
I decided if helping people with hearing loss is a priority … I needed to focus on an opportunity to work with [hearing care professionals] that have had such a positive impact on my life. Redux at the time was expanding to apply their technology to use on hearing aids. They were looking for someone with sales, marketing and audiology experience. It was almost too good to be true. I went in … and an hour later, I walked out—this is in April—with a handshake deal to work there.•
Please enable JavaScript to view this content.