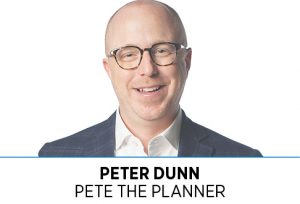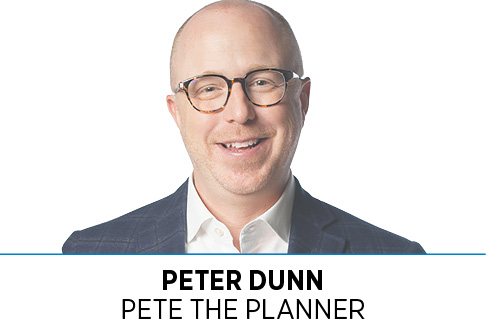 Dear Pete,
I'm struggling to get a straight answer regarding life insurance. A life insurance salesperson recently told me I need $2.5 million of coverage, and my financial adviser thinks I need closer to $2 million of coverage. I currently have $250,000 through work, which is roughly one times my salary. A colleague of mine has a similar situation as me with two young kids, a big mortgage and a working spouse, and he has $500,000. He says that's probably enough for me, too. The insurance guy is pretty persistent, but I think he's more focused on commission than he is on what I need. In case you need this for answering the question, both my wife and I are 35 years old, and our household income is $360,000.
—Craig, Zionsville
Craig, you are woefully underinsured. You are so underinsured that, in the event of your untimely death, your wife wouldn't have the proper environment to mourn your loss because she'd be busy picking up the pieces of a shattered financial life. And I have nothing to sell you.
I'll dig deep into the technical aspects of your question here in a moment, but I can't pass on the opportunity to level-set the debate you're involved with. On one side, you have your financial adviser (quite possibly a fiduciary) and a life insurance professional. On the other side of your debate, you have two underinsured men. One of those underinsured men is trying to convince the other underinsured man to become a little less underinsured.
I get it. Buying life insurance is not fun. It requires you to formally acknowledge your mortality, relinquish a few vials of blood, and part with dozens of dollars each month. But life insurance is the foundation of almost every financial plan.
There are two routes I could take with you. We could go the love route, or we could go the technical route. I've sadly tired of trying to convince someone that purchasing life insurance is an act of love. Don't get me wrong, I firmly believe purchasing life insurance to ensure a financial future for your survivors to be an incredibly selfless act; however, pulling heartstrings doesn't have a good win/loss record. Rarely does a person have the epiphany I was hoping for by turning on iconic hairband Whitesnake and belting out "Is This Love" at the top of their underinsured lungs.
Consider your family's major financial goals. While I don't know for sure, I can assume they include sending your children to college and retiring at some point. What makes those goals remotely feasible? Your income. When you die, your income dies, then your goals die. You can prevent your goals from dying.
It always feels a little bit strange to specifically tell someone what to do differently with their income. Craig, with $350,000 of annual household income, you should accomplish the following tasks with little-to-no resistance. Max out both your and your wife's retirement accounts. Properly fund 529 college savings plans for your children. And for the love of good financial planning, if not for your wife and kids, secure the proper amount of life insurance.
You likely need $2 million to $2.5 million of life insurance. There are a few different ways to arrive at this number. From an income-replacement standpoint, you need to try to replace your current take-home pay. If you max out your 401(k), your after-tax income is about $10,000 to $12,000 a month. If your wife invested your $2.5 million death benefit in an income-producing asset and took roughly 4% withdraws, she'd generate about $8,500 a month. This calculation alone justifies increasing your life insurance. Ideally, the $2.5 million of principal would remain relatively intact and could generate income in perpetuity.
I'm not sure why you're so reluctant to do the right thing, and, yes, I used my bully pulpit a bit more aggressively than usual. But you simply must step up. With all due respect to the personal circumstances that led to each of these far-too-popular scenarios, your family shouldn't have to rely on a GoFundMe campaign to take care of what you can easily take care of right now.
Do the right thing, Craig.•
__________
Dunn is CEO of Your Money Line powered by Pete the Planner, an employee-benefit organization focused on solving employees' financial challenges.
Please enable JavaScript to view this content.