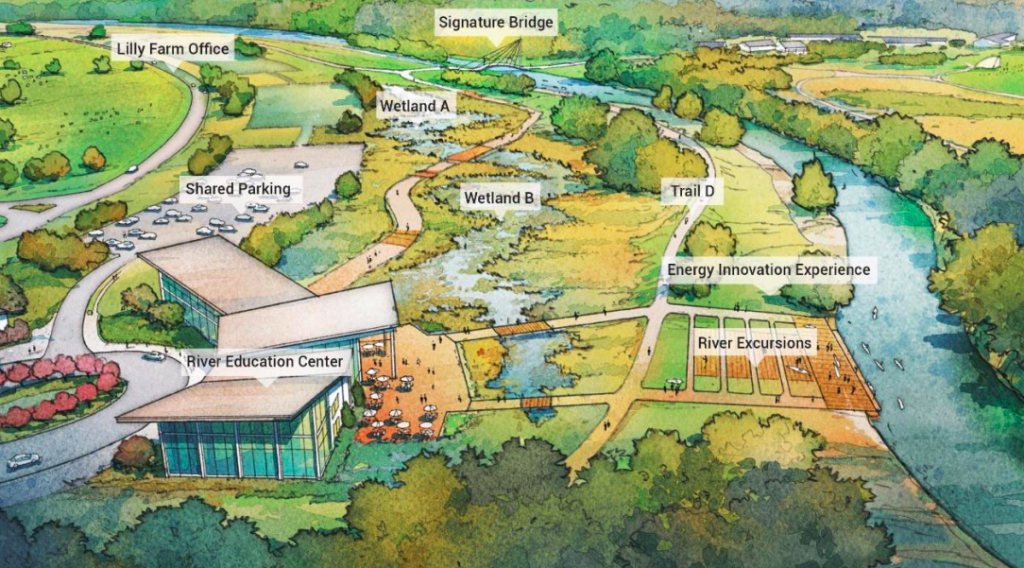 A planned river education center at Conner Prairie is on its way to becoming the first of several new public-private partnerships built on the living-history museum's property west of the White River.
Visit Hamilton County launched a feasibility study Thursday to determine the best way to align the county's River Road Park, Carmel's River Heritage Park and Conner Prairie as a river-centric district. Norman Burns, Conner Prairie's president and CEO, said his organization's planned river education center could serve as the district's anchor.
"We have 1,046 acres and 3.3 miles of the river; while we have some abilities to program the space, we don't have all the content expertise," Burns said. "We're trying to open our properties in waves, for educational purposes."
Burns said it's too early in the process to say how much money it will take or how much of the not-for-profit's land will be needed to develop a river ecology center, kayak and canoe ramps, a potential farm-to-table restaurant, a trail system, multiple wetlands or a pedestrian bridge connecting Conner Prairie's properties in Fishers and Carmel.
Currently, Conner Prairie's available land outside of the floodplain is limited. Pending the results of the feasibility studies, the project could be built between the White River and River Road to connect with the White River Greenway's public trail system.
Burns said Conner Prairie has spent more than a quarter-million dollars on its master plan, which includes conceptual plans for the nature center to open in partnership with conservation not-for-profits or neighboring local governments—namely Carmel and Fishers.
"This is kind of an evolution of our master plan that goes back to May of 2018," Burns said. "We're just now getting to this point where we've had conversations with these partners to move it forward."
Visit Hamilton County's contract with Indianapolis-based landscape architect MKSK should identify which partners and programs are appropriate for the education center by late spring, before another feasibility study is launched to determine the necessary scale and financials.
In addition to the education center being Conner Prairie's first programming on the west side of the river, the project represents a first push toward achieving the goals of the White River Vision Plan, said Visit Hamilton County President Brenda Myers.
"I think there will be huge demand," Myers said. "We believe passionately that this will make people care about the river. I believe we will raise awareness by elevating the profile of this project."
Myers said Visit Hamilton County likely will consider additional funding for a second, more detailed feasibility study as part of its 2021 budget.
Michael Klitzing, director of Carmel Clay Parks and Recreation, said Carmel residents have wanted a nature education center for years.
"This topic of a river education center kept bubbling up and, really, it made a lot of sense," Klitzing said.
The parks department's budget has a line dedicated to an education center, he said, so it's likely Carmel Clay Parks and Recreation will look to contribute to the project at Conner Prairie rather than build a redundant facility.
"Each of us are wanting to in our own ways embrace the river and capitalize on the assets we've got on the river," Klitzing said. "Almost since the inception of Indianapolis, we've turned our back on the river. We are, like many other communities, realizing now that it's a significant natural resource for us."
Please enable JavaScript to view this content.