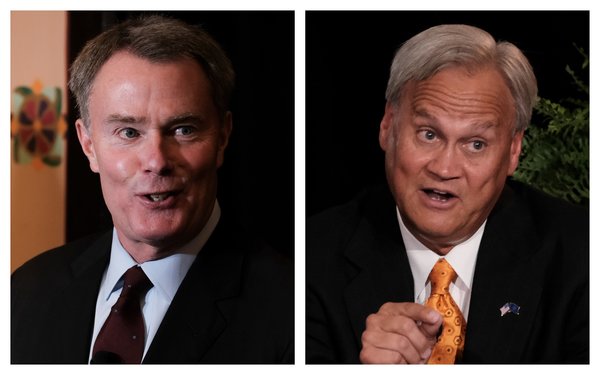 A poll released Friday morning has incumbent Mayor Joe Hogsett, a Democrat, leading his Republican challenger Jim Merritt by 34 points, just weeks before the Nov. 5 election.
In the poll—conducted by Mason Strategies for political site Indy Politics—57% of respondents say they plan to vote for Hogsett, while only 23% say they would vote for Merritt, a state senator. Libertarian candidate Doug McNaughton got 4% of voter support.
About 15% of those surveyed voters remain undecided.
The poll surveyed 350 likely voters in Marion County by phone from Oct. 14-17. It has a margin of error of plus or minus 5.2 percentage points.
Hogsett's support is up slightly and Merritt's is down slightly compared with results from an Indy Politics poll released in August. That survey showed 55% of voters supporting Hogsett and 27% supporting Merritt. McNaughton also had 4% in that poll.
Still, Hogsett's campaign issued a statement saying that "over the past 10 months, Jim Merritt has met with residents in every corner of this county. It is clear his message is resonating with voters."
The campaign also said there is still time to connect with voters. "There are still doors to knock and people to meet. With the recent increase in campaign contributions, we are continuing to further our message and reach as many people as possible.:
Hogsett also maintains a high approval rating in the most rent survey of 72%, with 57% of those surveyed saying things in Indianapolis are headed in the right direction. About 28% of respondents said the city is on the wrong track, and 19% don't approve of Hogsett.
One of the top issues in the mayoral race has been crime, with Merritt criticizing Hogsett for not doing enough to improve public safety and Hogsett defending his record. The poll results show that 40% of voters believe the city is less safe than it was a year ago, while 28% say it is more safe and 21% say it's about the same.
Public transit has also come up during the campaign, and the poll asked voters how they feel about the Red Line, the bus rapid transit line that launched in September. The opinions were split—35% of voters say they have a favorable view of it, while 29% have an unfavorable view and 29% have no opinion.
The poll also asked a few general questions about the Indianapolis City-County Council races and found that 56% of voters would support the Democratic candidate while 27% would support the Republican candidate.
Democrats currently control the 25-seat council with a 14-11 majority. A dozen Democrats are seeking re-election. According to the poll, 38% of voters say they would re-elect their councilor, while 25% say their councilor should be replaced. However, 60% of respondents said say are not familiar with the councilor who represents their district.
The City-County Council has an approval rating of 55%.
The survey sample was 45% Democrats, 21% Republicans and 28% who identified as independents.
Please enable JavaScript to view this content.