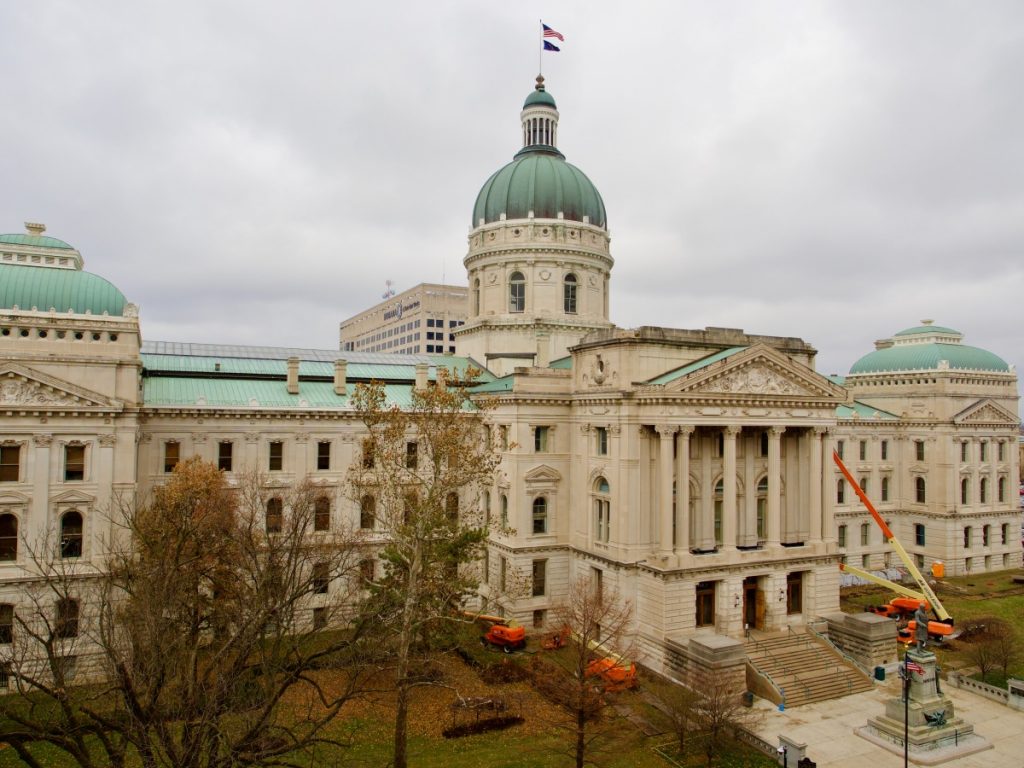 The Republican supermajority hold on the  Indiana House might grow following election results Tuesday night after two apparent upsets with margins of less than 1%.
Republican Kyle Pierce ousted incumbent Democrat Rep. Terri Austin in a nail-biter race, with unofficial results reporting just after 8 p.m. that Pierce won by a margin of 333 votes.
Pierce won the District 36 seat in Anderson with 8,888 votes, 50.95%, to Austin's 8,555 votes, 49.05%.
Democrats also suffered another close loss in Jeffersonville, with incumbent Rep. Rita Fleming falling short by 35 votes to Republican Scott Hawkins.

With nearly every precinct reporting in District 71, Hawkins won 8,688 votes, or 50.1%, to Fleming's 8,653 votes, according to the Secretary of State's website around 11 p.m.
Both those races could go to recount.
In Indianapolis, it appeared Republicans were unsuccessful in defeating incumbent Democratic Rep. Mitch Gore in another tight race.
Gore declared victory over Republican City-County Councilor Michael-Paul Hart for Indiana House District 89, where Gore held a 220-vote lead with some absentee ballots left to count. The district encompasses parts of the east side, including portions of Beech Grove and Cumberland.
As of noon Wednesday, Marion County election officials told IBJ there were about 8,000 remaining absentee ballots to be counted. But Gore said the majority of the votes in his race were counted last night due to the close nature of the contest.
Hart, who represents Marion County's District 18 on the City-County Council, could not immediately be reached for comment.
In District 32, a district with no incumbent following redistricting and lawmaker retirements in the 2022 legislative session, the GOP candidate leads by less than a percentage point.
Republican Fred Glynn had 10,404 votes, or 50.2% of the vote, over Democrat Victoria Garcia Wilburn's 10,322 votes – a difference of 82 votes. Nearly 98% of precincts in Hamilton and Marion Counties had reported their results, according to the IndyStar's ElectionsTracker.
One final race in central Indiana, this time in Boone and Hendricks Counties, had a bit wider of a margin: 1,277 votes. Republican Becky Cash led Democrat Jen Bass-Patino with 12,361 votes, 52.7%, to Bass-Patino's 11,084, according to the Indiana Election Division.
If election results hold in the defeats of Austin and Fleming, Democrats lost two of their 29 seats. A Fort Wayne race in House District 82 was expected to go Democrat but was too close to call late Tuesday night.
With a chamber supermajority, Republicans can conduct a majority of the House's business with little to no Democrat input.
Any candidate who wishes to dispute the final election tally has two weeks to file a request for a recount but will foot the bill unless the recount yields a different result.
Senate GOP could gain seat
A highly anticipated race that pitted incumbent Sen. Kyle Walker, a Republican, against Fishers City Council Member Jocelyn Vare, a Democrat, came to a 56-44 win in favor of Walker. Democrats had targeted the seat as a pick-up opportunity but fell short of the votes needed, with Vare getting 16,372 votes to Walker's 21,209, according to the Indiana Election Division.
Walker, in a statement proclaiming his victory, promised to be "laser focused on issues that matter," including the economy and public safety.
"I'm grateful to everyone who helped us deliver our message to earn the support of voters across the district," Walker said.
Republican Alex Choi came far closer to ousting incumbent Democratic Sen. J.D. Ford, who squeaked out a win with 50.2% of the vote to Choi's 49.8%, according to the IndyStar.
Choi would need another 122 votes to supplement his 19,671 total votes to tie with Ford, who won 19,793 votes, according to the IndyStar.
Up in the Region, incumbent Democrat Sen. Michael Griffin in District 1 appeared to lose his seat. The Indiana Election Division site was thousands of votes behind the IndyStar tracker, which showed Daniel Dernulc winning by a margin of 52.3% to Griffin's 47.7%. That was with almost all precincts reporting.
Rodney Pol, in District 4, overcame challenger Jeff Larson with 53% of the vote.
The Indiana Capital Chronicle is an independent, not-for-profit news organization that covers state government, policy and elections.
Please enable JavaScript to view this content.