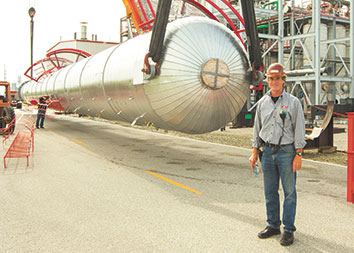 The president and co-owner of one of the Indianapolis area's fastest-growing companies has died after contracting COVID-19.
Patrick William Kennedy, 63, who died April 12, was the fourth-generation president of three family-owned companies: Kennedy Tank & Manufacturing in Indianapolis; Southern Tank in Owensboro, Kentucky; and Steel Tank and Fabricating Corp. in Columbia City, Indiana.
Kennedy Tank & Manufacturing, founded in 1898, was the No. 15 company on IBJ's most recent Fast 25 list, which ranks fast-growing private companies.
The company experienced 54% growth from 2016 through 2018, raising revenue to $40.5 million.
According to his obituary, Kennedy was a lifelong Indianapolis resident who graduated from Immaculate Heart of Mary Catholic School, Brebeuf Jesuit Preparatory School and the University of Notre Dame (1978).
Kennedy's great-grandfather started the family business as a boiler-repair company. The company fabricates and repairs steel tanks, pressure vessels and heat exchangers.
Kennedy worked with his three sons—Bill, Jimmy, and Patrick—and his brother-in-law Paul Bolin and nephew Kevin Bolin in the business.
His family noted that Kennedy was an avid auto-racing fan, attending 57 consecutive Indianapolis 500s. He wrote two books on race trivia, collaborating with Indianapolis Motor Speedway historian and friend Donald Davidson as a technical adviser.
He was a former director of the 500 Festival Board and current director of the 500 Festival Foundation Board.
Kennedy was named the Indianapolis Notre Dame Club's "Man of the Year" in 2017, an honor previously bestowed upon his father.
He also participated in 25 different 500 Festival Mini-Marathons.
Initial services for Kennedy will be for family only. Memorial contributions can be made to Wheeler Mission.
Please enable JavaScript to view this content.