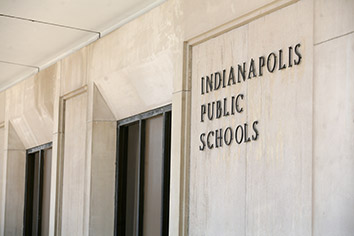 The state's largest school district is on the brink of major overhaul under the Rebuilding Stronger plan proposed by Indianapolis Public Schools.
The plan, which awaits school board approval in November, calls for closing seven schools and configuring grades at 39 others in an attempt to cut costs and expand specialized academic programs to more students of color.
The extensive proposal includes changes to nearly every IPS school. Here are answers to some of your big questions about it:
How many students will need to switch schools under this plan?
The district estimates that 5,454 students will move buildings when the changes take effect in 2024-25. These students will be moving due to grade reconfiguration, closures, or mergers.
My school is closing. What happens next?
If your school is one of the seven listed to close at the end of 2022-23, you will get priority in the Enroll Indy lottery system for the school of your choice in the 2023-24 school year.
If your closing school is merging with another school, you will have a guaranteed seat at the newly merged school.
I have opinions about the plan. How do I share them?
IPS will be holding 12 in-person and virtual meetings for the public to discuss the draft plan. The meetings will feature the IPS school board and district leaders and will each last 90 minutes. RSVPs are not required to attend. A calendar for the meetings can be found here.
Refreshments and child care will be provided at each in-person session.
How do enrollment zones work?
The district will still utilize the Enroll Indy lottery system, which runs its lottery twice a year and offers a summer enrollment period as well.
The four new enrollment zones essentially get rid of the complex overlapping zones the district currently has for its specialized Center for Inquiry, Montessori, Butler Lab, and other choice schools. Previously, students who lived within designated zones for each of these schools received priority and transportation.
Now, students will be able to apply for any school within their entire zone; each zone consists of 12 to 15 schools. They will receive transportation for any school within their zone.
Families will fill out their preferred schools in the Enroll Indy process.
What happens if I don't get the school I want within my zone?
Students can apply to schools outside of their enrollment zones, but those who have a sibling at a school and who already live in the school's zone will get priority in the lottery.
Students may still get matched at one of the other schools you listed in your Enroll Indy application.
Families could still try your luck in the next lottery or participate in the late enrollment process in the summer.
Students can also try to enroll in another school in a different zone, but remember that students within the enrollment zone get priority for those schools.
What if students' new zones do not encompass the school they currently attend?
The district says it will provide all families with transportation for one year if the school they currently attend is not within the boundaries of their new zone.
This will give time for families to arrange for transportation or find a new school.
What happens if my child attends a specialized choice school that is losing its middle grades?
District officials say that students who are already in an elementary school with a specialized program, such as a STEM school, will get priority into the corresponding middle school with the same program.
How will teachers get assigned to new standalone middle schools?
The district said that its human resources department will extend new job offers to employees based on available vacancies, their credentials, licensing, and experience. If teachers accept their new positions, they will work there. If they do not, the district says it will work to find places for them that fits their criteria and preference.
What does the teacher's union think of the plan?
The Indianapolis Education Association said in a statement that there are parts of the proposal the union supports, such as expanding program offerings.
"But many of the concerns that our community members brought to the previous school board meeting are not addressed in this proposed plan," the union said. "It is pivotal that this process is transparent and fair to everyone involved and there are still too many questions posed that remain unanswered."
"The district has presented this plan as a done deal, but we are committed to consulting with our full membership and the larger community to present a clear list of demands to ensure that any action taken by the school board is truly aligned with the best interests of our students, staff, and families," the IEA statement also said.
How are other education organizations responding to the plan?
The Mind Trust, a powerful not-for-profit that has helped the charter school sector grow in Indianapolis, also had mixed reviews of the plan.
"Ultimately, in its current form, we believe the plan does not yet fully address the needs of all IPS students and families," the organization said in a blog post. "Input from a representative cross-section of the IPS community, especially historically marginalized families, should drive needed changes to the plan prior to board action in November."
The group wants more partnerships with charter operators that have successful academic results for students of color. It also argues that the CFI and Montessori programs that the plan expands are disproportionately white schools that have large racial disparities in achievement.
"Because of these factors, we worry that an aggressive replication of these programs could widen the district's racial achievement gaps," the Mind Trust said.
Rise Indy, another not-for-profit that is closely linked to the charter school movement, encouraged parents to submit feedback.
"Every family, student and educator will connect with this plan differently — and all of those perspectives are critical as we move forward," the group said in a statement. "That's why RISE INDY has launched an easy-to-use feedback form on our website where anyone affected by Rebuilding Stronger can submit their comments or questions. This information will be shared with IPS without identifying respondents."
Chalkbeat is a not-for-profit news site covering educational change in public schools.
Please enable JavaScript to view this content.