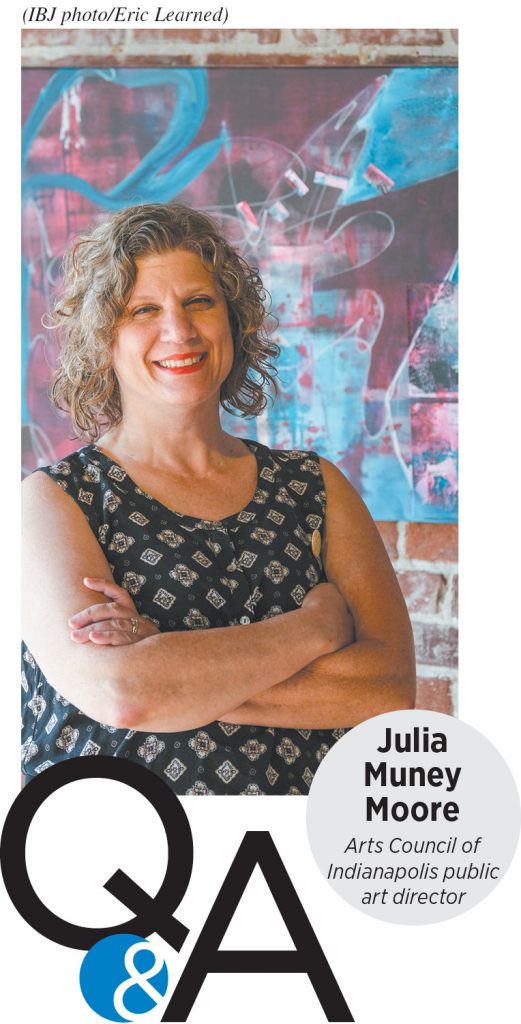 As the Arts Council of Indianapolis' director of public art, Julia Muney Moore, 56, is working to bring more than 100 works of art to neighborhoods all over town.
The project, called Indy Art & Seek, is a collaboration between the arts council and Keep Indianapolis Beautiful. Funded with a $674,520 grant from the Lilly Endowment Inc., the program will commission artists to create six large-scale, permanent installations in green spaces around the city, along with 100 smaller, temporary installations.
All the artwork will be installed by next summer.
Can you give examples of what sort of things people might see?
We're working on the artists. We've selected our first few artists already and we're working with them, and we'll start selecting more in October. You'll see everything from graphics on sidewalks and walkways to murals to performances. We have a couple of artists who are doing performative art, so it will be a live performance that's recorded.
And the cool thing about Art & Seek is that there's an app, so you'll be able to find where all of these things are in sort of a scavenger hunt game. … There is an app you'll be able to download, and then it will start giving you clues and you'll be able to accumulate points and badges. It's fun. It's kind of like Pokemon Go. But if you don't have a phone, there will be ways for you to enjoy it also.
So if somebody wanted to see everything, it might take a while?
It might take them a while. But if someone wanted to do that, we have a badge for that—and potentially a prize.
Why do this project? What's the goal?
We're working a lot with artists in their own neighborhoods and artists who might not necessarily think of themselves as public artists. It's a way for artists to learn how to work in public and how to engage the public in what they're doing. But it's also a way for people to get out and explore neighborhoods in the city that they may never have gotten to before.
Why should people care about public art?
One of the reasons people care about it is, it helps people connect to each other in public spaces.
We live so much of our lives in our own homes, in our own workplaces, doing our own thing, that the idea of a civic commons, of a place that we all have that we all share, is kind of falling by the wayside.
One of the great things about public art is, not only is it in these places that we all share, it's talking about issues and talking about values and talking about events that we all probably need to have in common. Public art really provides that opportunity for connection and for dialogue and for enjoyment.•
Please enable JavaScript to view this content.