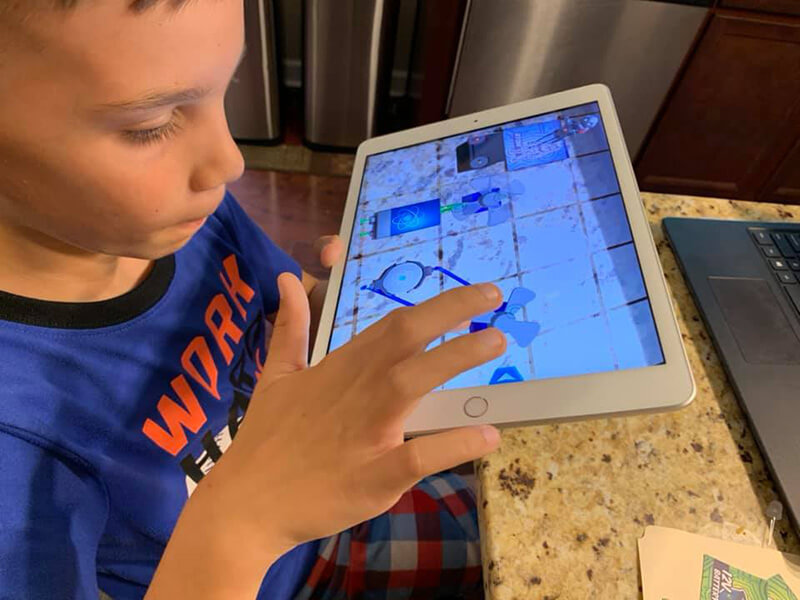 A startup that markets augmented reality-powered, gamified learning sets to help kids understand STEM has signed a key deal to distribute its MindLabs brand.
West Lafayette-based Explore Interactive, which launched with the help of Purdue University, is teaming up with PASCO Scientific Inc. to sell sets science, technology, engineering and math sets aimed at students in third through fifth grades. Roseville, California-based PASCO offers a catalog of tools to aid science education in the U.S. and globally, including in developing nations.
Explore Interactive CEO Amanda Thompson said the partnership should accelerate the adoption of MindLabs products worldwide, "enabling us to nurture young learners everywhere."
"We are excited about the PASCO collaboration because the company is a trusted brand in physical and life sciences," Thompson said. "Their global sales force consists of former science educators who really get what teachers and students want."
MindLabs uses augmented reality—which combines real objects with virtual ones or puts real objects in virtual environments—to create hands-on STEM experiences for students. The products take complex concepts and makes them more understandable for younger age groups.
For example, Explore Interactive's newest MindLabs product—Energy and Circuits—allows kids to assemble cards that feature items like batteries and fans into working circuits.
"Students view animated STEM ideas, interact with characters in an augmented reality space, and build circuits with their peers," Thompson said. "The experience engages students such that safely learning about critical concepts in STEM, such as energy and circuits, becomes an adventure in exploration."
Thompson said the company targets grades three to five because it is a critical time for students to tap into their interest in STEM. But that can be difficult for schools.
"Elementary educators find implementing STEM regularly in their classrooms to be very challenging for many reasons," Thompson said. "Our approach makes it easy for first-time and time-constrained educators to bring high quality, interactive and hands-on STEM to their students."
MindLabs and augmented reality makes both learning and teaching about STEM easier for students and teachers alike because it "blends hands-on learning and technology in the way scientists and engineers do in practice," Thompson said.
"Is current flowing? Where is the short circuit in each of these circuit designs? Can you add a switch for another participant?" she said. Those "would be examples of questions that students can explore and understand in AR."
JP Keener, the director of product development at PASCO and a former director of STEM for the Florida Department of Education, said MindLab's software makes STEM education easier for teachers and students by allowing them to "focus in on the content and instruction and not on any complications of operating a device or software," Keener said.
Keener said research shows that students interact well with each other, their teachers and the environment an augmented reality platform. "The research shows that students have very little difficulty manipulating variables in this environment and that they are quick to engage with the technology with a very small learning curve," he said.
And MindLab products require few resources, making them useful to a wider range of people than more complicated products—and PASCO can get the products into the hands of those people.
"Our approach has potential to dramatically increase the accessibility of STEM to students in rural, low-income or third-world settings as it requires only playing cards that bring STEM topics to life in a 3D environment paired with minimal equipment," Thompson said.
Yorktown Community Schools has already seen the MediaLab products in action.
"The lessons and activities have natural scaffolding to build on previous lessons and develop students' content knowledge," said Linda Smith, a media, stem and technology specialist at the district. "Students' understanding of circuit concepts grew, as evidenced by the formative assessments built into the lessons."
Students quickly picked up on STEM terms and concepts with the MindLabs program, she said.
"As we progressed through the lessons, students began to use the vocabulary associated with circuits and STEM," Smith said. "When trying to fix a circuit, a student said to me, 'We can't do that. That's a short circuit.'"
Smith not only has seen how much students are benefitting from MindLabs, but how the products put less stress on teachers.
"When I later interviewed the students' teachers, they all shared that they have little time to prepare for STEM lessons, especially to meet the state standards on circuits," Smith said. "MindLabs made the learning easy for the teachers to use and engaging for the students."
Thompson and her team conducted educational studies while developing MindLabs products with researchers at the INSPIRE Research Institute for Pre-College Engineering at Purdue, using funding from the National Science Foundation, the National Institutes of Health and matching funds from Elevate Ventures.
Explore Interactive has also received support and guidance from the Purdue Foundry, an entrepreneurship and commercialization hub at the Convergence Center for Innovation and Collaboration in Purdue's Discovery Park District, adjacent to the Purdue campus.
Please enable JavaScript to view this content.