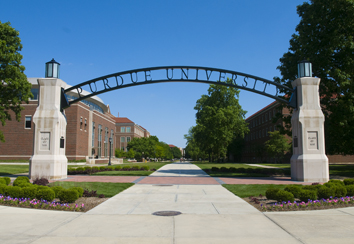 A Purdue University student has sued the school, alleging that students were not offered adequate refunds for tuition, housing, meals and more when they were asked last month to leave campus as COVID-19 began spreading across the country.
Senior Zachary Church of Michigan filed the lawsuit against the university and its board of trustees April 9 in the U.S. District Court for Northern Indiana. The suit is seeking class-action status.
The complaint is one of several that New York-based law firm Milberg Phillips Grossman LLP has filed on behalf of college students across the country who are now receiving a much different college experience than they expected.
Church's lawsuit seeks "appropriate compensation on a pro-rata basis" for what it deems are inadequate refunds. It also seeks damages for the difference in value between online and in-person instruction.
In March, to prevent the spread of the novel coronavirus, colleges and universities across the country shut down and asked students who were able to move out of on-campus housing to do so. And their second semester classes were moved online.
Some schools have offered students pro-rated refunds for unused room and board services.
The lawsuit against Purdue claims that the university charged students $10,030 for room and board for the 2019-2020 academic year and is offering a credit of $750 to students who vacated university housing by March 30. But the university isn't making refunds for meal plans. Instead, it is offering credits toward the purchase of future meals.
"This $750 credit is not commensurate with the financial losses to the university's students and their families," the lawsuit reads. "The university's decision to transition to online classes and to request or encourage students to leave campus were responsible decisions to make, but it is unfair and unlawful for the defendants to retain full tuition and fees and a disproportionate share of prepaid amounts for on-campus housing and meal costs and fees, effectively passing the losses on to the students and their families."
Church, a senior studying engineering, said he paid for the semester with student loans, which means he'll be paying interest on every dollar he spent, regardless of the educational experience he was given.
He argues the online classes Purdue has offered are not commensurate with the same classes being taught in person. At Purdue's main campus in West Lafayette, tuition starts at about $10,000 for an in-state student and at about $28,000 for an out-of-state student.
He also has been unable to finish his senior project, which was to construct an airplane.
"No online course can simulate the applicable, real-world experience plaintiff hoped to gain from completing his senior year project," the suit states.
In a statement, Purdue University spokesman Tim Doty called the lawsuit expected but without merit.
"It was sadly predictable that some plaintiff's lawyer would attempt to profit from this unprecedented public health crisis that's affected us all," he said. "The suit is baseless and has no chance of ultimate success. In the meantime, it will be one more minor difficulty among all those we're currently wrestling with."
Please enable JavaScript to view this content.