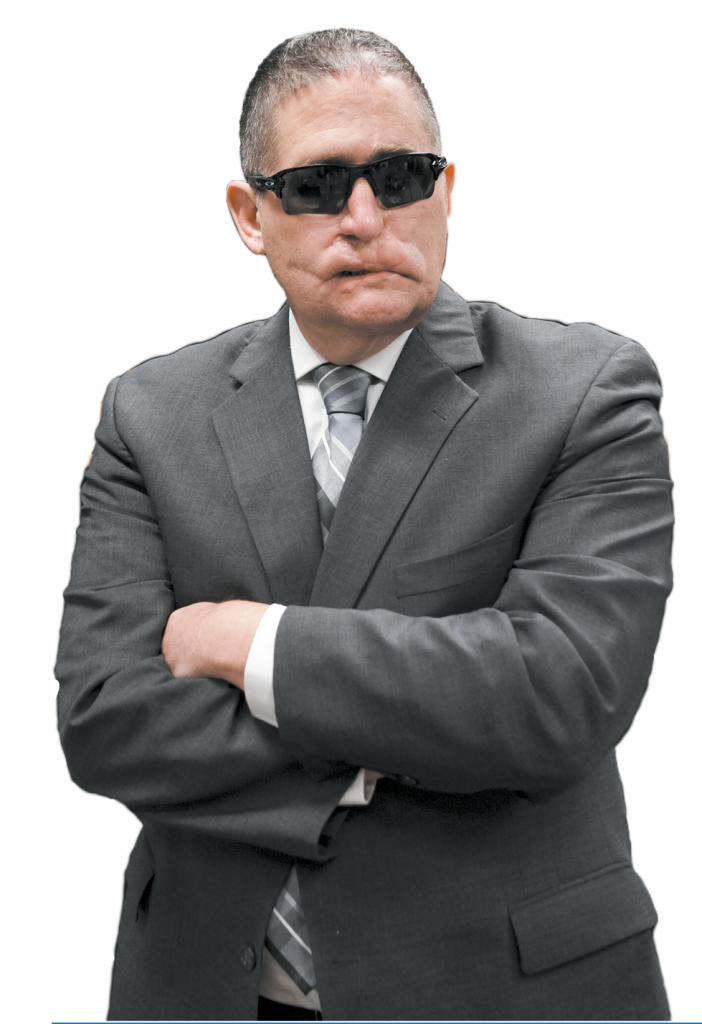 U.S. Army Sgt. 1st Class Jeff Mittman was on his fourth combat tour in the Middle East when, in July 2005, the blast from an improvised explosive device blew parts of his armored Humvee into his face.
He lost his nose, his lips, most of his teeth and the majority of his eyesight. He underwent dozens of surgeries and years of rehab while trying to figure out how he could again provide for his family.
In 2009, the Indianapolis native enrolled at Ball State University and eventually earned two master's degrees, including an MBA. He worked as an account manager for the National Industries for the Blind and then in several positions for the federal Defense Finance and Accounting Service.
In August, Mittman, 49, became the first blind CEO of Bosma Enterprises, after joining as its chief operating officer in July 2018. Founded in 1915, the Indianapolis-based not-for-profit provides rehabilitation assistance and job training for people who are visually impaired. It also offers employment opportunities through several lines of in-house businesses.
Has anyone who works here said to you, "I really appreciate that you're [blind] like me"?
Yeah, they have. They see that our board of directors hired somebody who's blind to be the CEO. So they understand the board sees the vision. They understand that somebody who is blind or visually impaired can achieve. So if I'm trusted to run the organization, they understand that the organization itself will trust them.
During your rehab, what made it hardest to get out of bed in the morning?
I never had trouble getting out of bed because I had a wife and two children, and that was always the driving force. My injuries never absolved me of my responsibility as a father and as a husband, and I couldn't look at my two children and not get out of bed.
As an executive, how do you do those things that we think only a sighted person can do?
Technology is a great equalizer. I have computers that speak to me. I have closed-circuit televisions that magnify things. My phone can speak to me; I can speak to my phone. A lot of times, everything I need is already in an operating system.
I suppose being blind isn't an issue over email.
Sure. They have no idea that I'm visually impaired until I walk into the room. We'll communicate for several weeks, we'll send documents back and forth, and I'll say, "Hey, I'm gonna come visit you." I show up, and that's the first clue they ever have that I had vision loss. And it's a great proof of concept for what Bosma Enterprises can do—prove to people that somebody who is blind or visually impaired, with the proper accommodations, can do anything anyone else can.
What do you like about this work?
I'm constantly busy. There's never any day when I'm done with everything. How do we get this deal done so we can hire five more people who are blind or visually impaired? How do we get this contract packaging job? Whatever it is.
Were you always a restless, goal-oriented person?
Absolutely. Well, I was a drill sergeant. I was a platoon sergeant. It's kinda drilled into you, I guess. … I probably shouldn't say this part: When I was recovering, I quit physical therapy because they weren't tough enough. They wouldn't let me run on the treadmill. So I said, "Fine. I quit." I went out, and there was a track nearby, so I would run. Now, somebody coming to Bosma to go through rehab should NOT do that!•
Please enable JavaScript to view this content.