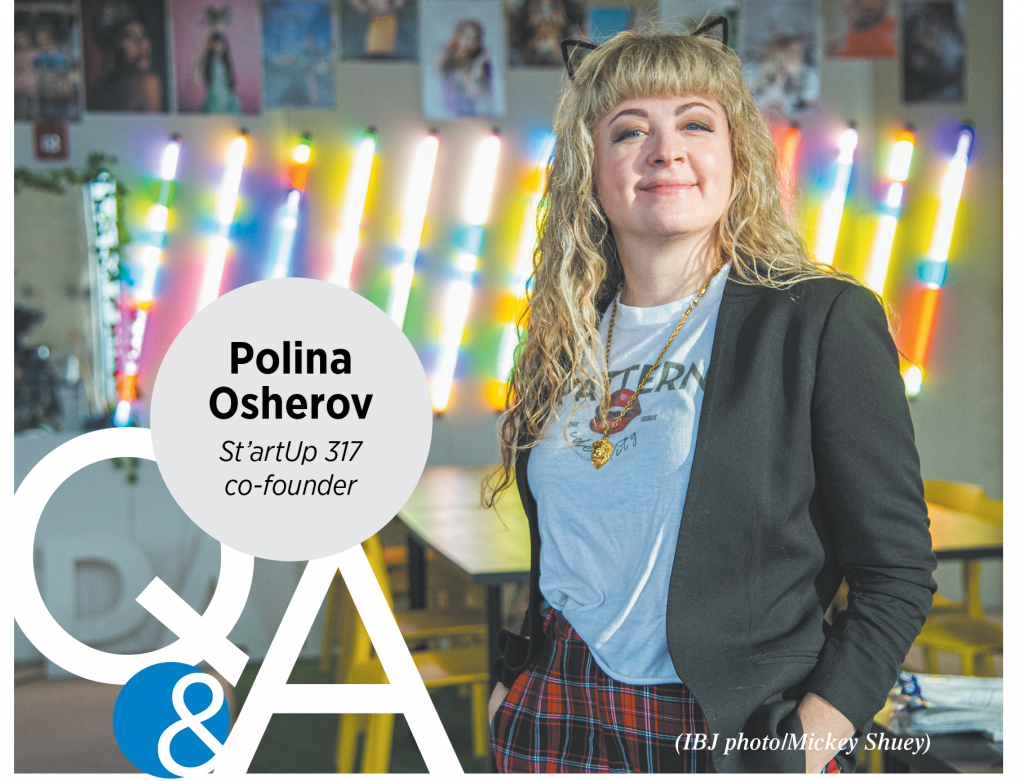 Pattern Indy Editor-in-Chief Polina Osherov sat down with IBJ to talk about the third season of St'artUp 317, a program by the magazine and Indy Chamber that pairs underused first-floor commercial spaces in commercial corridors with artists, creators and producers looking for retail space during the month of May, when the city sees an influx of tourists in town for the Indianapolis 500.
Applications are being accepted through Feb. 10 and can be found online at startup317.com.
What is the goal of St'artUp 317?
The long-term goal is that those vacant spaces are filled with a really good tenant mix short term. We see it as a way of bringing some vitality and vibrancy to some dead spots, but also providing an opportunity to some of those small-business owners and artists, who can't necessarily afford to be in those spots, to give them a chance to be there even if it's just for a short while.
How did Pattern get involved?
Catherine [Esselman of Develop Indy] and I were brainstorming and just bemoaning the fact that there's all this empty real estate—and on my end, because Pattern has spent a lot of time being homeless because we can't afford [space]. It was just sort of like … what can we do to address the situation and kind of help the community, help the landlords, help the city?
Pop-ups are not a new thing by any means. So it just seemed worth a shot. This type of programming has done so well in other parts of the country and even the world. Why don't we give it a shot and see what happens? Pattern has the community of artists, creatives and small-business owners.
Who should consider applying?
So obviously, apparel—that would be great. Soft goods and home goods. Especially in the downtown area, there's a severe shortage of anything from, like, furniture to—I don't know—baby clothes to mattresses, to lighting, anything along those lines.
Because we do enjoy having art in some of those windows, obviously artists with pieces that are big and can be seen when people are driving by are a good contender. And then we're not doing food that has to be cooked because of health department stuff. But anything that's like pre-packaged oils, jellies … anything that's, like, ready to go.
What do you think St'artUp 317 does for Indianapolis?
I think that, as a city, Indianapolis is still fighting to be that vibrant city culturally and economically. And this is one of the many things that could help with that.
Part of the strategy of St'artUp 317 goes beyond just a very basic month-long pop-up season in May. We are trying to come up with a strategy where Indianapolis is put on the map in other markets as a city for brands to come and move in here.
How many artists/organizations/businesses have applied in the past?
It's pretty competitive. I think we already have 11 applicants. I expect, based on the last two seasons, that we'll get at least 50 and maybe as many as 100. So there is definitely a pent-up demand—definitely a lot of people who are interested in the short-term real estate solution.•
Please enable JavaScript to view this content.