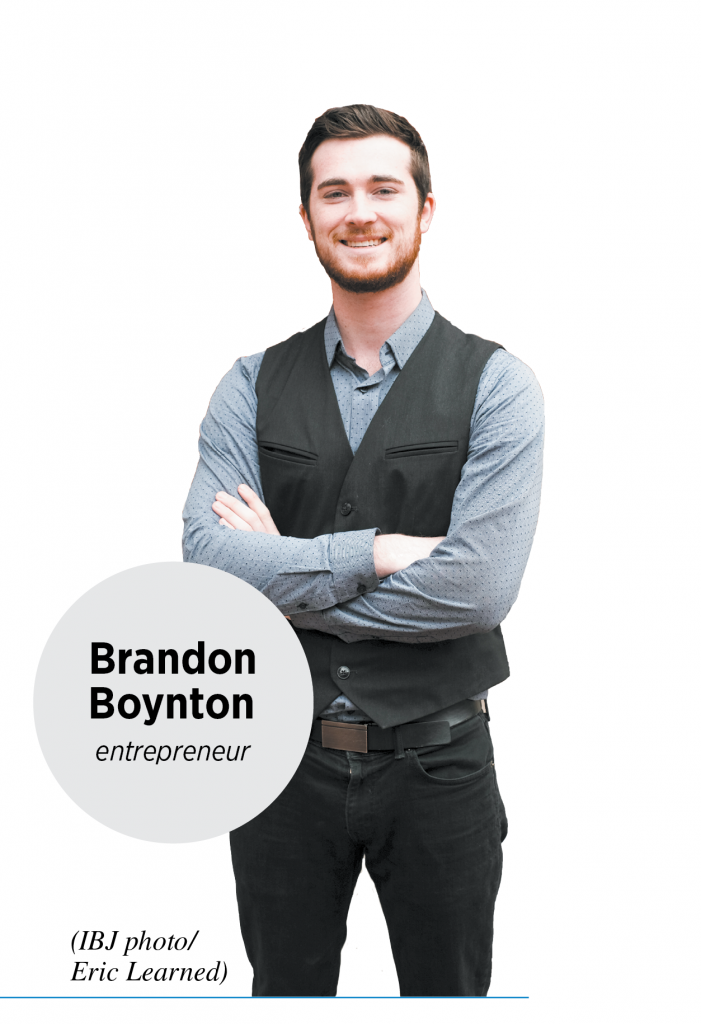 Brandon Boynton has always been quick to help when needed. When he was 14, for example, he created an app so students could report bullying at school.
So when Boynton, an IUPUI computer science student and entrepreneur, was asked to go to Mongolia this fall as part of the U.S. Speaker Program, he jumped at the chance.
The initiative by the U.S. Department of State aims to help people worldwide understand the cultural context of U.S. policies and institutions. The Mongolian trip's goal was to share entrepreneurial lessons with the formerly communist country.
And even though he's just 22, Boynter co-founded Vemity, which created software that allowed companies to integrate artificial intelligence and machine learning without hiring a data scientist. Vemity was a 2018 Mira Award nominee for Best Startup of the Year before it was sold in January to Rover180, a supply chain finance and factoring company. He told IBJ about his Oct. 25 to Nov. 7 trip.
How did you get involved in the Mongolia trip?
I had a presentation at Purdue and afterward a gentleman reached out through LinkedIn. He was from the U.S. Department of State. I thought he wanted me to be a spy. He said he was impressed with my speech and wanted to know if I wanted to be part of the U.S. Speakers Program. Nine months later, he called with an opportunity to go to Mongolia. I didn't know anything about Mongolia other than where it was on the map. So I said, "Hell yes I'll go."
Why Mongolia?
They wanted to do a weeklong program for Mongolian entrepreneurs to help them think bigger. The U.S. Department of State and the Mongolian government decided … to give the youth tools to better themselves and benefit the country.
Why were you a good fit for this trip?
They get a lot of people from the [San Francisco] Bay area. They pulled me from the database because I'm from Indianapolis, and they wanted me to relate what's it like to start a company in Indianapolis and not to get overshadowed by the Bay area. In Mongolia, they are … overshadowed by the U.S.
How was travel in Mongolia?
I flew to Minneapolis, then to Seoul, directly over the North Pole. It was an incredible trip. From Seoul to Ulaanbaatar. Traffic in that region is unbelievable. They have traffic laws, but nobody follows them. … We traveled across the Gobi Desert to Sainshand.
What happened during the trip?
Every single day was packed from 7 a.m. to 10 p.m. It was tiring, but I was there for a mission. I gave lectures on building a business model and the importance of scale and on how to pitch. Every day, we covered two topics. On the last day, they pitched to Brandon Andrews, casting director of "Shark Tank," and two successful Mongolian startup entrepreneurs. In Mongolia, they don't see a lot of Americans, so wherever you go, people show up just to hear an American speak.
What did you hope to impart?
I wanted to teach them from all the failures I've experienced so they don't have to go through those things. I wanted to teach them the difference between a business plan and a business model. And I wanted to teach them how to succeed in a remote place that might be overshadowed. I also wanted to teach them about having a social good embedded in your business and why that helps all involved. I wanted to teach them they could succeed if they put their heart and soul into their efforts and really believe in themselves.
What did you learn?
Despite how far apart we live, people have a lot in common and it's profound to see that firsthand.•
Please enable JavaScript to view this content.