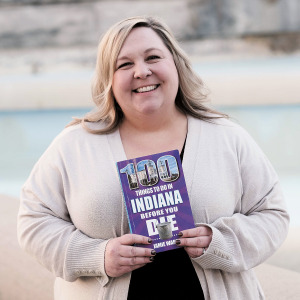 Since starting her blog Cornfields & High Heels, Jamie Ward has traveled extensively across Indiana and the Midwest, trying new things and journaling about her experiences.
A northern Indiana native, Ward has a new book out from Reedy Press that shares some of her knowledge—and dozens of suggestions for making the most out of travels in the state—with her readers.
What sparked your interest in writing this book?
I started out as a travel writer and began my blog about six years ago. That turned into the opportunity to write an anthology book in 2020 during the pandemic. I co-wrote that book—"Midwest Road Trip Adventures"—with 11 other travel writers and it gave me a foot in the door.
Nobody had ever done a book like this for the state as a whole. There's been "100 Things" books for Indianapolis and Fort Wayne, but nothing for Indiana. So, I jumped on that opportunity because I've traveled so much around the state. I just ran with it.
How did you come up with the list?
There was a lot of difficulty in narrowing down to 100 things, but really the title is a little deceiving because I touch on over 300 things and places in Indiana, through tips and lists and that kind of thing, within the actual list of 100.
I did have a list—a big one—and I really just went through and narrowed it down. I had some hidden gems, along with some personal preferences based on what I consider to be "uniquely" Indiana. You're going to find some things you would expect to find in Indiana, but there's a lot in the book that people don't know about, even those that live here.
I've done everything that I ultimately included on the list and did my best to cover all of the state.
How did your blog and the work you've done in travel writing affect your approach to writing this book?
I have a good mix of readers and subscribers from the area in central Indiana and northern Indiana, so that has given me a good variety of opinions and ideas. I reached out to my followers while I was writing the book as well, to get their thoughts on some things to include—what they enjoyed doing in the state and what they felt would warrant inclusion. There's been a lot of support throughout the process.
You spoke about jumping at the opportunity to write this. How important was it that an Indiana native be the one to author this book?
There wasn't a requirement that the person be from Indiana, but I do think it was important. … I hear a lot of people who haven't been Hoosiers all their life say that there's nothing to do in Indiana.
I have a passion for my own state and for wanting to help people discover all the uniqueness that Indiana has to offer. You don't have to leave your state for a weekend getaway or spring break or a vacation. You also don't have to have a lot of money to have a good time.
I like to be authentic with everything that I write about, so I can truly talk about those experiences. There's so much to appreciate here.•
Please enable JavaScript to view this content.