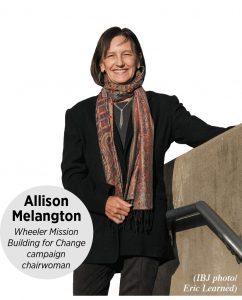 Allison Melangton, 58, knows a thing or two about running big events. As a senior vice president at Hulman Motorsports, she produces major events at the Indianapolis Motor Speedway. Previously, as president of the Indiana Sports Corp., she led the planning for the city's 2012 Super Bowl.
But until Wheeler Mission asked her to chair its $12 million campaign to expand its east-side Center for Women and Children, Melangton had never led a capital campaign.
Her strategy? Shine a spotlight on an issue that doesn't typically gain attention.
"How many people in this city do you hear talking about women and children being homeless?" Melangton said. "We've done a lot of tours. We've brought a lot of people over here this last year that didn't [know]—leading people, people that should know this is here and what they're doing—that had no idea it existed."
The campaign launched last fall and has raised $8.2 million to date. Groundbreaking will take place next month for the project, which will add 164 beds, a dedicated play area for children and expanded space for medical clinics, education and programming. The expansion will add about 44,200 square feet, nearly doubling the size of the existing facility.
"It's been a game-changer having Allison involved in this campaign," said Steve Kerr, Wheeler's executive vice president of advancement. "She's been the best dot-connector I've ever experienced in this community."
Melangton talked with IBJ last week about why she's involved with the campaign.
Why do you support Wheeler?
Wheeler focuses on healing the whole person, not just the addiction. And so therefore their results are extraordinary.
When you approach a potential donor, what's your pitch?
That the fastest-growing homeless population in our city is women and children. And that Wheeler is making a huge positive impact on the lives of those mothers and children that are here. And every day we're turning away people. … We're out of space.
What aspect of this expansion are you most excited about?
One thing about the women and children's center that is currently really challenging is the multi-generational women and children that they serve. They serve women in their 90s and 6-week-old infants. The new center will have an opportunity to cater a bit more to each of those generations in a way that can better serve them.
Can you give an example?
Right now in the winter, for example, on the gym floor you could have a very elderly person with health challenges sleeping next to a 23-year-old mom who has a baby. So, separating some of that so that it's more comfortable. And I don't mean just in beds but in an environment where young mothers can support young mothers and older women can be with older women. That, for me, is something that will be transformative in the way that they're able to serve people.
You've coordinated some huge events. How do you keep everything together?
Passion. Whatever you're working on, I think to make it be everything it can be, whether it's the Super Bowl or it's this project here, you have to be passionate about it. It has to mean a lot to you, or to the people that you're impacting. I don't know that I had so much passion for the Super Bowl itself. I had so much passion for what it could do for this city, and that's what made me get up every morning and couldn't wait to get to work. And that's how I feel about this.•
Please enable JavaScript to view this content.