A real estate construction and development company owner is running for an Indiana Senate seat that represents a big portion of Hamilton County.
Scott Baldwin, president and owner of Indianapolis-based Envoy Inc., announced Monday that he is running in Indiana Senate District 20 to replace Republican state Sen. Victoria Spartz.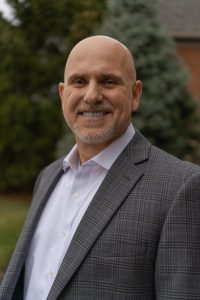 Spartz announced last week that she was suspending her re-election campaign for Senate and is instead considering a run for Indiana's 5th Congressional District.
The District 20 seat includes Noblesville, Westfield and parts of Carmel and Fishers. Prior to Spartz being elected to the seat in a September 2017 caucus vote, Republican Luke Kenley held the seat for 25 years.
Baldwin, a Republican, is a U.S. Marine Corps veteran and has experience working for the Indiana Department of Corrections and the Indianapolis Metropolitan Police Department. His real estate company has worked on several big local development projects, including two major mixed-use projects in downtown Fishers—the Edge building on the northeast corner of 116th Street and Lantern Road and the Spark development on the northeast corner of Maple and North streets.
"I've dedicated my life and career to serving our country and community, through my background in the military, law enforcement and public safety, to building and growing businesses in central Indiana," Baldwin said in a written statement. "As senator serving the residents of District 20, I will champion common-sense, conservative leadership to help build our economy and grow jobs, promote fiscal responsibility, improve public safety and ensure Hamilton County continues to thrive."
Baldwin, 52, already has the endorsement of several Republican elected officials in Hamilton County, including Fishers Mayor Scott Fadness, Noblesville Mayor Chris Jensen and Hamilton County Commissioner Steve Dillinger.
He also has the endorsement of Noblesville City Councilor Megan Wiles, who unsuccessfully ran in the 2017 caucus to replace Kenley, despite being the candidate that Kenley backed.
Baldwin lives in Noblesville with his wife, Jaime, and their three children.
Please enable JavaScript to view this content.