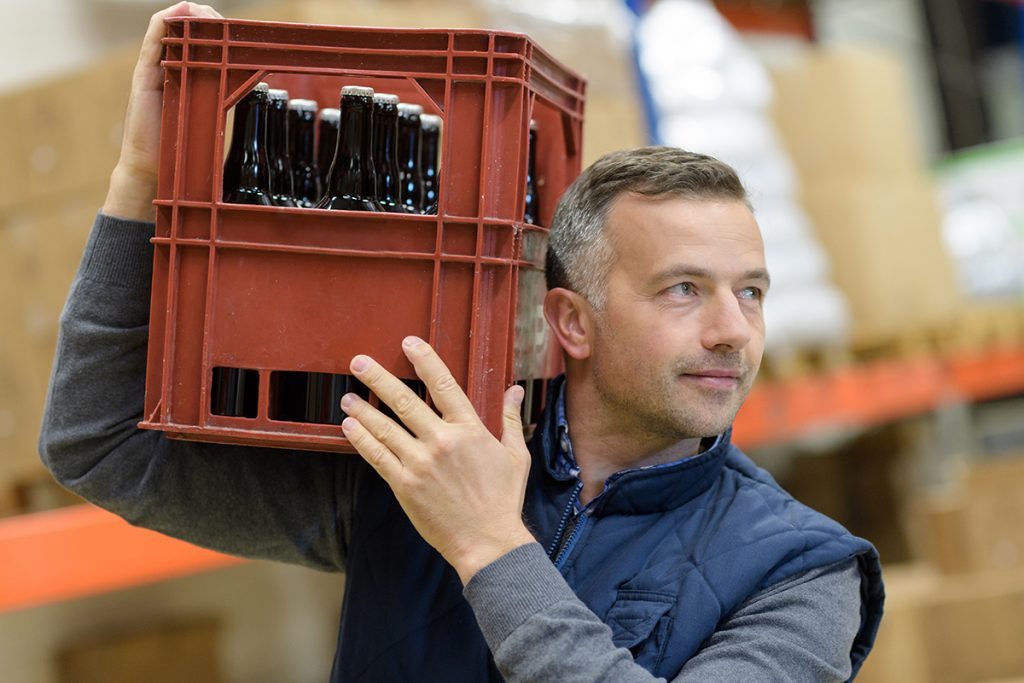 Some Indianapolis-area restaurants have embraced carryout alcohol sales in recent weeks, in hopes of bridging major revenue gaps created by the required closure of their dining rooms during the coronavirus pandemic.
Central Indiana's three Hooters Restaurants locations are offering alcohol sales, as is downtown's Pier 48 Fish House & Oyster Bar, across from Bankers Life Fieldhouse. Other restaurants have started selling cocktail kits.
Most eateries across the state are seeing declines in revenue ranging from 40% to 85% due to the temporary ban on dine-in service, industry sources said.
City restaurants were forced to switch to takeout and delivery models, or close altogether, as part of a March 16 order from Indianapolis Mayor Joe Hogsett.

On Monday, Gov. Eric Holcomb temporarily relaxed some of the state's liquor laws to allow all establishments with an alcohol permit to offer carryout and delivery booze sales—even if their permit doesn't typically allow the practice. The executive order, which is set to expire March 31, created new income opportunities for thousands of restaurants across the state.
Indianapolis-based Cunningham Restaurant Group, which operates Livery, Bru Burger Bar, Stone Creek Dining Co. and Mesh, has embraced takeout beer and wine sales in hopes of helping its bottom line—and those of its employees.
Many Cunningham restaurants already had appropriate permits for carryout alcohol, but the few that couldn't offer carryout sales before are utilizing the governor's order.

"We know a number of those restrictions have been lifted, but we're still very cautious, and we want to abide by all regulations that are out there today," said Carissa Newton, director of marketing for Cunningham.
The restaurants are selling beer and wine at half-price, as locations try to clear inventory and mimic the nightly specials they would offer for dine-in customers.
Newton said alcohol sales have helped many locations stay afloat, but the restaurant group isn't yet considering adding alcohol to its delivery menu.
"Right now, it's carryout only—just bottles and cans," she said.
Midtown staple Mama Carolla's Old Italian Restaurant, 1031 E. 54th St., has long offered wine for takeout as a supplemental revenue stream. But last week, it added domestic, imported and local Sun King beers to its menu, as well as a delivery option for food and alcohol.
Owner Justin Leuer said while the order loosening liquor carryout didn't directly impact Mama Carolla's (it already has a grandfathered carryout license), booze sales have been helpful to the restaurant's revenue stream during what's been a trying time.
Leuer said Mama Carolla's is making about one-eighth of its typical income with only carryout and delivery options, but said that's enough to sustain it for "a while." He said revenue would be much lower if not for alcohol sales.
"We're not making nearly the money, but we make enough," he said, to cover payroll, the costs of food and other important line items. Leuer added customers have been generous with tips, all of which go directly to the restaurant's servers and staff.
He said carryout alcohol is helpful in encouraging social distancing—something that's been promoted extensively in recent weeks.
"We think it's a good thing to do," said owner Justin Leuer. "If people have a choice between two places, they're probably going to chose places now where they get a bottle of wine or some beer and limit the amount of outside activity and interaction they have."
The restaurant offers curbside pickup and contact-less delivery through Grubhub and an in-house team of drivers.
"Most people when they call don't even realize that [alcohol is] something we offer," he said. "But a lot of people have taken us up on it when they find out."
The north-side Harry & Izzy's, 4050 E. 82nd St., also is offering a limited takeout menu, featuring food that can be prepared at home along with wine and liquor kits with spirits and mixers. The restaurant is offering carryout only on Wednesdays and Fridays for an indefinite period.
Harry & Izzy's is part of the Huse Culinary group of restaurants that also includes St. Elmo Steak House. The rest of the Huse group has been completely closed since Hogsett's local order on restaurants went into effect.
Bryn Jones, vice president of marketing for Huse, said Harry & Izzy's north-side location has always had a carryout liquor permit, but generally does not sell alcohol in that manner.
"We're doing our part to make sure everybody stays safe," he said. "And, financially, we're just like any other restaurant in this landscape—we're just going to try to weather the storm."
Some restaurant owners would like to see the state further relax liquor laws to allow for the service of premixed cocktails on a carryout and delivery basis.
Among them is Nicole Harlan-Oprisu, operating partner of local restaurants The Northside Social, Northside Kitchenette, The Nook by Northside, Delicia and La Mulita.
Harlan-Oprisu said some of her restaurants temporarily served cocktails to-go before they were informed that the practice was not part of Gov. Holcomb's order liberalizing liquor sales.
A spokesperson for the Indiana Alcohol and Tobacco Commission said that "selling alcohol that is not in its original container is not permitted," with the exception of beer being dispensed into growlers.
"That has always been the law," the spokesperson said.
Harlan-Oprisu—who said she didn't believe the law (as it's written) has been strictly enforced since before the Super Bowl was played in Indianapolis in 2012—noted her restaurants are continuing to sell beer and wine, as permitted by law.
"For me, the real crux of the problem is if we're able to do it successfully, and we're able to capture even a fraction of the sales that we're missing by selling things that are a known commodity to our businesses, I'm not sure now is the time to really hammer down on that," she said of the sales of premixed drinks.
Before the law was clarified, alcohol sales—including cocktails—were on pace to account for about one-third of the revenue for all of Harlan-Oprisu's restaurants, which are collectively down 70% in revenue from typical operations.
"Our thought was if we can sell [alcohol and cocktails] that will really help cushion the blow of the, you know, the loss that we're taking," she said.
Patrick Tamm, president of the Indiana Restaurant & Lodging Association, said he understands a desire to profit wherever possible, but advised members to follow the law.
"I can completely understand why restaurants and others would like to" have carryout on cocktails," he said. "Absolutely, I get it. But there have been some restaurants that have received very bad legal advice, which is unfortunate, because they just put their entire alcoholic beverage permit at risk, because they're violating a unique privilege."
Tamm said the association does not want to get greedy by asking Holcomb to go further with his lenient approach.
"We're very pleased that he was able to help with that during these very unusual times," he said. "We don't want to lose what we've got."
Restaurants aren't the only part of the food service industry looking for new streams of revenue.
Breweries were already permitted to sell their products on a takeout and delivery basis, but few took advantage of the delivery option until they had to close their taprooms in recent weeks.
"This has been something that [brewers] have had the legal ability to do under the scope of their permit, but folks just haven't done it," said Rob Caputo, executive director of the Brewers of Indiana Guild.
"There's been a significant increase to the number of breweries that are offering home delivery that never did before," he said. "That has spiked, and I would imagine that … some that initially decided against doing that will shift to that, in order to generate some cash flow and try to keep the lights on."
Bloomington-based Upland Brewing is offering carryout and delivery of food and beer through its Fountain Square location to a large portion of Marion County.
President David Bower said the delivery method is in a "trial period" and those sales make up a small portion of the brewery's revenue. Upland sees the offering as more of a community service than a long-term, sustainable shift in its business model, he said.
"It was enough to keep our delivery drivers busy, but it was not a significant amount of business—which did not entirely surprise us," he said. "I don't doubt that the demand for home delivery will continue to increase, but I still think it will just be a smaller supplemental pieces of our temporary business."
The company isn't alone in its efforts to expand into delivery. Scarlet Lane Brewing Co., based in McCordsville, is offering delivery and carryout from at least three of its locations in central Indiana. And Daredevil Brewing Co. is offering delivery and carryout on select days.
Bower said he doesn't expect the service will continue at Upland after the threat of COVID-19 is over and restaurants and breweries have reopened.
Indianapolis-based breweries Sun King Brewing and Metazoa Brewing Co. are limiting their sales to carryout. Bargersville-based Taxman Brewing Co., which also has taprooms throughout the area, is focusing its efforts on pickup, too.
Caputo, of the brewers guild, said he expects the governor's order will have lasting effects on the state's alcohol industry.
"I think it's going be interesting to see what that all shakes out from … the loosening of some of the alcohol statutes," he said. "I think that's going to change some of the dynamics at the Statehouse, with what different alcohol groups are lobbying for. I think this will start a shift in the industry for sure."
Please enable JavaScript to view this content.