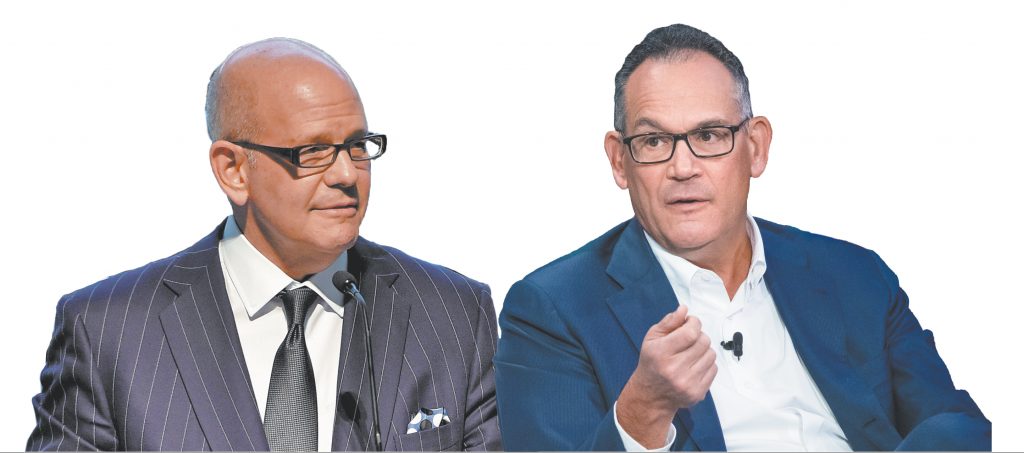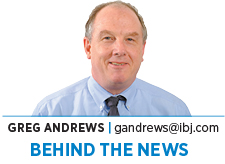 You might think Simon Property Group CEO David Simon, 59, and Taubman Centers CEO Bobby Taubman, 66, would be kindred spirits. After all, both grew up in the real estate industry and are sons of company founders.
But to say there's been bad blood between the two is an understatement. Today, they find themselves battling each other in court over whether Simon is obligated to complete the $3.6 billion purchase of Michigan-based Taubman that it announced in February, a month before the coronavirus unleashed havoc on American business.
And this isn't the first time they've squared off in a high-stakes legal showdown in a Michigan courtroom. Way back in 2002, Simon teamed with another firm to launch a $1.5 billion hostile bid for Taubman that got extremely personal before ultimately failing a year later.
Back then, David Simon accused the Taubman family of violating its fiduciary duty to shareholders by issuing a special type of stock that gave the family 30% voting power even though it owned just 1% of the shares.
The court fight, one Taubman filing shot back, was just part of Simon's "relentless public relations campaign feeding trumped-up charges of illegality to credulous journalists to pressure Taubman Centers' directors into accepting a tender offer that they believe … is inadequately priced and opportunistic."
Depositions taken as part of the court fight suggested that David Simon sought to use as leverage the recent imprisonment of Bobby's father, Alfred, for price-fixing at the Sotheby's auction house.
In his deposition, Bobby said David Simon had been "billigerent" and "badgering" when they talked during an industry conference in San Francisco and had asked if he had "any idea of the kind of pressure that was going to be brought to bear on me? That my father was in jail, and how was that going to look?"
The standoff finally ended in July 2003 after Michigan Gov. Jennifer Granholm threw up an impenetrable barrier—signing an anti-takeover statute that upped the threshold for shareholder approval to two-thirds.
Despite all that history, the Taubman Centers board last fall decided a deal with Simon might make sense, given the significant pressures facing the shopping mall industry, including the rise of online shopping, increases in retailer bankruptcies and the decline of department stores, according to a summary of deliberations contained in Taubman Securities and Exchange Commission filings.
Simon is the dominant retail real estate company in the United States, with about 200 properties, half of them shopping malls, in addition to international holdings. Taubman is far smaller, with 26 super-regional shopping centers in the U.S. and Asia, some of which were spectacular performers before stay-at-home orders and social distancing emptied them out.
At the direction of the Taubman board, Bobby Taubman on Oct. 24 had dinner with David Simon, at which the two discussed a joint venture and other potential transactions.
David Simon on Nov. 15 got buyout negotiations rolling by dangling $53 per share, a 51% premium to where Taubman shares closed a day earlier. Bobby Taubman told him that, "although he was disappointed with the price proposed," a special board committee would review it and respond.
When Bobby Taubman and David Simon met for dinner again Dec. 2, Simon upped the company's offer to $58, while Taubman suggested that getting the special committee's approval might require $63 per share.
The pair met for lunch on Dec. 6, at which Simon lowered his offer to $57. After Taubman told Simon he believed the special committee would reject that number, Simon went up to $60.
But it was all downhill from there. Citing the "deteriorating retail environment" and the recent decline in Simon's share price, Simon on Jan. 9 reduced the offer to $57 in cash, ditching the mix of cash and stock that had been part of earlier proposals.
By late January, David Simon alerted Bobby Taubman that his company was still interested but was putting the transaction on hold while it assessed market conditions further.
On Feb. 5, Simon reengaged with Bobby Taubman but told him that he would pay no more than $52. The two companies later settled on $52.50, with the deal unveiled on Feb. 11.
Under the deal, the Taubman family would cash out about one-third of its ownership interest but remain a 20% owner of the company.
But now Simon Property Group is arguing that it has the right to walk away because Taubman has suffered a "material adverse effect" and that Taubman "failed to take steps to mitigate the impact of the pandemic as others in the industry have, including by not making essential cuts in operating expenses and capital expenditures."
Simon said Taubman has been hit particularly hard by the pandemic because a "significant proportion of its enclosed retail properties" are "located in densely populated major metropolitan areas" and rely heavily on tourism.
Taubman is taking the stance that Simon's arguments, which it laid out in a June 10 lawsuit, are baseless.
"Taubman believes that Simon's purported termination of the Merger Agreement is invalid and without merit, and that Simon continues to be bound to the transaction in all respects," the company said in a statement.
Wells Fargo analyst Tamara Fique said in a research note that Simon's legal position ignores that Taubman cut $10 million in operating costs and deferred at least $100 million in capital expenditures.
And in an interview with Retail Dive, Fique noted that the attributes Simon now is using against Taubman—its focus on densely populated areas and tourists—"are likely the very same factors that attracted Simon to Taubman at the outset."
But analysts said that, even if Taubman is heading to court with a strong legal case, its weakened state might mean it can't wait months or years for a favorable ruling.
The strain Taubman is under could pave the way for the company to settle by agreeing to an even-lower price, analysts said.
Referring to Taubman by its ticker symbol, Piper Sandler analyst Alexander Goldfarb wrote, "While TCO has the home-court advantage, with the merger doc domiciled in Michigan, SPG has the financial resources to sustain an on-going legal battle, while still reopening its portfolio.
"By contrast, TCO must now grapple with this litigation and resolve reopenings with tenants, without the fiscal heft SPG would have provided in these negotiations."
If the dispute is fully litigated, who knows what gems will come to light from the four meals David Simon and Bobby Taubman shared on the way to negotiating the merger?
Depositions during the court battle 17 years ago show both men know how to throw a verbal jab.
Back then, Taubman told Simon that making a hostile play for Taubman would blemish his resume and dim his company's profits.
"Obviously, he didn't care for my wisdom," Taubman said.
So, quipped the Simon attorney conducting the deposition, "His statements were threats and yours were wisdom?"•
Please enable JavaScript to view this content.