Even as the pandemic has dramatically reduced foot traffic at Indianapolis International Airport, the facility's work to refresh its slate of restaurants and shops is progressing—albeit more slowly than initially expected.
Sun King Tap Room opened in a 1,000-square-foot space in October. And Tinker Coffee is expected to open a location sometime this month.
Meanwhile, construction on several other new restaurants and retailers is either ongoing or expected to kick off soon, making way for up to five openings this year.
Airport leaders say the pandemic has slowed construction or altered schedules for some of the new retail options announced more than a year ago, but none have backed out of contracts. That's good news in an industry that nearly came to a halt when the pandemic took hold in March.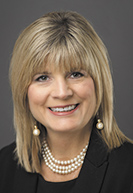 Marsha Stone, the airport's senior director of commercial enterprise, said the new retailers remain committed to opening, albeit on an adjusted timeline for many.
"One thing we've had to learn is to be nimble and able to adapt, and that's what we've been doing," she said.
In 2017, the airport announced it would embark on a project to freshen up its retail and concession offerings and make more available on the terminal's concourses, starting in 2019. The move came after a slew of vendor contracts expired in 2018.
A key goal for the project is to showcase more locally based businesses, such as Sun King and Tinker Coffee, while still offering nationally recognized brands.
In January 2019, the Indianapolis Airport Authority approved the first series of new vendor contracts, which included convenience and specialty retailers, such as MAC Cosmetics, Vineyard Vines and FAO Schwarz. Two months later, the authority approved vendor contracts for new restaurant offerings, including Sun King and Tinker Coffee, plus Goshen-based Ben's Soft Pretzels and much-anticipated New York-based Shake Shack.
The first wave of retailers began opening in October 2019; MAC Cosmetics was one of the last to open before the pandemic hit. The store, which was the 15th to open under the concession-refresh program, held a grand opening on March 11, five days before Gov. Eric Holcomb ordered all bars and restaurants to close for in-person dining.
For seven months, nothing new opened and many retailers either closed entirely or reduced operating hours as passenger counts plummeted.
In April, just 16,000 people boarded planes at IND, an airport that in 2019 recorded 4.7 million enplanements, its most ever. Slowly, passenger numbers have started to increase, but airport officials estimate traffic won't return to pre-pandemic levels until 2024 or later.
By the end of 2020, 31 of 50 concession locations had reopened, although some continued to operate at reduced hours. Seven were still temporarily closed. And 12 others were in some phase of development behind construction walls.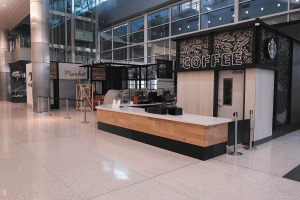 A few retailers are even operating multiple locations, including Starbucks, which has reopened in concourses A and B and in Civic Plaza, though the shops are operating at different hours. The Starbucks in baggage claim remains closed.
"We've evolved," Stone said. "It's been nice to see a lot of those spaces reopen."
David Shaw, director of concessions and air service at the airport, told the Airport Authority in November that data and passenger input are guiding decisions about what retailers are open and when.
"We are doing the best we can to provide great customer service through ample offerings, the right hours of operation, with the ultimate goal of providing a public value" he said. "That's a very difficult balancing act."
Rob Wigington, executive director of the Airport Restaurant & Retail Association, said many retail and restaurant locations remain closed at airports across North America. The association predicts that, by the end of this year, airport retailers will lose three years of profit.
"We do know for certain that the many small and minority-owned businesses can't survive years of significant revenue loss and that the landscape of airport concessions will be forever changed," he said.
While each airport is unique and knows best the outlook for its passenger traffic and economic recovery, the Airport Restaurant & Retail Association has advocated that airports put a moratorium on requests for proposals for new retail offerings until the pandemic passes and current retailers can see their sales stabilize, he said.
In Indianapolis, 2021 is expected to be a busier year for new openings, as retailers whose openings were delayed get going. Among restaurants that should open this year after a delay is Shake Shack.
News that Shake Shack would open at the airport broke in March 2019, with a projected 2020 opening. That opening is now expected midyear or later in 2021.
Other retailers expected to open their doors this year include Bento Sushi, Bub's Burgers and sports-themed retailer GearUp.
Bub's Burger and Bento Sushi were already under construction when the pandemic hit and progress on their spaces paused. Work is expected to begin again soon in both locations.
Other retail developments previously announced are still in the planning stages, including a second Tinker Coffee, Ben's Soft Pretzels in both concourses, Bloomington-based Social Cantina, Circle City Beer Garden, Hot Box Pizza, Indiana Pacers Courtside Club and a farmer's market in partnership with the state agricultural initiative called Indiana Grown. Construction plans for those offerings continue to evolve as the airport watches passenger traffic.
Since the pandemic set in, the authority has approved one additional offering. The Fan Zone will be rebranded as The Tap Brewery and Craft Beer Bar, which is based in Bloomington. Stone said construction isn't likely to start on that location until sometime in 2022.
She warned that the timelines for various retailers are based on passenger traffic and could change, especially those planned for 2022 and later, but said airport leaders remain "committed to delivering this refresh program."•
Please enable JavaScript to view this content.