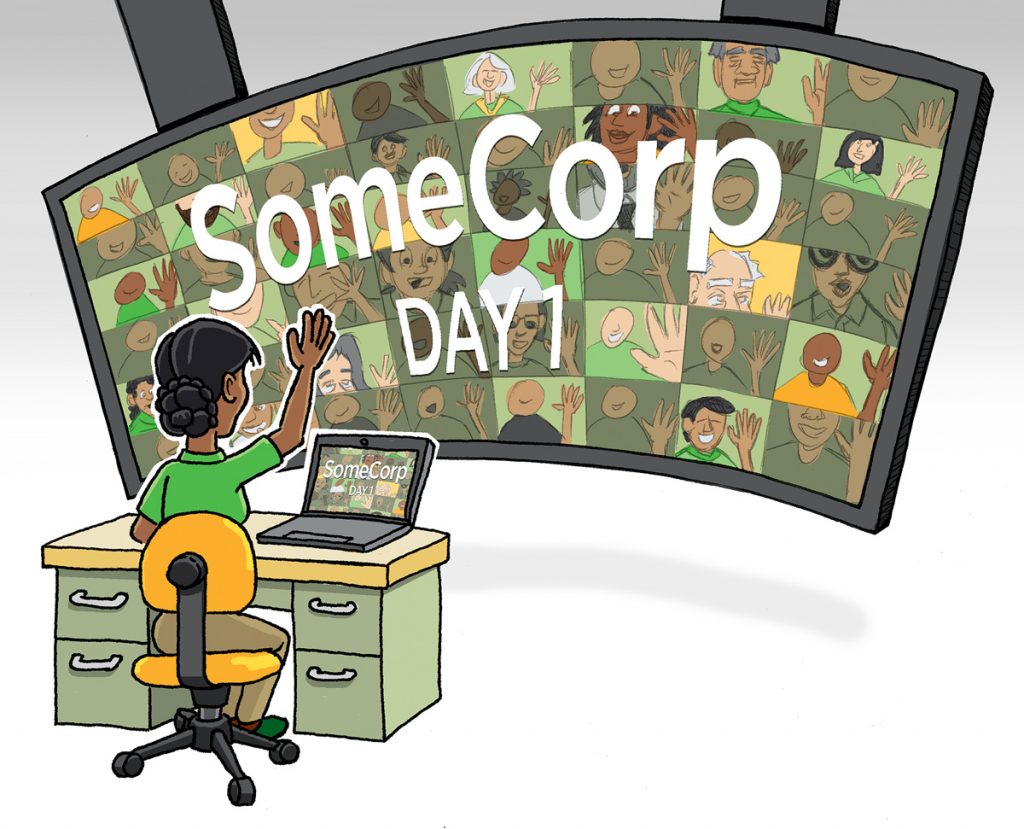 The COVID-19 pandemic has forced employers to make changes to the summer internships they offer college students.
While some have canceled programs outright, most employers are finding creative ways to still bring in student workers this summer.
An April survey by Indiana INTERNnet, an online portal that matches students with employers seeking interns, found that 37% of the 181 employers surveyed no longer planned to hire interns this summer, while 48% still planned to but with program changes.
Those changes include altering the internship start/end date, moving in-house internships to virtually hosted, hiring fewer interns and cutting back on interns' hours.
Alexis Jolly, who will be a junior at Indiana University Bloomington this fall, has seen her summer plans upended.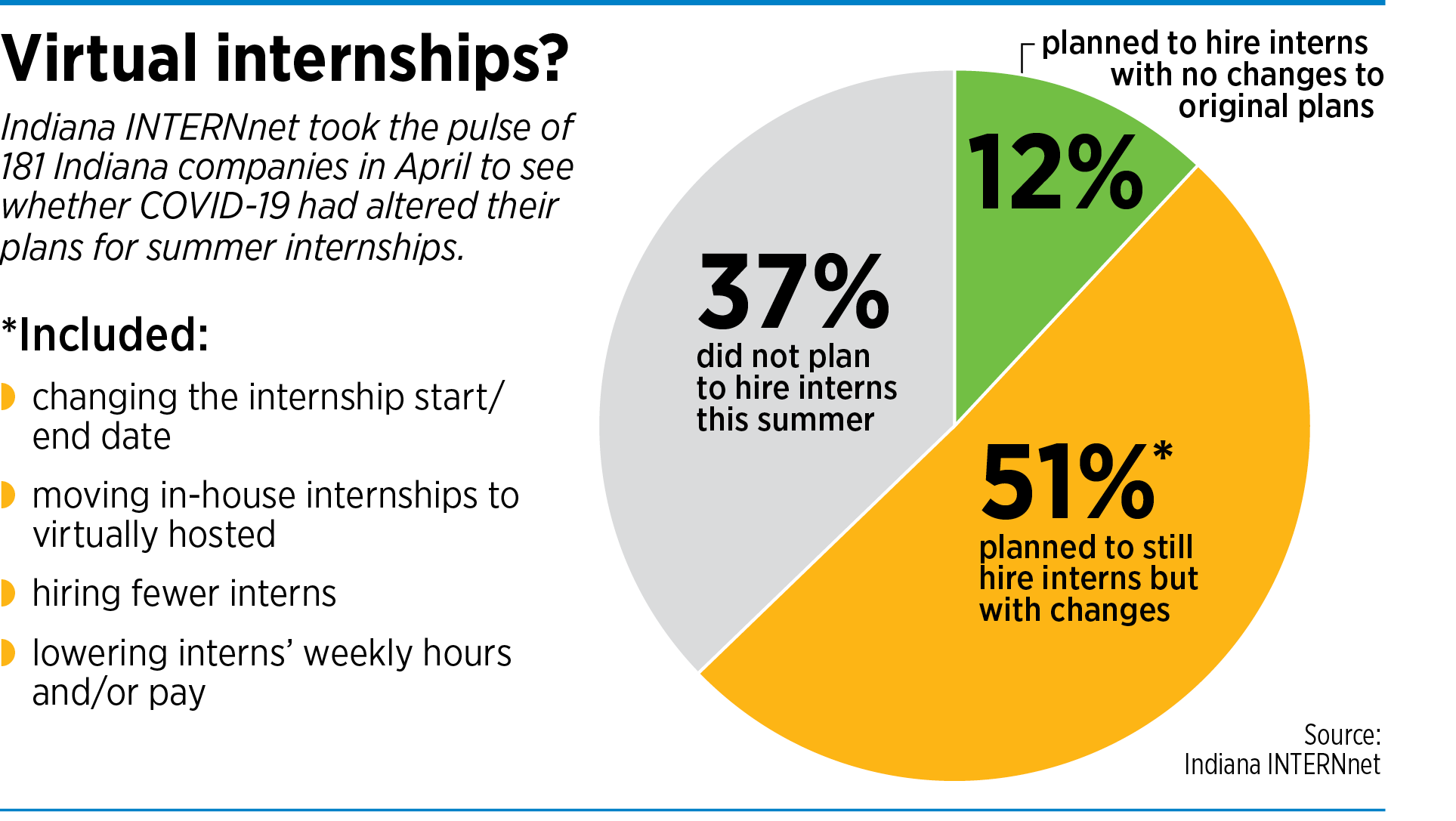 Just before stay-at-home orders enacted in March, Jolly had secured an internship on the public affairs team at local advertising firm Hirons. She's studying marketing and international business at IU and envisioned getting real-world experience this summer.
Now, she's looking for a nannying or hostess job—something to hold her over until school starts again in the fall.
Hirons has told her she'll be able to reapply for the internship next summer. She's disappointed but said she understands.
"I know a couple of my friends, theirs got moved to online, which I think is great experience, but I do think an in-person internship is so great and just so valuable to the future," she said. "I'm disappointed but also understanding of the current situation we're in. There's nothing really I can do about it."
It turns out that Jolly's situation seems to be in the minority.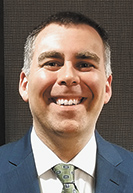 Mike Slocum, executive director of Indiana INTERNnet, said that, while many people assume internships aren't happening this summer, many students' internships are still happening; it's just that the experiences might be different than planned.
INTERNnet still has some postings, he said, and there's still time for students to arrange a new internship if another has fallen through.
Slocum said many companies that planned to begin internships in May pushed start dates to June, when offices might slowly begin reopening.
Others made internships virtual, with students working remotely like their professional counterparts.
Slocum said virtual internships can be just as valuable as in-office experiences as long as employers are thoughtful about ensuring interns still experience company culture—an important piece of an internship.
While no Zoom meeting can replicate those office experiences, some students who might not have been able to intern this summer—for lack of transportation or other reasons—are now able to.
The key to a high-quality internship is providing a structured experience for interns to maximize their learning and time working while receiving supervision, Slocum said. "Those are the two obstacles to overcome to ensure our interns are at their best."
Making the most of it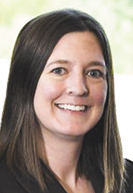 Shannon Zengler, director of human relations for Indianapolis-based Valeo Financial Advisors, said her company went ahead with bringing interns on this summer as planned. Valeo has nine interns working for the investment analysis and financial planning teams.
Zengler said the internships are formal apprenticeships that give students interested in being financial advisers the same projects and tasks they'd do as professionals.
To that end, their schedules look similar to those of Valeo's full-time employees. Half the week, they're in the office; the rest of the week, they work from home.
"Because we're so committed to our intern program, we never hesitated to continue to have interns, even given all the uncertainty," she said. "Our priority was always, 'How do we continue to support these students and how do we do it safely?'"
With that schedule, the pandemic has presented challenges, Zengler said. Some projects can be done only in the office, so the interns are learning valuable time-management skills.
Additionally, the company is hosting virtual meet-and-greets and happy hours. And it's implemented a buddy system, with each intern being assigned a core adviser to work with who can check in on them to make sure they don't feel isolated.
"We're trying to be as flexible and adaptive as possible to make this summer as engaging as if everyone could be in the office," she said. "The biggest priority has been to make them feel as connected to company culture as possible even though they are remote."
John Deck, a recent graduate of Indiana University, is interning at Valeo before starting grad school in the fall. He said that, while the experience isn't what he imagined when he applied, he's glad to have the opportunity when so many people are out of work.
Being in the office is more beneficial, he said, so he's happy to be able to go into work half the week.
"I think it's definitely shined a light on what capabilities there are to do from home versus in the office; it's definitely taught us how to adjust for certain situations and how to handle different tasks from pretty much anywhere," he said.
The Children's Museum of Indianapolis also went ahead with its intern program as planned.
This year, the museum welcomed 14 interns, one more than last summer, said Tim Scully, intern program manager. Because the museum works with students from Indiana universities and colleges, some students who live out of state are even working from their home states.
Even with the museum still closed, interns have plenty to do, from crafting social media posts to preparing for planned exhibits and events, he said.
"The work in the building may have stopped, but the work of the building didn't stop," he said.
Katy Allen, museum vice president of human resources, said it's been remarkable how adaptive managers and interns have been.
This year's interns haven't missed a beat, she said. They're participating in staff training events and virtual social meetups each Friday and, in some ways, are getting more exposure to the museum's full staff than they would during normal circumstances.
Supplemental experience
TechPoint, Indiana's industry-led, not-for-profit tech-sector growth initiative, was concerned about the number of students in Indiana who might have seen internships canceled because of COVID-19.
Its leaders decided to do something about that, to give the interns a supplemental experience.
With the help of more than 50 local tech employers, TechPoint is launching The Summer Opportunities for Students (S.O.S.) Challenge to provide up to 500 students from Indiana colleges and universities a five-week experience that aims to help them strengthen their resumes, demonstrate skills and make professional connections.
Each student who completes the program will receive a $500 stipend.
Students will work in teams on a "real-world," COVID-related challenge and each team will be assigned coaches from a pool of 200 volunteers from the tech community.
Nine challenge topics have been identified: workplace and work-from-home environments, telehealth, restaurants and small businesses, sports and entertainment events, e-learning, schools, community-based organizations, tourism, and transportation.
Teams will choose a topic and learn about the focus areas from subject-matter experts, in addition to doing their own research. Then, they'll be asked to prepare a product prototype and go-to-market plan that can help address solutions or create new opportunities. These products will be presented virtually to a TechPoint panel of judges.
Winning teams will receive a $2,500 prize.
"We wanted to do something bold, so we brought together our community of members and partners—the leaders among employers, universities, government and philanthropy and, as usual, our community stepped up," Mike Langellier, TechPoint president and CEO, said in written comments. "Our many years of experience working with our Xtern students in the ultimate summer internship program put us in a unique position to find a creative way to help as many students as we could."•
Please enable JavaScript to view this content.