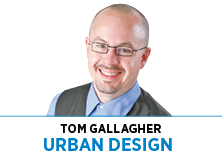 The wave of changes unfolding across the nation marks a singular moment of opportunity for Indianapolis.
Analysts suggest that around three-quarters of the two largest American demographics—millennials and baby boomers—prefer a lifestyle of mixed-use, mixed-age, walkable, urban places.
At the same time, these same folks are leaving the biggest cities, in search of a more affordable version of that existence.
Both trends are inseparably intertwined with a third sweeping change—the major market correction in retail. Fueled by the overexuberance of the late 1980s, the United States has eight to 10 times more retail space per capita than major European markets. A 2019 PricewaterhouseCoopers report noted, "There are lots of poor-quality centers and retail districts that have no reason to exist other than tenant demand at the time they were built."
Bottom line: Retail is not dead, but we must come to grips with the fact that some locations are never coming back.
This is particularly clear for the nation's malls and the sprawling suburban form that tends to surround them. Credit Suisse has reported that, of the country's remaining 1,100 malls, nearly a quarter are likely to close in three to five years.
In response, however, since the beginning of this century, some malls and suburban retail districts have been transformed into legitimate mixed-use, walkable places. This is where the national trends and Indy's momentum coincide.
As one of a limited group of American municipalities referred to as "18-hour cities," Indy's humanely scaled urban areas, mix of employment opportunity, and relative affordability make it an attractive alternative to the larger gateway cities.
The surveys of stakeholders in the Castleton area, which is being studied by the city for "strategic revitalization," will attest that local, non-chain shops and restaurants are a major component to the smaller, more curated retail experiences for which people are looking. Indy has a proven pedigree for incubating the local and entrepreneurial spirit, particularly in the culinary sphere.
Focused redevelopment of areas of sprawl into compact, walkable places provides opportunities beyond downtown for urban-loving inhabitants. And the opening of the Red Line this month brings rapid transit back to the city, offering the promise of connecting our far-flung populace to the broader metropolitan area.
That said, now that we've been living with auto-oriented retail and shopping malls for a generation, it's hard to imagine that we can make meaningful change to these areas. But there are examples across the country to which we can look for guidance and inspiration.
In the metro area of Washington, D.C., alone, no fewer than 15 suburban retrofits are planned or underway, including Rockville Town Square, Bethesda Row, Downtown Silver Spring and the Ballston Corridor, all helped along by the rapid transit system.
Thornton Place in Seattle is a step toward transformation, located on an eight-acre former parking lot of the nearly defunct Northgate Mall. In addition to the more expected mixed-use buildings, the project refreshingly incorporates an often-missing, middle-ground housing type—the three-flat, a small apartment building typically with one unit per floor.
At the village scale, Mashpee Commons in Massachusetts began life as a strip mall. The site was completely reworked, trading the front parking lot for a human-scaled street and the single-purpose buildings for ones that can have many uses over their lifetime.
Like Mashpee, Belmont in Lakewood, Colorado, broke down the single-purpose, hulking mass of the former Villa Italia Mall into a fine-grained mix of buildings woven together by 22 walkable blocks, forming a flexible street grid intended to reconnect to adjacent neighborhoods.
Criticism is valid for so-called "instant urbanism," which some decry for its too-often Disney-like characteristics. Most so-called lifestyle centers, the development rage early in the last decade, went so far as to simulate an urban look without overcoming the limits of auto-centric separation of uses. While it takes more time and attention to detail, we need to get all the way to the compact mix of uses and critical mass of people that make real walkable urban places work.
Testament to this, two stellar examples of the lifestyle-center era—Rosemary Square (formerly CityPlace) in West Palm Beach, Florida, and Easton, closer to home in Columbus, Ohio—are completing streetscape, public space and mixed-use improvements at a cost of more than half a billion dollars each, in order to not only shed the mall moniker but become true neighborhoods.
If we are going to capitalize on this moment of synergy, we will need to address the sprawling suburban form that has fallen out of favor and stretched thin our resources. Strengthened by transit-oriented development, most new and retrofitted locations will have more in common with our original streetcar neighborhoods than their shopping mall roots. It will take time, patience and fortitude, but it can be done.•
__________
Gallagher is a principal and urban designer with Ratio and a professor-in-practice of urban design at Ball State University. Send correspondence to TGallagher@ratiodesign.com.
Please enable JavaScript to view this content.