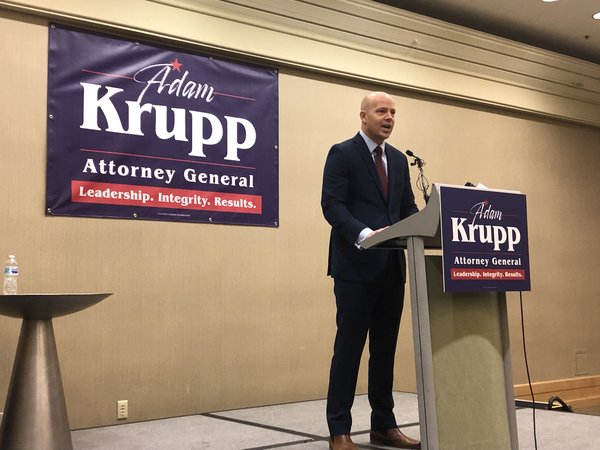 Indiana Department of Revenue Commissioner Adam Krupp is resigning at the end of the month to campaign full time for attorney general and try to unseat fellow Republican Curtis Hill.
Krupp, 41, officially announced his plans to seek the Republican nomination for attorney general Monday morning. Republican incumbent Hill is seeking re-election despite allegations that he inappropriately touched a state lawmakers and three legislative staffers in 2018. He has resisted  calls from top Republican officials to resign.
Bose McKinney & Evans attorney John Westercamp is also seeking the Republican nomination at the party's convention in June.
Republican Gov. Eric Holcomb tapped Krupp to run the revenue department in 2017, and Krupp also worked under former Govs. Mike Pence and Mitch Daniels. Krupp said his resignation will take effect Jan. 31.
"I'll be over the state fast and furious the next five months," Krupp said. "I want to be all in. I want to be everywhere I can."
He said he met with Holcomb about his decision to leave the DOR and run for attorney general.
"I'm grateful to Adam for his years of dedication to the public," Holcomb said in a written statement. "His leadership helped transform the Department of Revenue into one recognized and ranked as a best place in the state to work. He leaves the department perfectly positioned to continue delivering Hoosiers with great government service at a great taxpayer value. I wish him well in his new endeavors."
Holcomb, who has called on Hill to resign, has not offered any endorsements in the attorney general's race.
"He was very thankful and supportive of my service in his administration," Krupp said. "He wished me the best, and we shook hands, and we went from there."
Hill has been under fire for more than a year as he fights allegations that he drunkenly groped and made unwanted sexual advances toward four women at a party at the end of the 2018 legislative session.
A special prosecutor and the Indiana inspector general declined to charge Hill with criminal or ethical violations, but Hill's legal future is still uncertain. He faces multiple ethical violations from the Indiana Supreme Court Disciplinary Commission, which has recommended that his law license be suspended for at least two years and not be automatically reinstated.
Hill's lawyers have advocated for the case to be dismissed. Former Indiana Supreme Court Justice Myra Selby presided over the disciplinary hearing and will make recommendations to the Indiana Supreme Court, which will have the final say in any sanction.
Krupp wouldn't say on Monday whether he thinks Hill should resign, but repeatedly talked about how the state's chief legal officer should be someone Hoosiers can trust and someone with integrity.
"Resignation is such a personal decision," Krupp said. "That's up for delegates to decide on who they want to be their next attorney general. My opinion on whether or not he should resign is frankly not relevant."
But Krupp said whoever is attorney general should be professional and "abstain from an offensive personality" in order to keep the trust of his or her top client—the state of Indiana.
"When that relationship is broken, clients find new lawyers," Krupp said. "It's time for Hoosiers to hire a new lawyer. Someone they can trust. Someone who has proven to be a passionate Indiana public servant whose work has been dedicated to improving the lives of Hoosiers and someone with a track record of delivering tangible, successful results. I'm asking Hoosiers to hire me as their lawyer in 2020."
Krupp said deciding to run and resign from his post at the revenue department "was without question the most difficult decision of my life thus far," but his conversations with people over the past few months motivated him to join the race.
"I walked away from each of those interactions realizing that what Hoosiers are seeking from Indiana's attorney general can be summed up in three words: leadership, integrity and results," Krupp said. "I stand ready to provide all three."
Whoever wins the Republican nomination from delegates at the state party convention in June will face a Democratic opponent in the general election. Democratic state Sen. Karen Tallian from northwest Indiana and former Evansville Mayor Jonathan Weinzapfel are running for their party's nomination, which will also be decided at a statewide convention in June.
The Indiana Republican Party also is not endorsing a candidate, at least right now.
"Curtis Hill's behavior in office has certainly thrown this race wide open and we wouldn't be surprised to see other candidates join the race," Indiana GOP spokesman Jake Oakman said in a statement. "The Indiana Republican Party will not endorse a candidate at this time. State convention delegates will have the final say on who represents our party on the ballot in November."
Please enable JavaScript to view this content.