Indiana Department of Revenue Commissioner Adam Krupp is running for attorney general, posing a challenge to embattled Republican incumbent Curtis Hill.
Krupp, 41, will formally announce his candidacy at a press conference Monday, but he issued a press advisory on Friday afternoon that says he will seek the Republican nomination at the party's convention in June.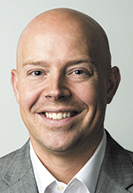 Hill, who has been accused of inappropriately touching a state lawmaker and three legislative staffers in 2018, announced in November that he will seek re-election despite the allegations and calls from top Republicans—including Gov. Eric Holcomb—for him to resign. Hill has repeatedly denied any wrongdoing.
Holcomb appointed Krupp to run the revenue department in 2017, and since then, Krupp has been focused on making the agency more efficient and improving technology. Earlier this year, the department launched a new online tax portal, replacing a system that had been in place for more than 25 years.
Krupp also worked under former Gov. Mike Pence as general counsel for the Bureau of Motor Vehicles and special counsel to the governor's office and under former Gov. Mitch Daniels as deputy director and counsel for Indiana's Division of Family Resources.
Prior to joining state government, Krupp practiced law in the private sector, working for Kasowitz, Benson & Torres LLP and White & Case, LLP in New York.
Krupp, who grew up in Plymouth, received his bachelor's degree in speech communication and theater education from Purdue University and his law degree from Indiana University Robert H. McKinney School of Law.
He was named one of IBJ's Forty Under 40 honorees in 2018.
He won't be the only Republican trying to oust Hill at the convention: Attorney John Westercamp announced in June that he's also seeking the nomination. Westercamp is a lawyer at the Indianapolis firm Bose McKinney & Evans and calls himself a "pro-life, principled, conservative Hoosier."
In addition to the GOP challenges, Hill's future is still uncertain as he awaits the outcome of a recent Indiana Supreme Court disciplinary hearing. Hill faces multiple ethical violations in response to the allegations that he drunkly groped and made unwanted sexual advances toward four women at a party after the end of the 2018 legislative session.
A special prosecutor and the Indiana inspector general previously declined to charge Hill with criminal or ethical violations.
But the Indiana Supreme Court Disciplinary Commission has recommended that his law license be suspended for at least two years and not be automatically reinstated. Hill's lawyers have advocated for the case to be dismissed.
Former Indiana Supreme Court Justice Myra Selby presided over the disciplinary hearing and will make recommendations to the Indiana Supreme Court, which will have the final say in any sanction.
Whoever wins the Republican nomination at the state party convention in June will face a Democratic opponent in the general election. Democratic state Sen. Karen Tallian from northwest Indiana and former Evansville Mayor Jonathan Weinzapfel are running for their party's nomination, which will also be decided at a statewide convention in June.
Please enable JavaScript to view this content.