Fountain Square's Back Alley Ballyhoo is billed as a psychedelic music festival that provides an umbrella for styles ranging from insistent garage rock to sprawling excursions of trippy improvisation.
Scheduled Aug. 9-12 at record store Square Cat Vinyl plus an outdoor stage, Back Alley Ballyhoo features headlining bands Bass Drum of Death and Lunar Vacation. Atlanta-based Lunar Vacation initially described its sound as "pool rock," a self-deprecating label meant to convey what it's like to play surf rock-inspired sounds in a landlocked city.
Guitarist-vocalist Grace Repasky and guitarist Maggie Geeslin founded Lunar Vacation when they were 16-year-old high school students. After releasing two EPs and 2021 debut album "Inside Every Fig is a Dead Wasp," the band isn't fixated on terms to define its sound.
"We're trying to push our own boundaries," Repasky said. "We're trying to expand a lot more and be open-minded, which is really exciting and fun."
Back Alley Ballyhoo attendees can expect to hear material Lunar Vacation is preparing for an upcoming album. Indianapolis-based band Cairo Jag recently released a live recording from the 2022 edition of the festival.
Vocalist-guitarist Curt Turner said Cairo Jag is comfortable in a psych rock setting, but also plenty of other places.
"I got into music through punk rock and the Beatles," he said. "I try to take lessons from both."
Turner said he appreciates Back Alley Ballyhoo founders Patrick Burtch and Mike Angel, also co-owners of Square Cat Vinyl, for crafting a festival lineup made up of Indiana standouts as well as touring acts that don't make regular appearances here.
"Indianapolis is kind of a flyover city, you know," Turner said. "To be able to harness bands that wouldn't typically stop, I think that's important."
Beyond Atlanta's Lunar Vacation and Mississippi's Bass Drum of Death, this year's Ballyhoo lineup includes Texas-based Holy Wave, California's Triptides and Canada's Jaguar Sun.
Cairo Jag, a trio of Turner, bass player Joe Wise and drummer Nolan Schockman, is joined on Ballyhoo's Indiana roster by bands such as the Be Colony, Radar Gold, Hyper Tensions and Karate, Guns & Tanning.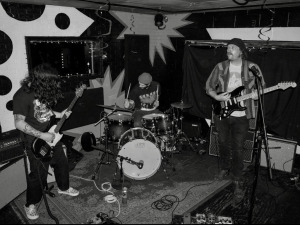 With a band name inspired by a poem by World War II soldier Keith Douglas, Cairo Jag is building an out-of-town fan base—particularly when playing shows in Milwaukee and Carbondale, Illinois, Turner said.
It's not unusual, he said, for Cairo Jag songs to emerge from 20-minute experimental jams.
"As long as the general concept is starting to glue together, where everybody's starting to feel it in the same way, that's when everybody's eyes light up when we play stuff back," Turner said. "It's, 'Oh, yes, this is the type of thing we should do.'"
Lunar Vacation lyricist Repasky said her latest songs draw inspiration from transitions in personal relationships.
"I feel the lyrics these days are referencing the loss of something or a really big change," she said. "Trying to grapple with a lot of contradicting emotions when going through something intense and heavy, but it's hard to have the right tools to fully emotionally digest something. I'm trying not to write too many depressing songs, but sometimes they just come and it's fine."
Back Alley Ballyhoo
When: Aug. 9-12.
Where: Square Cat Vinyl, 1054 Virginia Ave.
Tickets: $19 to $35.
Info: Visit squarecatvinyl.com.
Please enable JavaScript to view this content.