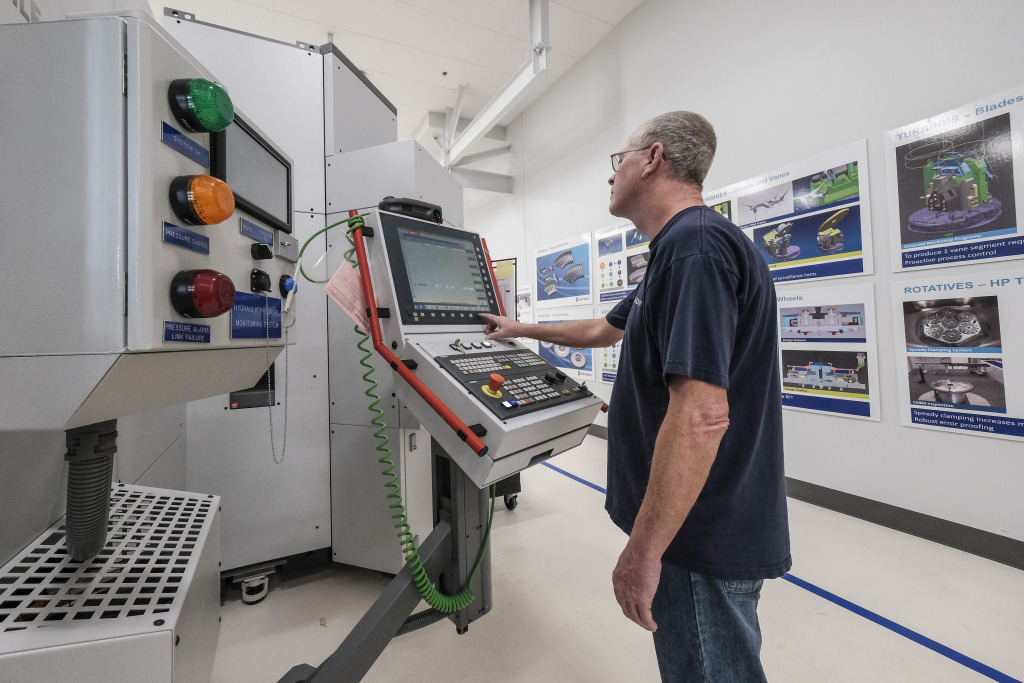 Now that it's completed a five-year, $600 million revitalization effort, Rolls-Royce North America says its Indianapolis operations are well-positioned to compete for more major military contracts.
The project, first announced in 2015, was largely completed last year, but the engine-maker was set to hold a pandemic-delayed celebration at its west-side Indianapolis campus Wednesday afternoon, with guests including Gov. Eric Holcomb and Mayor Joe Hogsett.
The revitalization effort included two major components: a $400 million modernization of Rolls-Royce's Raymond Street and Tibbs Avenue facilities and the equipment at those plants, and $200 million in technology research, some of which was for projects on the campus of Purdue University.
That $200 million investment is separate from the two recently announced projects that Rolls-Royce and Purdue are planning at Purdue, Rolls-Royce said.
During the revitalization, much of the old Raymond Street campus, some of which dated back to the 1940s, was demolished. Rolls-Royce's total square footage at the two local plants dropped from 3 million square feet to 1.5 million square feet.
Rolls-Royce also invested in new machinery and reconfigured its manufacturing processes.
The result is a much more high-tech and efficient operation, said Warren White, who leads Rolls-Royce's Indianapolis manufacturing and testing operations. "The technology is an incredible step forward," White told IBJ Tuesday during a media tour in advance of Wednesday's event.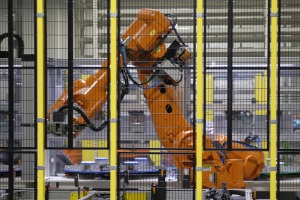 The new equipment, he said, uses artificial intelligence to guide the manufacturing process, resulting in more efficient production. Processes that formerly required machine operators to make painstaking measurements and adjustments are now done by machine.
As one example: With the new equipment, Rolls-Royce now needs only eight machines to produce turbine engine components, compared with 91 machines previously. And the number of steps required to produce these components has been reduced up to 48%.
Between its manufacturing sites and its downtown offices, Rolls-Royce has about 3,500 employees. That's down slightly from five years ago, which the company attributed mostly to attrition.
"We did not lay off anybody in these processes," White said. "This was not a workforce reduction."
Rolls-Royce is hoping the upgrades put it in a good position to win some big military projects.
In 2019, Rolls-Royce announced its intention to bid on the U.S. Air Force's B-52 re-engining program, which would be one of the largest contracts the Indianapolis operation has ever pursued. Rolls-Royce said it expects to hear next month whether it's won the contract.
Rolls-Royce also hopes to secure work for Bell Helicopter, the Fort Worth, Texas-based company that is  working with the U.S. Army on a replacement for the Blackhawk helicopter. Rolls-Royce expects to hear by the end of next year whether it has won that job.
"It [the recent facility upgrades] absolutely is part of a strategy to make us more competitive for those bids," Rolls-Royce's Phil Burkholder told IBJ Tuesday. Burkholder is the Indianapolis-based executive vice president of the company's global defense manufacturing, assembly and test operations.
"Rolls-Royce has been an integral part of Indiana's manufacturing industry for more than 100 years, contributing to our status as the strongest manufacturing state in the nation," Holcomb said in written remarks before Wednesday afternoon's event. "Days like today, where we get to celebrate a major investment and revitalization of manufacturing operations, are proof that Indiana is on a roll, exactly because of Rolls-Royce's continuing commitment to powering the future from right here in the heart of the heartland."
One of Holcomb's Next Level Agenda priorities is to triple the amount of federal defense investment in Indiana by 2025.
The Indiana Economic Development Corp. offered Rolls-Royce $15.5 million in tax credits and another $1.4 million in training grants for its modernization project. Rolls-Royce has met its stated investment goals and claimed all those incentives, according to IEDC's transparency portal.
In 2015, the city of Indianapolis approved 10-year real property and personal property tax abatements worth an estimated $21.7 million based on Rolls-Royce's planned investment.
Please enable JavaScript to view this content.