Indiana Secretary of Commerce Jim Schellinger took some people by surprise earlier this week when he announced he had resigned, but he says his departure is no reason for wild speculation, even if it seems abrupt.
Schellinger, 60, announced his resignation in a memo to the Indiana Economic Development Corp. board of directors and staff on Wednesday after submitting his letter of resignation to Gov. Eric Holcomb.
"I'm not sick. There's no scandal. I have no job," Schellinger said in an interview with IBJ. "This has got to be like the first time in 42 years that I have no job."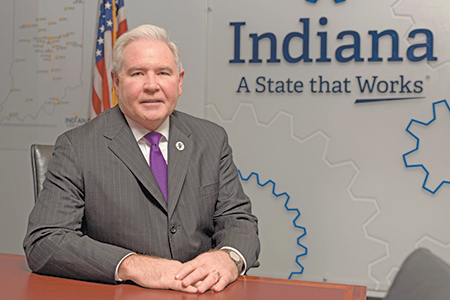 John Thompson, an IEDC board member and CEO of Thompson Distribution Co., said earlier this week that Schellinger is leaving the job by choice and on good terms.
Former Gov. Mike Pence, a Republican, named Schellinger, a former Democratic gubernatorial candidate, president of the IEDC in July 2015. He had been the chairman and CEO of Indianapolis-based CSO Architects Inc. and had served two years on the IEDC's board.
Holcomb, a Republican, then named Schellinger secretary of commerce, a promotion to the position that oversees the IEDC, in 2017.
Schellinger said he had been contemplating his departure for a couple of months, but he did not have a formal discussion with Holcomb in advance—and still had not spoken with the governor as of around noon Thursday. Still, he said he didn't think Holcomb should be surprised.
"I think there was a feeling we had accomplished so much," Schellinger said.
The biggest accomplishment may have been securing another record-setting number of job commitments in 2020, despite the COVID-19 pandemic and economic downfall.
The IEDC announced a few weeks ago that it secured 282 business relocation or expansion deals in 2020 that are expected to result in as many as 31,300 new jobs. The state said those businesses together plan to invest more than $5.6 billion in Indiana and create jobs paying an average wage of $28.13 an hour.
The job-creation number was a record high for the fourth straight year and the annual wage commitment was the second highest since the establishment of the IEDC in 2005.
Schellinger also played a key role in securing the deal to buy the former GM stamping plant site just west of downtown and give part of the property to Elanco Animal Health for its new headquarters.
Schellinger said if he didn't think the agency had solid footing, he wouldn't be leaving.
"At the end of the day, it just was a good time," Schellinger said. "Our pipeline is packed. Our team is solid."
Schellinger said he doesn't think he'll be missed. He said his departure might be felt more deeply if he took his dispenser of M&M's from his desk, but he said he's leaving that behind for the staff.
"I'm gonna leave that there, because that's a famous thing," Schellinger said.
He said he has not made any recommendations for his replacement but trusts that Holcomb will find someone great.
"I'm sure there will be a lot of people lined up," Schellinger said.
In his memo and in an interview with IBJ, Schellinger praised Holcomb and his leadership over the past five years.
"I would take a bullet for him and run through a brick wall," Schellinger said.
As for what comes next for Schellinger, he said he really doesn't know, but that his wife, Laura, would also like to know the answer to that.
He said he still has his architecture license, but after more than five years away from the industry, he's not sure he'd be any good at it.
"I have no plan," Schellinger said.
Please enable JavaScript to view this content.