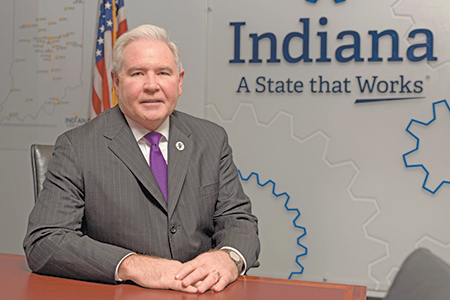 Indiana Secretary of Commerce Jim Schellinger announced Wednesday he has resigned his position with Gov. Eric Holcomb's administration after 5-1/2 years on the job, effective immediately.
In a memo to the Indiana Economic Development Corp. board of directors, Schellinger, 60, said he is leaving state government "with the deepest sense of gratitude and joyful satisfaction in my heart."
"As all who know me have heard me say on so many occasions that serving Hoosiers as your secretary of commerce has and will forever be the highest honor of my life," he said. "But like all great things in life, this too must come to an end."
Holcomb said Schellinger "informed me it was the right time for him to step down immediately and I have accepted his decision."
The governor said he would "move quickly to name another great leader for this all-important agency, so we don't skip a beat with the momentum we've established to make Indiana a great place to locate, start and grow a business."
The announcement comes a few weeks after the IEDC, the state's lead economic development agency, announced that it secured 282 business relocation or expansion deals in 2020 that are expected to result in as many as 31,300 new jobs. The state said those businesses together plan to invest more than $5.6 billion in Indiana and create jobs paying an average wage of $28.13 an hour.
The job-creation number was a record high for the fourth straight year and the annual wage commitment was the second highest since the establishment of the IEDC in 2005.
Schellinger was also heavily involved in a deal to buy the former GM stamping plant site just west of downtown and give part of the property to Elanco Animal Health for its new headquarters.
"I am tremendously grateful to Jim for his long service to the state of Indiana," Holcomb said.
Schellinger said a mentor had told him that new leaders have five years to be effective "before you can no [longer] provide the vision necessary for the future and leave quietly with barely a ripple. Hence, it is time for a new day and a new leader at one of Indiana's truly great organizations."
John Thompson, an IEDC board member and CEO of Thompson Distribution Co., said Schellinger is leaving the job by choice and on good terms. And although he wasn't expecting Schellinger to leave, Thompson said he also wasn't surprised by the news.
"People don't tend to stay in those jobs long," Thompson said. "He's done a great job for the state of Indiana as secretary of commerce. He's led the team to bring a significant amount of business to the state."
Thompson said he has not heard any names tossed around yet for who could replace Schellinger. But Thompson said he doesn't think Holcomb will struggle to replace him, because Indiana is the "envy of the country" in economic development.
"I think he'll attract a really talented economic development person," Thompson said.
Former Gov. Mike Pence, a Republican, named Schellinger, a former Democratic gubernatorial candidate, president of the IEDC in July 2015. He had been the chairman and CEO of Indianapolis-based CSO Architects Inc. and had served two years on the IEDC's board.
Holcomb then named Schellinger secretary of commerce, a position that oversees the agency, a promotion that became effective in 2017. Schellinger replaced Victor Smith, who had resigned after four years as commerce secretary.
Schellinger had run for governor in 2007 but narrowly lost in the Democratic primary to Jill Long Thompson, who lost in the general election to Mitch Daniels.
The IEDC received commitments for 27,137 jobs in 2019, 30,710 jobs in 2018 and 30,158 jobs in 2017.
Please enable JavaScript to view this content.