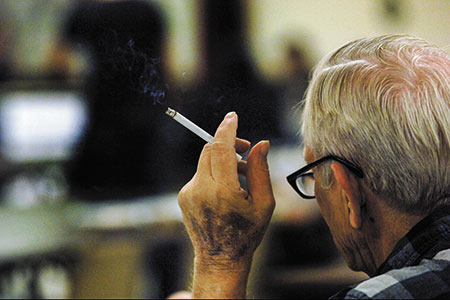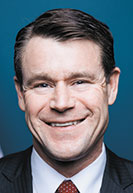 U.S. Sen. Todd Young of Indiana might not seem the likeliest of lawmakers to dive into the smoking battle.
He hasn't had a career in health care. He's a Republican who fights over-regulation. And he hails from a state with one of the highest smoking rates in the country, a place where lawmakers have time and again failed to enact legislation pushed by health care advocates that would raise the state's tobacco tax or make it harder for young people to buy cigarettes.
Still, Young is out front nationally on a key anti-smoking platform: Raising the minimum age for buying tobacco to 21.
It's a proposal the Republican-controlled Indiana Legislature has refused to pass, despite support from a broad spectrum of organizations that include the Indiana Chamber and the American Heart Association. An Indiana Chamber survey has found 65% of Hoosiers support raising the age for cigarette and vaping purchases.
"Raising the legal age to purchase tobacco products is the best and most achievable step we can take to save lives and control the cost of health care," Young said.
His Tobacco to 21 bill, which passed a Senate committee on June 26, is bundled as part of the bipartisan Lower Health Care Costs Act. The bill was introduced to the Senate in April.
Young said he expects the bill to pass the Senate in the next few weeks and make its way to President Trump's desk to be signed into law.
The senator hosted a roundtable discussion at Indiana University last month with 15 Indiana health care professionals, business leaders and veterans to discuss the T21 bill and tobacco use on a state and national level.
"We have a crisis on our hands," Young said. "I feel a moral imperative to act."
The U.S. smoking rate has been declining since it hit 42% in 1964, the year the Surgeon General issued a report that detailed the harmful and life-threatening effects of tobacco. More recently, the rate declined from 21% in 2005 to 14% in 2017.
Indiana's smoking rate—after declining for years—has been increasing since 2015. Currently, about 21.8% of the state's population smokes, according to the Centers for Disease Control.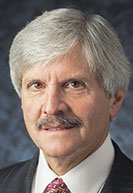 "We have terrible lifestyle choices in this state, coupled with a lack of value placed on health by our policymakers," said Richard Feldman, director of medical education at Franciscan Health in Indianapolis.
The problem is particularly acute among youth, where tobacco use is growing rapidly.
From 2017 to 2018, the use of e-cigarettes and vaping among high school students increased 78%. It jumped 48% among middle-schoolers.
That's the largest annual increase in the use of a substance ever recorded in the United States, according to the National Institute on Drug Abuse.
In Indiana, more than 30,000 high school students—or about 11.2%—smoke tobacco, according to the CDC. And 23.9% have tried vaping.
Young said he wants to attack the problem at that age because 90% of adult smokers begin smoking before 21.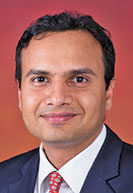 "We're going to unravel and undo all of our efforts in tobacco control by the vaping epidemic sweeping our youth across the country," Feldman said.
Dangers of vaping
Vape pens—such as JUUL, which dominates 68% of the national e-cigarette market—do not contain tar, the part of cigarettes most responsible for cancer. But one JUUL pod has the same amount of nicotine as a pack of 20 cigarettes. A pod is intended to last about 200 puffs, according to the company's website.
"Vaping is one of the ongoing epidemics among those particularly who are trying just for the sake of it, especially among young adults," said Srikant Devaraj, a health economist at Ball State University. "Even though you don't have a large amount, you have all these chemical compounds going into your body."
E-cigarettes are frequently advertised as a safe alternative to cigarettes, but health care professionals fear the long-term effects of vaping have not yet been manifested, as the products were introduced only a decade ago.
The sense that they might be safe has lured teens into trying them, experts say.
"The e-cigarettes are targeting an audience that would not consider smoking," said Dr. Carol Litten Touloukian, a pediatrician in Bloomington. "The kids that are vaping are not the risk-taking kids. … They feel that there's nothing wrong with what they're doing. They don't understand that this is a nicotine delivery system and it can cause harm."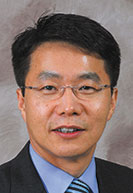 And once kids become addicted to nicotine, they are far more likely to use tobacco products later, according to a study done by the National Institute on Drug Abuse.
"It sets them up for failure, or it sets them up for success as a smoker," Touloukian said. "It's a gateway drug, so more and more riskier behaviors can be tagged onto that."
Dong-Chul Seo, a professor at the Indiana University School of Public Health and longtime tobacco researcher, called the 78% increase in high school e-cigarette use over a one-year period "very, very concerning."
"We are in crisis," Seo said. "One of the greatest successes in public health in human history was reducing tobacco use. Now we are very concerned about re-normalization of tobacco use behavior."
Carol Weiss-Kennedy, director of community health at Indiana University Health in Bloomington, oversees a tobacco education program in the Monroe County Community School Corp. that is an alternative to suspensions and expulsions for students caught in possession of or using vape products on campus.
Since spring 2018, the program has grown from two or three students per session to 15 to 18, mainly due to vaping's rapidly growing popularity.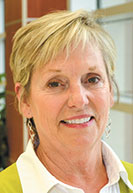 Students required to participate in the program are usually middle- or high-schoolers. But Weiss-Kennedy recalls an instance where a teacher found an elementary school student in possession of a vape pen.
"The child doesn't know they're doing anything wrong and the parent doesn't know that they were doing anything wrong," Weiss-Kennedy said. "The marketing says it's a safe alternative to smoking."
Other efforts underway
While Young is attacking the program on a national level, Gov. Eric Holcomb's administration is taking state steps.
The Indiana State Department of Health and the Indiana Family and Social Services Administration announced on July 15 a standing order that will allow Hoosiers to purchase tobacco-cessation products without a prescription
The order, effective Aug. 1, is the first tobacco-reduction initiative enacted on a state level this year and comes after failed legislation to raise the minimum age for tobacco purchases and impose a higher tax on tobacco and vaping products.
However, state efforts to combat tobacco and vape use have not always been lax. In 1998, Indiana was a leader in implementation of the Master Settlement Agreement, signed by attorneys general from 46 states and six U.S. territories and five of the largest U.S. cigarette companies.
The agreement requires the tobacco corporations to pay the states and territories more than $206 billion over a 25-year period to settle claims regarding smoking-related health care costs.
The first year after MSA was implemented, Indiana dedicated a larger percentage of its settlement money to tobacco prevention, education and cessation programs than any other state.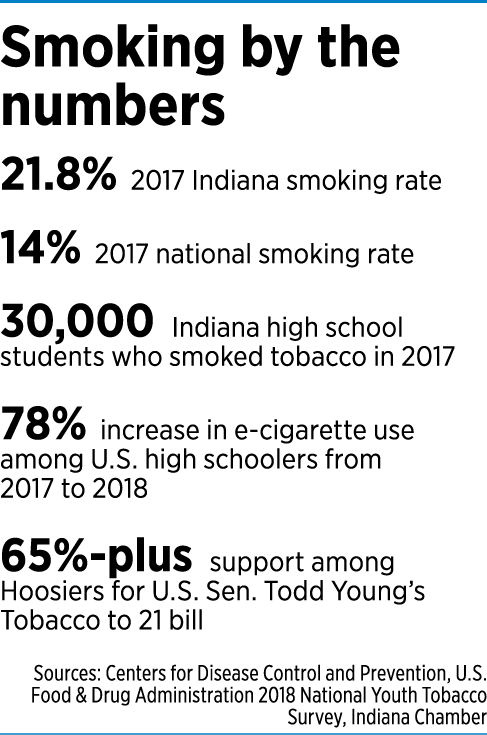 "That was a very proud moment for Indiana," Feldman said. "We were in the national spotlight as a public health leader for accomplishing that. It was a bipartisan effort by the Legislature and the Governor's Office to make this happen, and unfortunately it didn't last long."
Lawmakers started redirecting that money during the recession in the early 2000s to other health care programs, freeing up cash for other priorities.
This year, Indiana received $136 million from the settlement, but used only $7.5 million of it for the state health department's Tobacco Prevention and Cessation program, just 10% of the CDC's recommended spending of $73.5 million. The state expects to spend $7.5 million in 2020 and again in 2021.
"We have so much to do in terms of improving the health of our state and it's just not a priority," Feldman said. "Legislators can say it's a priority, but it isn't."
Critics of Young's bill
Young's bill has generally been received favorably. But some have criticized it for not putting more limitations on tobacco and vaping, such as restricting flavors that appeal to youth or raising cigarette taxes.
"This is one step moving forward—to raise the age to 21—but there are other things we need to do if we really want to reduce tobacco use in our communities," John Macy, professor at the IU School of Public Health, said during the June 28 roundtable discussion.
"Prohibit flavored tobacco products, including menthol," Macy told Young. "We need to move forward finally with graphic warning labels on tobacco products. That was part of the Tobacco Control Act that passed almost 10 years ago, and that still hasn't happened."
Senate Majority Leader Mitch McConnell, R-Kentucky, and Sen. Tim Kaine, D-Virginia, introduced a bill in May that is similar to Young's. But critics say the McConnell proposal allows room for large tobacco companies to push their own agenda.
"The Young bill is a clean bill," Feldman said. "It has very stringent enforcement and just very simply increases the legal age of sales to 21. That's the preferred bill—much less risk of tobacco companies moving in at state levels and implementing exemption laws that would actually further the interests of the tobacco industry."•
Please enable JavaScript to view this content.