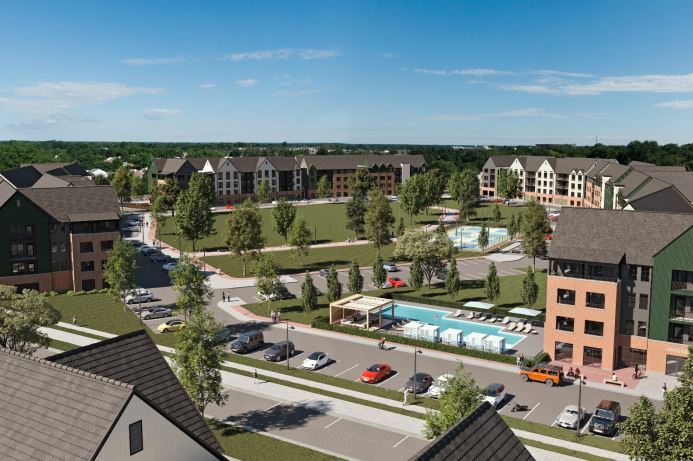 The first part of a major development at East 96th Street and Allisonville Road is expected to include a 380-unit apartment complex with seven buildings and green space near a park that is planned next to the White River.
Indianapolis-based design and engineering firm American Structurepoint on Wednesday submitted plans to the Fishers Planned Unit Development Committee for the Riverplace Apartments.
Plans call for five of the seven apartment buildings to be arranged around a shared parking lot and central green that will include paths and recreational features, according to documents filed with the city.
The other two buildings would be built between the yet-to-be-constructed River Place Drive and the park land.
All the buildings would be four stories with internal-facing garages on the first floors of the structures.
Fishers announced in February that Carmel-based developer CRG Residential would spend $98 million on the overall development, which would also include 66 townhouses and 35,000 square feet of retail space. Fishers said it would provide $23 million in developer-guaranteed bonds over a term of 25 years.
CRG earlier this year donated 25 acres of non-floodplain land that would increase the size of a planned White River passive nature park to 123 acres.
The project will be constructed at the northwest corner of 96th and Allisonville, which will require the city to reconstruct the adjacent "Michigan Left" turn on Allisonville Road as a roundabout.
CRG purchased 83 acres at the project site in the summer of 2020 following years of discussion about what would be built there.
Indianapolis-based Centre Properties first targeted the site in the late 1990s and announced plans for high-rise offices and condominiums, townhouses, retail and restaurants.
The project, called RiverPlace, was beset by roadblocks. Centre spent years trying to mitigate concerns about the development's impact on the adjacent White River and major roadways.
In 2007, Centre altered its plans and was approved to build 600,000 square feet of retail space, 1,000 luxury condominiums, two hotels and 300,000 square feet of high-rise office space. However, the project stalled during the recession.
Las Vegas-based Beal Bank, which had loaned millions for the project, took ownership in 2017 after winning a $15 million judgment against Centre CEO Craig Johnson.
CRG is currently developing Nickel Plate Station in downtown Fishers. The project will include 237 apartment units, 10,500 square feet of retail space and a 337-space parking garage. The firm is also restoring two historic buildings in the Nickel Plate District.
Please enable JavaScript to view this content.