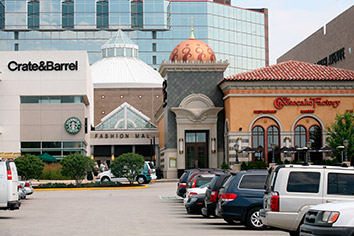 An executive at Simon Property Group told IBJ on Thursday night the company will not reopen any of its malls if a stay-at-home order in a community is still in place.
John Rulli, president of malls at Simon Property Group, said that means the company will not reopen its Indianapolis properties until at least May 15, when an extended stay-at-home order for Marion County is expected to expire. Marion County officials just announced the extension on Thursday.
Rulli said the company's other Indiana properties, including Hamilton Town Center in Noblesville, will open Saturday—as long as Gov. Eric Holcomb doesn't issue any orders on Friday that would prohibit it. The state's stay-at-home order expires on Friday, and Holcomb has said he plans to take action then to start reopening the economy. He has not provided details.
Rulli said it's "preposterous" to think Simon would reopen its malls, especially those in its home state, while stay-at-home orders remained in place—a reaction in part to public comments earlier Thursday by Marion County's public health director, Dr. Virginia Caine.
And Rulli said the company is "so concerned about our community" that leaders have gone to great lengths to ensure customers and employees are safe when properties do reopen.
He called speculation that the company might violate stay at home orders in order to reopen its properties "very offensive."
"We would never do such a thing," he said.
Simon has made news in recent days after a memo was leaked to CNBC detailing its plans to reopen 49 properties—including those in Indiana—this weekend in states that had indicated they might start lifting some restrictions related to COVID-19. Rulli said those plans are fluid and that retailers have been informed that planned reopenings could change if shelter-in-place orders are extended.
On Thursday, the Indianapolis-based company—the nation's largest mall owner—was in the news again after Caine said she was "very concerned" about a large retailer reopening too soon. Mayor Joe Hogsett told reporters Thursday he hadn't heard about the mall giant's plan to reopen Indianapolis malls until a reporter asked about it during a daily press briefing with the governor.
But Rulli told IBJ that Simon has been communicating with city and state officials about reopening its Indiana properties since at least April 17.
That's when the company called Gov. Eric Holcomb to talk about reopening and then sent a comprehensive plan April 22 detailing sanitation and social distancing protocols and other measures the company would take to ensure the safety of employees and the community at large, Rulli said.
The company said it assumed it would be able to open Indiana properties May 2 and that it would be notified if the situation changed.
Holcomb has acknowledged that he has spoken with David Simon but told reporters he had not given the company guidance on what Friday's order will include. A spokesperson for the governor did not immediately respond to an email from IBJ asking whether the state had seen Simon's plans.
Rulli said Simon sent the same details to the city of Indianapolis on April 22 but did not immediately hear back. The mayor's office and Simon leaders met Thursday afternoon, after Hogsett had already announced local officials' plans to extend the city's stay-at-home order. Rulli called the meeting "made for TV," given that the decision about the stay-at-home order already had been announced.
Earlier in the day, Caine told reporters that a large retailer reopening too soon "would just increase our numbers dramatically, put other citizens at risk considerably and it may undo all the good work we've put in place related to our shelter in place and staying at home philosophy."
Rulli told IBJ that later Thursday—when Simon officials met with city and county officials—Caine informed them she had not had an opportunity to review Simon's protocols before making the earlier comments. Rulli said the company worked with an epidemiologist to formulate its reopening plans and has been staying in communication with state and city leaders across the country to implement them.
A spokeswoman for the mayor did not immediately respond to an email from IBJ about whether the city had received Simon's protocols.
Please enable JavaScript to view this content.