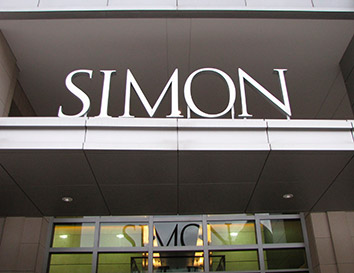 Shopping mall giant Simon Property Group Inc. on Wednesday reported third quarter results that either met or exceeded analyst expectations.
The Indianapolis-based real estate investment trust brought in revenue of $1.42 billion, topping Wall Street expectations of $1.4 billion. The figure was only slightly higher than a year ago, when Simon reported $1.4 billion in revenue.
Simon reported funds from operations of $937.8 million, or $3.05 per share, in the period, matching the expectations of seven analysts surveyed by Zacks Investment Research. Funds from operations is a closely watched performance measure in the REIT industry that takes profit and adds back items such as depreciation and amortization.
The company said it turned a quarterly profit of $544.3 million, or $1.77 per share, down from $556.3 million, or $1.80, in the same quarter of 2018.
The shopping mall real estate investment trust posted revenue of $1.42 billion in the period, topping Street forecasts. Four analysts surveyed by Zacks expected $1.4 billion.
Simon said it expects full-year funds from operations to be in the range of $12 to $12.05 per share.
The company reported retailer sales of $680 per square foot at its U.S. malls and premium outlets, an increase of 4.5 percent from a year ago.
Occupancy was 94.7 percent as of Sept. 30.
"I am pleased with our quarterly results including our continued cash flow growth and solid operating metrics," CEO David Simon said in written remarks.
Simon's board of directors declared a quarterly common stock dividend of $2.10 per share payable Nov. 29 to shareholders of record on Nov. 15.
Shares in Simon dropped 3.7 percent in early trading, to $147.24 each.
Please enable JavaScript to view this content.