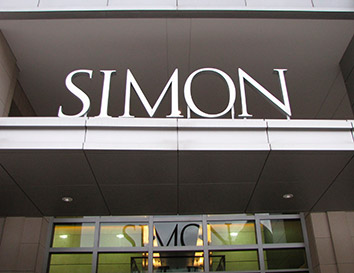 The pandemic took a big bite out of Simon Property Group Inc.'s profit in 2020, but the company said it expects conditions to improve this year.
The Indianapolis-based real estate investment trust reported its fourth-quarter and full-year 2020 financial report Monday afternoon.
Full-year profit attributable to common stock holders was $1.1 billion, or $3.59 per share, as compared with $2.1 billion, or $6.81 per share, in 2019.
Full-year funds from operation, totaled $3.2 billion, or $9.11 per share, down from $4.3 billion, or $12.04 per share, the previous year.
Funds from operation, or FFO, is a closely watched measure in the REIT industry. It takes profit and adds back items such as depreciation and amortization.
The company said it lost about 13,500 shopping days at its U.S. properties last year, or 20% of total shopping days, because of government-mandated shutdowns related to the pandemic.
"2020 was a difficult year for all those affected by COVID-19, including our company," said David Simon, the company's chairman, president and CEO said in a prepared statement.
Looking ahead, the company said it expects a full-year profit this year of between $4.60 and $4.85 per diluted share; and FFO of between $9.50 and $9.75 per diluted share. The guidance is based on the assumption that there will be no additional mandatory U.S. shutdowns.
"We feel confident we have turned the corner, and we expect growth in earnings and cash flow in 2021," Simon said.
Looking at the fourth quarter alone, the company had a profit of $271.5 million, or 86 cents per share, compared with $510.2 million, or $1.66 per share, during the same period in 2019.
Fourth-quarter FFO was $786.6 million, or $2.17 per share, compared with $1 billion, or $2.96 per share, during the same period in 2019.
Simon released its financial report after the financial markets closed on Monday. Shares of the company closed at $98.94 Monday, later rising to $101.59 in after-hours trading.
Please enable JavaScript to view this content.