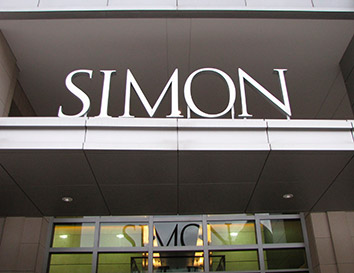 Despite aggressive cost-cutting, Indianapolis-based mall operator Simon Property Group saw its financial performance slump during the second quarter because of mandatory COVID-19 shutdowns across the United States.
The results fell short of Wall Street expectations.
The real estate investment trust late Monday afternoon said it had funds from operations, or FFO, of $746.5 million, or $2.12 per share, during the second quarter. That compares to $1.1 billion, or $2.99 per share, during the same period a year earlier.
The performance missed expectations of analysts surveyed by Zacks Investment Research, who had predicted FFO of $2.31 per share.
FFO is a closely watched measure in the REIT industry. It takes net income and adds back items such as depreciation and amortization.
The company said FFO was negatively impacted by about $1.13 per share by the pandemic. This impact was partially offset by cost-reduction initiatives that had a positive impact of about 36 cents per share.
The company reported profit of $254.2 million, or 83 cents per share, as compared with $495.3 million, or $1.60 per share, in the same quarter a year earlier.
Simon brought in revenue of $1.06 billion in the period, down 24% from the same quarter of 2019. Analysts surveyed by Zacks expected revenue of $1.21 billion.
At the end of March, following the March 18 temporary closure of all of its U.S. malls, Simon CEO David Simon agreed to work for no salary. Several other executives had their base pay cut by 25% to 30%. The company also cut corporate staff by more than 100 and furloughed about 30% of its 4,500-employee workforce. The executive compensation cuts remain in effect, Simon said.
The cost-cutting measures saved the company about $105 million, but the company also took a $215 million hit from rent abatements and write-offs, David Simon said during a call with analysts Monday afternoon.
Simon said the company has collected about 51% of rent for April and May, about 69% for June and about 73% for July. He also said the company is continuing to negotiate with tenants who owe back rent. "We expect to reach a deal on the vast majority of them."
The company had reopened all its U.S. properties as of July 1, but seven retail properties in California closed again on July 15 per government orders and remain closed.
Among properties that reopened in May, Simon said, tenants reported that their sales were down 50% in May. By June, sales had rebounded to 80% of their year-ago levels.
"We've been generally encouraged by the shopper response to our reopenings," Simon said during the earnings call.
Occupancy as of June 30 was 92.9%, down from 94% at the end of March.
Bloomberg News and Dow Jones reported on Sunday that Simon was in talks with Amazon.com Inc. to turn some of Simon's emptied-out mall anchor stores into Amazon fulfillment centers. However, when an analyst asked David Simon about this during Monday's call, he declined to comment.
"I'm really not in any position to respond to market rumors or speculation," he said.
Simon shares closed Monday at $65.47 each, up 5%, dropping to $64.95 in after-hours trading after the company released its financial report.
Please enable JavaScript to view this content.