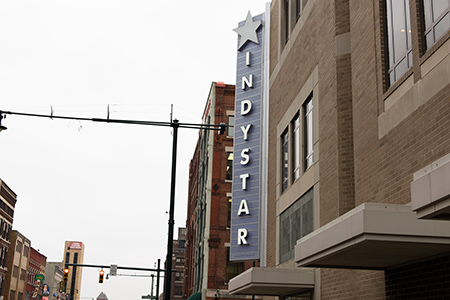 Six veteran journalists at The Indianapolis Star—including the investigations editor who oversaw the newspaper's expose of USA Gymnastics that led to the arrest of the team doctor who molested more than 100 girls—are taking buyouts offered by parent Gannett Co. and will leave the newspaper next month.
Leaving will be Steve Berta, investigations editor; Ginger Rough, senior news director; David Lindquist, music and pop culture reporter; Vic Ryckaert, breaking news reporter; Eric Dick, content coach; and Tina Swarens, digital copy editor.
The buyout plan was offered in late October. The names of those accepting buyouts were announced in an email Friday afternoon to the Star newsroom by top editors and a Gannett executive.
"Buyouts, are, quite simply, very difficult," Rough wrote in the email. "It's always sad and painful to see so many of our talented friends and co-workers leave at the same time. We'll miss their institutional knowledge and the unique, innate personalities they brought to the newsroom."
Gannett officials said they plan to fill at least some of the positions, but did not say how many, or whether the newsroom would be restructured to adjust for the departures.
"We plan to immediately begin recruiting for some key positions in the IndyStar newsroom that are being vacated," said Amalie Nash, vice president for local news for the USA TODAY Network, in an email to IBJ. "We'd like to recognize and thank our colleagues for their numerous contributions in service of our community and our loyal readers. We remain steadfast in our commitment to being the most comprehensive and timely news source in Indianapolis and across the state."
As of August 2019, the Star newsroom had about 70 employees, down from 285 in 2000, when it was acquired by Gannett. Most newspaper companies around the United States have cut their workforces in response to sharp declines in advertising revenue. During its last buyout two years ago, the Star lost six other veteran journalists.
Gannett is offering the buyouts in a move to save money and help pay off huge debts from its $1.4 billion combination with GateHouse Media.  About 500 people are taking the buyouts at Gannett newspapers across the country, according to Poynter.org, a newspaper think tank based in St. Petersburg, Florida.
Gannett owns more than 250 daily newspapers and hundreds more weekly and community newspapers in 47 states, making it the largest newspaper company in the country.
Berta's team wrote a series of investigative stories for the Star, beginning in 2016, that showed how Larry Nassar, the former doctor for the national gymnastics team, molested Olympic athletes and other gymnasts under the guise of medical treatment, while Indianapolis-based USA Gymnastics failed to report the complaints to authorities. Nassar was sentenced to 40 to 175 years in prison. Steve Penny, president and CEO of USA Gymnastics, resigned. The investigation was recounted this year in the Netflix documentary "Athlete A."
In addition to the Star, Gannett owns the Evansville Courier & Press, Lafayette Journal & Courier, Muncie Star Press, Richmond Palladium-Item, South Bend Tribune, Bloomington Herald-Times, Martinsville Reporter and Mooresville Decatur-Times.
Under the latest buyouts, employees will get one week of severance pay for each year of service, with a minimum of three weeks and maximum of 28 weeks, according to Gannett documents obtained by IBJ.
Please enable JavaScript to view this content.