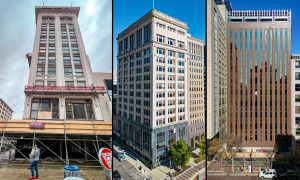 Five of 20 downtown hotel projects announced before the pandemic have opened. But few of the remaining 15 have made substantive progress, despite a strong rebound in the district's hotel occupancy rates.
Three hotels started meaningful construction this year, but at least two projects have been canceled. Developers of a Fairfield Inn once planned south of Lucas Oil Stadium and those planning to revamp the Morrison Opera Place at 47 S. Meridian St. have each opted to build apartments instead.
Another four projects are in a holding pattern, according to IBJ research. Among them is the second hotel planned at Pan Am Plaza; that project won't break ground until a few years after the 800-room Signia by Hilton hotel planned at the site is completed. Projections for that are early 2026.
In 2020, the annual average occupancy for downtown hotels dropped to its lowest ever, at just under 28%, according to data from Tennessee-based STR, which tracks hotel data. Through this August, that figure has risen to nearly 62% for 2022—within 10 percentage points of 2019's almost 72% rate.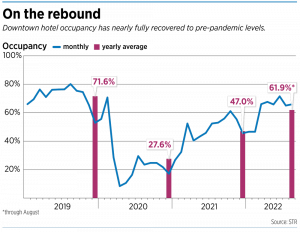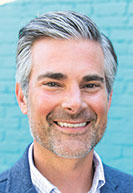 Chris Gahl, executive vice president of Visit Indy, said he isn't surprised by the state of the pipeline, despite the city's recovery. Even before the pandemic, developers were keeping a close eye on the future of the Signia project at Pan Am Plaza.
"It's probably a little too early to tell how much of the pipeline has softened because of the pandemic and how much of the pipeline has softened because of the Signia," Gahl said.
Plans for the hotel are still underway, and officials expect construction to start by early 2023.
"We believe the confidence [in Indianapolis] is returning not only for the current hotels, but [also for] those who are considering projects in the market," he said. "But the market will naturally balance itself in Indianapolis … and in other major cities across the nation."
Still underway
Nine hotel projects are still considered active, based on IBJ research and discussions with developers. They account for 2,147 rooms and at least $620 million in investment.
The two projects that have made the largest strides in the past couple of months are a pair of boutique properties along Washington Street, both of which involve redeveloping historic buildings.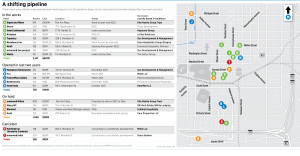 The Motto, being developed by Chicago-based firm The Gettys Group, will add 116 rooms at the northeast corner of Washington and Meridian streets, just south of Monument Circle.
One block east, the 170-room Kimpton, by local firm Loftus Robinson, took a big step forward this month when it secured city approval for a new tax-increment-financing district. That project previously was thought to be in a holding pattern due to challenges for the developer on another hotel in Speedway.
Other projects have also made commitments in recent months to move ahead, including the InterContinental hotel on Market Street, just west of Monument Circle. Indianapolis-based Keystone Group received nearly $17 million from the city in early 2018 for that and another project focused on converting an office building to apartments.
That luxury hotel project has been quietly stewing for nearly three years, with work underway on some model rooms as well as the rooftop bar at Illinois and West Market streets. The hotel is expected to open by February 2024, when the city hosts the NBA All-Star Game, Keystone officials say.
"We are excited to bring a global brand hotel, the InterContinental, to the heart of Indianapolis, and we are optimistic as the hotel industry is starting to emerge from the COVID pandemic and we monitor the return of conventions and business travelers to downtown," Jennifer Pavlik, vice president and chief of staff for Keystone, said in a statement.
Challenges
Hotel developers cite supply and labor shortages and inflation as challenges in keeping projects on track.
Many projects have skyrocketed in cost in recent years. For example, experts estimated before the pandemic that the Kimpton would cost $50 million to $60 million. The estimate is now $85 million.
And the Residence Inn planned for South Meridian Street by local restaurateur Brian Shapiro is expected to cost $57 million—when it was announced in 2019 (albeit as a different hotel flag and with fewer rooms), the projection was $25 million.
Mark Letscher, who leads the Midwest division of Dallas-based brokerage CBRE's hotel advisory group, said the challenges in Indianapolis aren't unique.
"On a post-pandemic basis, increasing construction costs have been a concern and [have] somewhat limited the pace of development" nationwide, he said.
The four hotel projects on hold—including the second Hilton at Pan Am Plaza—account for just under 1,100 rooms and $195 million.
The Element hotel, which is being developed by locally based Schahet Hotels as part of a larger project that will include a new headquarters for the American College of Sports Medicine, is among those being reevaluated.
"ACSM is currently working with its joint venture partner, Schahet Hotels, to reassess the project based on skyrocketing construction costs," Paul Branks, chief communications officer for the college, said in a statement. "Options for the building's design plans and financing strategies are being developed and considered to help us effectively manage expenses and keep the project moving forward."
A development cost for that project has not been disclosed.
Likewise, the Avid hotel—the project farthest from the downtown corridor, south of Interstate 70—is on the back burner until at least next spring.
Its developers "remain committed … but are going to proceed with caution," said Ray Basile, a Greenfield-based attorney who represents the developers, Kaur Properties LLC. Even though most COVID-related travel and gathering restrictions have been lifted, Basile said, "hotel developers have faced new headwinds with labor and material shortages, continued low occupancy rates and, now, increased financing costs." Kaur Properties will move forward "when it appears that some of these issues begin to ease," he said.
Shapiro said costs for materials like drywall and steel are "through the roof," and interest rates "have more than doubled." Additionally, demands from lenders are up; securing a loan for the Residence Inn project required about 30% equity from Shapiro's development team, he said—up from the typical 20% to 25% before the pandemic.
"But I have confidence in our site, Shapiro said. "It's located by Lilly [Technology Center North] and it's located by the interstate. Those are both helpful for us."
Funding and other market challenges led to the two hotel cancellations—the Fairfield Inn and the Morrison Opera Place redevelopment. Locally developer MWA LLC hopes to get started next year on apartments at the site of the planned Fairfield Inn, at one time slated to be a Cambria.
And an ambitious project that would have entirely reimagined the Morrison Opera Place building at 47 S. Meridian St. with an 18- to 20-story addition has also been scrapped. That project from local developer Bruce Bodner was met with resistance from the Indianapolis Historic Preservation Commission, along with some financing challenges.
Bodner said he is partnering with an outside firm to convert the upper three floors to apartments, but he's continuing to look for retailers for the first floor—including the space at the corner of Meridian and Maryland streets where a Hard Rock Cafe was once located.
More diversity, more space
Of the five hotels that have opened since the pandemic, the dual-branded Hampton/Homewood near the Central Canal is the most recent. In total, those projects have added almost 760 rooms downtown, accounting for $116 million in investment.
But Letscher said he believes that, for many pending downtown projects to resume, both business travel and event demand need to rebound.
Shapiro agreed. He said one big lesson to be learned from the pandemic is that youth sports should be part of the city's bread and butter.
"The city needs to diversify more of its convention in business," he said. "Westfield and Fishers have shown the importance of youth sports, and that youth sports is not going to go away," he said, adding that the Indiana Convention Center needs another expansion, aside from the planned addition of a 50,000-square-foot ballroom and two-story meeting space. "It needs at least another 100,000-square-foot expansion, so that [city officials] can go after more shows and more events."
Gahl has said the city has no immediate plans for further expansion of the convention center beyond what's in the works. But he said Indianapolis has long had a studious approach to growth of its hotel landscape and convention facilities.
"We have never had an approach as a city to overdevelop or to quickly develop," he said. "We have always brought the team together, studied the market, looked at all the factors and built aspirationally to the future. … And at Visit Indy, we don't believe that any of these projects currently in the pipeline put us in a compromised position to do anything but help our city."
CBRE's Letscher said today's interest-rate volatility, recession speculation and lingering uncertainty over long-term effects of the pandemic on travel make predicting the city's hotel pipeline even trickier than usual.
"Time will tell," he said.•
Please enable JavaScript to view this content.