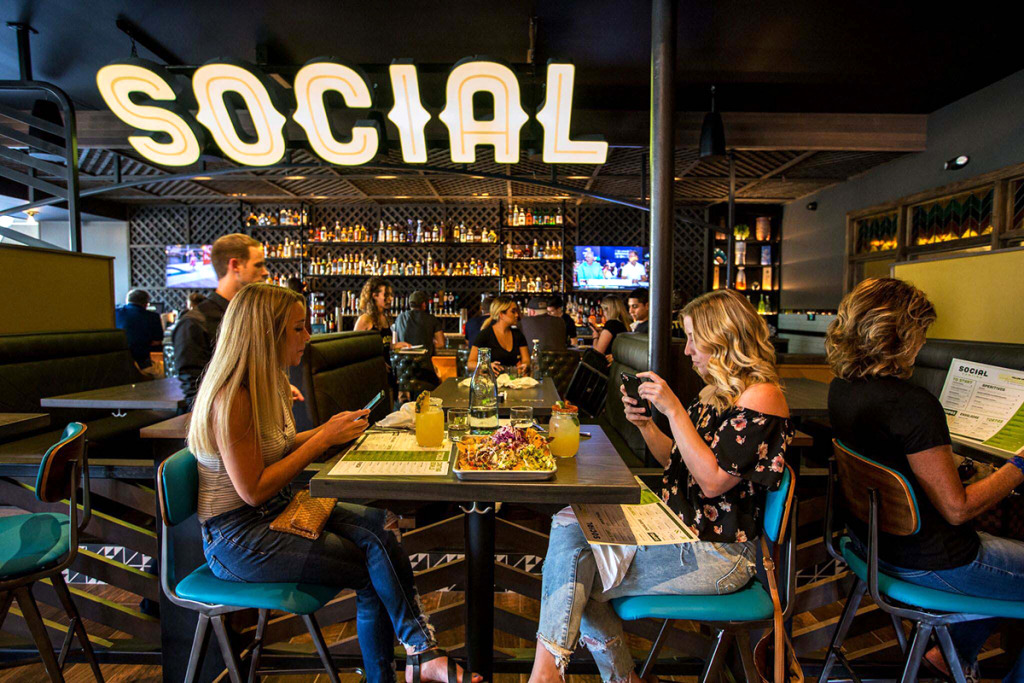 Bloomington-based Finney Hospitality Group is planning to open its second Social Cantina location later this year, securing a spot in a mixed-use building along the Monon Trail in Carmel.
Chris Martin, vice president of operations for Finney, said the modern Mexican cantina will occupy a roughly 5,500-square-foot space in the first floor of the Railyard at Midtown building at 350 Monon Blvd.
The location will be Social Cantina's second, after the first opened on Bloomington's downtown square in 2018. Another location planned at the Indianapolis Airport was put on hold due to the pandemic.
"The hope is to open before the end of the year," Martin said. "We're not under construction yet, but we will be shortly. Once we get working, we'll have a better understanding of an opening date."
Nathan Finney, founder and president of Finney Hospitality Group, estimated the firm's investment in the Carmel location at "more than $1.5 million."
Martin describes Social Cantina as having an "upscale street taco menu," with bowls and salads, as well as traditional entrees like enchiladas, burritos, nachos and homemade tamales. The restaurant offers meat substitute items, as well.
"But certainly, the tacos are the all-star of the menu," he said.
As with any cantina, the restaurant will feature a full-service bar. Martin said it will have over 150 varieties of tequilas and mezcals.
The new cantina is slated for the north end of the Railyard's first floor, with Physique 57 and Garden Table to the south. Martin said designs haven't been finalized, but he expects to have a couple hundred seats inside and nearly a hundred outside.
Martin said the hospitality group's ownership was attracted to the location because the Midtown Plaza matches the restaurant's social, welcoming environment. He said people are already gathering there, socializing and frequenting watering holes like Sun King's Carmel distillery on the other side of the road at 351 Monon Blvd.
"Our Bloomington location is heavily dependent on foot traffic, walkability, being on the square. We really felt that the Midtown/Monon Boulevard area really played into our hand with that," Martin said.
Aside from Social Cantina, Finney Hospitality Group's other brands include: The Tap, with locations in Indianapolis, Bloomington and West Lafayette; SmokeWorks BBQ in Bloomington; and Yogi's Bar & Grill in Bloomington.
"They're all closely associated with where people live," Martin said. "We know that's a good formula for our brands. We have luckily been in a position to stay stable and grow and be successful through all this chaos brought on by the pandemic."
Despite restaurants' struggle to find workers, Martin said he's confident he'll be able to hire as many as 100 employees at the Carmel outpost.
"The labor environment is certainly challenging for everyone right now, but specific to that brand, I'm confident it's a brand people are going to enjoy working in," Martin said. "People are going to work where they know they will be successful."
As for the planned airport location, Martin isn't sure when that project will resume.
"The airport is on hold just because of pandemic travel levels and the restrictions that still exist in airports," he said. "As we understand it, that restaurant will still happen. We're just waiting patiently for the Indianapolis Airport Authority to feel comfortable continuing with that."
Please enable JavaScript to view this content.