A local developer and a Missouri-based startup view Whitestown's former junkyard as a proving ground—for young athletes, and also for the firms' aspirations of building a network of youth-sports developments across the Midwest.
Indianapolis-based Milhaus and Kansas City-based Homefield announced plans earlier this month to partner on a $135 million mixed-use development at what for decades was Wrecks Inc. but is now 100 acres of vacant land along Interstate 65, south of Exit 130. The project is to include a 220,000-square-foot youth-sports facility with an outdoor field, as well as residential, retail and hospitality components. It is projected to be complete by late next year or early 2023.
The development will be just the second tackled by Homefield, which launched two years ago and has also announced a $435.5 million, 300-acre, mixed-use redevelopment of a former Kansas City, Kansas, water park. That project will include a fieldhouse similar to the one planned for Whitestown.
This will be Milhaus' first project anchored by a youth-sports facility, although it is under contract to build a 270-unit luxury apartment complex at the site of Homefield's Kansas City development.
Story continues below graphic
In Whitestown, Milhaus is master developer for the 100-acre project and will oversee everything but the fieldhouse. That will be constructed by Homefield, whose principals are new to redevelopment but have long experience in sports-team ownership and management.
"Whitestown will be the first big foray into the Milhaus-Homefield relationship," said Brad Vogelsmeier, Milhaus' vice president of development. "We're marrying our expertise in mixed-use development and their expertise in owning and operating sports at the professional, collegiate and amateur level to allow them to do what they do best and allow us to do what we do best."
But it won't be the last time the teams work together, if Milhaus' plans pan out. Vogelsmeier said the firm is seeking to work as master developer for Homefield's future projects.
"That's the goal—to take what we're doing in Whitestown and refine it, make it a blueprint for other municipalities across the Midwest and the U.S.," he said.
Homefield officials told the Kansas City Business Journal they would like to develop 15 to 20 sports facilities across the country, but they would not confirm that number to IBJ.
Although Homefield and Milhaus are new to each other, they are nowhere near rookies.
Milhaus has a $1.2 billion development portfolio that includes dozens of residential developments (many with retail components) in 12 states. In central Indiana, Milhaus has developed or is in the process of developing 11 other projects, including Artistry, Circa and 747 downtown, as well as Edge 35 in Fountain Square and The MK in Broad Ripple.
Homefield's CEO, Robb Heineman, is part of a group that in 2006 purchased Kansas City's major league soccer team, which is today called Sporting Kansas City. He led the organization from then until 2017, a span that included construction of a new stadium, in part with public financing from the area's unified government.
Now, Heineman, a University of Notre Dame graduate who remains a Sporting KC owner, and Homefield are turning their attention to younger athletes.
"What we're trying to do is clarify and sophisticate the youth-sports space," Homefield President Paul Rivers said.
New kid on the block
The Whitestown fieldhouse will not be the first such facility in Indy's northern suburbs.
It will be 2-1/2 times larger than the Pacers Athletic Center at Westfield's Grand Park Sports Campus, an indoor athletic facility built in 2016. That 88,000-square-foot building has eight indoor courts for basketball, volleyball and futsal to help athletes practice soccer. It hosts multiple sporting events, camps and club teams year-round and is part of a 400-acre complex that specializes in outdoor sports, with 31 multi-purpose fields, 26 diamonds, a 377,000-square-foot events center and more.
The Finch Creek Fieldhouse in Noblesville, which opened in September 2018, is 143,000 square feet and features 75,000 square feet of indoor turf as well as five indoor courts for basketball and volleyball.
Early designs show Homefield's two-story fieldhouse would include six racket hard courts, six basketball courts, two indoor turf fields, baseball batting cages, an athlete's lounge and areas for e-sports, strength and agility training, sports therapy, retail operations and more. Upstairs plans include spectator concourses, public and members-only lounges, and offices.
Rivers said the cost of the Homefield fieldhouse has not been finalized.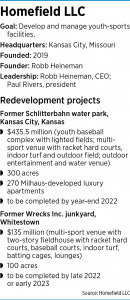 Already, Milhaus has separately been approved to build a $41.5 million apartment complex across Indianapolis Road from the Homefield project, next to the Little League's Central Region headquarters now under construction.
As part of the Homefield project, Milhaus is planning to build a hotel with 100 to 250 rooms, an outdoor water park, about 50,000 square feet of medical office space, another roughly 50,000 square feet of retail and entertainment space, about 250 additional market-rate apartments, an estimated 75 for-sale residential units, and a central green and outdoor public space.
The idea, Vogelsmeier said, is for the area to be a community where people live and work that also happens to host young athletes and their families for tournaments, not a transient pit stop for teams and visitors.
That's similar to the goal in Kansas City, where the development is to eventually include multifamily housing, retail, a hotel, medical offices, auto dealerships and a luxury camping park. That entire project has a 10-year timeline.
The details in Whitestown—including incentives the town might provide—haven't been finalized. But the Whitestown Town Council has begun considering a proposal to impose a 1% food and beverage tax that is expected to generate revenue at least in part for the Homefield project.
Town officials announced the deal with Homefield on Feb. 5. Whitestown purchased the 135 acres that will contain the Homefield project and the Little League headquarters for $6.5 million in 2018, envisioning a redevelopment called Maurer Commons as homage to the Maurer family that owned Wrecks Inc. for decades. It's unclear whether Homefield will use the Maurer Commons name.
Why youth sports?
Heineman told the Whitestown council he wants to improve youth-sports venues by leveraging his leadership team's familiarity with the collegiate and professional sports markets—then turn those venues into economic hubs.
He pointed to his work on the 18,467-seat Children's Mercy Park Stadium that is home to the professional soccer team in Kansas City. He said the $200 million stadium has led to $1 billion of surrounding economic development. That project, he said, helped the "beleaguered" Sporting Kansas City franchise prosper.
"Today, I think we're a model in Major League Soccer. We've sold out about 150 games in a row, prior to COVID," Heineman said.
Even before he became a soccer team owner, Heineman—a native of South Dakota—was involved in sports operations for decades, including as an owner and operator of the Sioux Falls Skyforce, which is part of the NBA Developmental League.
He also co-founded and led FanThreeSixty, a customer data company focused on sports and entertainment, from 2011 to 2018, when he turned over the reins to a new CEO. He remains a co-owner of the firm.
Rivers, president of Homefield, has served in leadership roles in both the NBA and NCAA. He's coached for Michigan State's men's and women's basketball teams, the San Antonio Spurs and the Detroit Pistons. He then shifted into management for the Seattle Supersonics.
"I've been a part of high-performing sports for almost 20 years," Rivers told IBJ. "At the core of my time has been helping athletes and people maximize their opportunities, no matter if you're a top-five pick in the draft or a last-round pick. It's about designing an ecosystem that allows talent to thrive."
Rivers said Whitestown was the company's first choice for locating a sports complex outside its home market, in part because the town is growing quickly and is along I-65, making it easy to reach from major cities.
"If we can go into a market where there's a high number of rooftops and families and kids participating in sport and build a Homefield [project] in that area, that's beautiful," Rivers said.
Local enthusiasm
Once the Homefield/Milhaus team and Whitestown finalize an economic development agreement, the project will undergo the typical reviews and approvals. But already, economic development leaders, town officials and tourism professionals in Boone County are excited.
Molly Whitehead, executive director of the Boone County Economic Development Corp., said there will be huge benefits from the innkeepers and food and beverage tax, if the latter is approved.
"It's probably going to be the largest area in Boone County for tourism," Whitehead said. "Of course, the village in Zionsville brings in quite a few people and other parts of the county do as well, but in terms of bringing in a lot of people in any given day, this is likely going to be one of the largest."
Jeri Day, executive director of the Boone County Convention & Visitors Bureau, agreed.
"In Boone County, we don't really have a university, a state park. Our tourism is more event-driven than something that's going to draw all the time, an attraction," Day said.
But the Homefield project could change that. She predicted that her two-person office, which doesn't even have an actual office, will grow—and quickly.
"It's exciting," she said. "I've done this for 10 years now. This is the biggest thing the county has seen."
Day said Little League International's decision to locate its central region headquarters in Whitestown jump-started the attention. And while Homefield's fieldhouse would've been a nice addition on its own, she said, the project's mix of uses will encourage people to settle in the area.
"The whole thing, too, is getting our youth to come back here and raise a family," she said. "When you're bringing in sports events, you're bringing in people from all over that may want to live here. To get them here to see the actual community and see what's offered here, it's been a long time since we've had that."•
Please enable JavaScript to view this content.