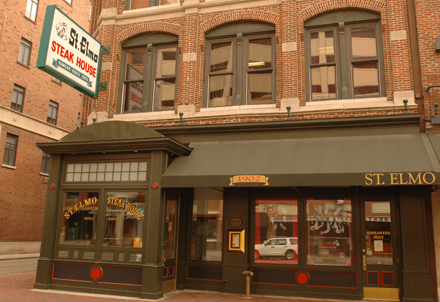 St. Elmo Foods LLC, an offshoot of Indianapolis' most famous restaurant, has added another product to its growing retail lineup.
St. Elmo Whiskey is now available at  stores throughout central Indiana, St. Elmo Steakhouse announced Wednesday.
The 88-proof aged bourbon whiskey is infused with dark cherries and bourbon vanilla beans. It is used by St. Elmo to make the downtown restaurant's top-selling cocktail, the Elmo Cola.
St. Elmo said the initial production run of the whiskey was purchased by numerous retailers: Belmont Beverage, Big Red Liquors, Citywide Liquors, Crown Liquors, Elite Beverages, Kroger, Market District, Meijer, Payless Liquor and Target.
Demand for the product, which sells for $34.99 to $39.99, is expected to be high. A second production run is scheduled for early November.
St. Elmo Steakhouse began bottling its world-famous spicy shrimp cocktail sauce and selling it to retailers in 2012. Its popularity with consumers led owners of the 117-year-old steakhouse to roll out even more retail offerings. St. Elmo Foods was founded late last year to oversee those products.
The product portfolio also includes World Famous St. Elmo Seasoning, World Famous Izzy's Sauce, World Famous Creamy Horseradish and World Famous Prepared Horseradish.
Please enable JavaScript to view this content.