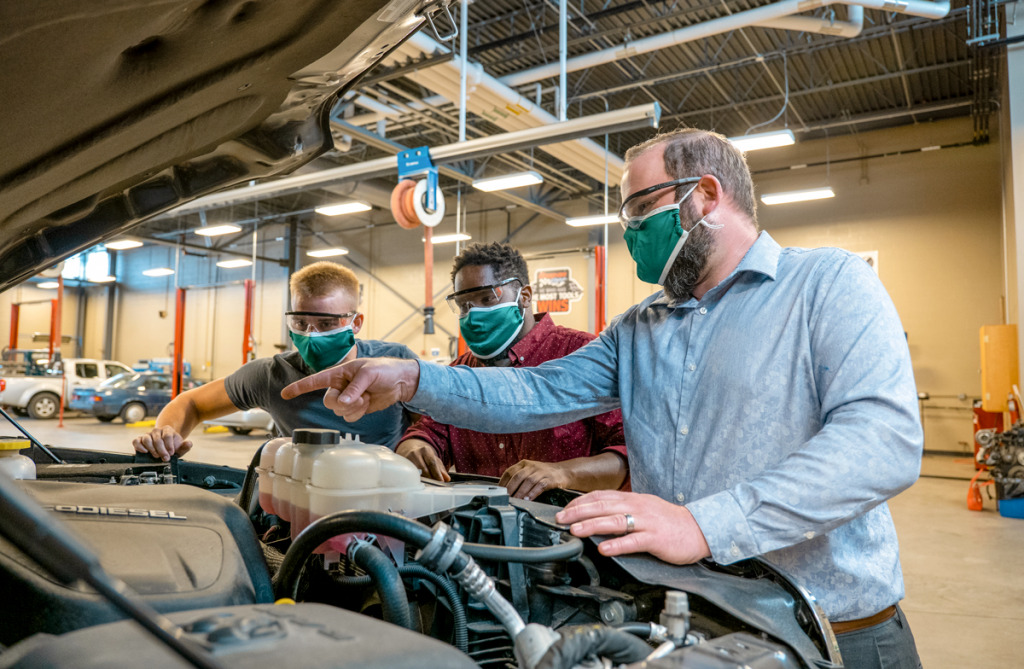 Four in 10 Hoosiers who lost a job in the first two months of the pandemic had a post-secondary degree. But one of Indiana's primary retraining programs—Next Level Jobs—is aimed at people without one.
So Gov. Eric Holcomb's administration has temporarily expanded the program using federal coronavirus-relief money to help more Hoosiers gain the skills they need to switch careers if necessary.
The upshot is that, through the end of the year, Hoosiers with an associate's or bachelor's degree can also receive free training in high-growth, in-demand jobs. In addition, the state has expanded the money companies can receive to train workers.
The expansions come after months of high unemployment in Indiana and across the United States, as the pandemic shuttered businesses and reduced operations.
In mid-March, unemployment in Indiana peaked at an unprecedented 146,000 initial claims in a one-week period. Since then, claims have slowed, but the number of unemployed people remains substantially higher than before the pandemic.
More than 10,500 people filed initial unemployment claims for the week ended Aug. 8, the most recent data available. Just before the pandemic, the state was seeing fewer than 3,000 claims per week.
Next Level Jobs is a two-prong program that launched in 2017 as part of the governor's Next Level Indiana agenda.
It has two parts: the Workforce Ready Grant, which pays for Hoosiers to earn a high-value certificate in one of Indiana's high-growth job fields, and the Employer Training Grant, which reimburses employers for training their employees and retaining them.
Since launching, more than 14,000 Hoosiers with no degree beyond high school have earned certificates through the Workforce Ready Grant, and more than 900 employers have skilled up their employees using the Employer Training Grant. Individuals who have taken advantage of the program see a median annual wage gain of $6,400, state officials say.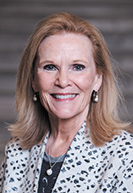 Because the program benefits both employees and employers, the state overall sees a strengthened economy, said Teresa Lubbers, commissioner of the Indiana Commission for Higher Education.
Besides expanding the Workforce Ready Grant to include Hoosiers who have up to a bachelor's degree, the Holcomb administration has added 50 eligible certificates, including certified nursing assistant, commercial driver's license and phlebotomy.
Additionally, the funding available per individual has increased from $5,500 to $10,000, to cover high-quality programs that cost more than $5,500.
The Employer Training Grant Program has also been expanded. The maximum amount available to an employer has increased from $50,000 to $100,000, and $5 million will be allocated specifically for minority-, women- and veteran-owned businesses.
The expansion is funded by $40 million of the state's federal Coronavirus Aid, Relief and Economic Security Act funds and runs through December.
Chris Lowery, senior vice president at Ivy Tech Community College, said that, even before COVID-19, some 50,000 Hoosiers were expected to need extra skills training. With historic unemployment now, that figure is no doubt much higher.
"Gosh, the fluctuations of just the jobs that were lost, and then the upswing in some of them, the data is just breathtaking," he said. "I've been in or around workforce and education in different ways for almost 35 years. … I have never seen anything move so quickly from a workforce and economic standpoint."
Expanded eligibility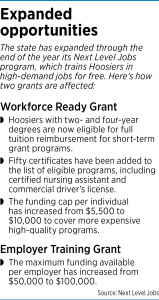 Lubbers said that, even though the people "most traumatized" by the pandemic are those with lower levels of education, "we do know that we saw a higher number of people who had an associate degree or even a bachelor's degree who were working in hospitality … and in small businesses that were shut."
P.J. McGrew, executive director of the Governor's Workforce Cabinet, said officials began looking at unemployment data back in April to identify trends. What they found was that 40% of people who had been laid off had some type of post-secondary degree. With that in mind, it made sense to use federal recovery funds to expand the workforce development programs to people with college degrees.
"I think we wanted to make the biggest impact that we could," he said. "And so we looked at programs that we knew … were getting people placed into employment at pretty significant wage gains from where they were previously."
Lubbers said that, as the economy recovers, laid-off workers will generally fall into one of three pockets: people who will return to a job that has not changed; people who will return to a job whose demands have changed, and they might no longer be qualified for it; and people whose jobs have been eliminated.
As a result, people can use this time to learn skills to help them find work in a more recession-proof industry, she said, to help them avoid future layoffs.
With the CARES Act funding, Lubbers said, 10,000 more Hoosiers will be able to take advantage of the Workforce Ready Grant, and 25,000 Hoosiers will be trained through employer training grants.
"The majority of people who come back will be in a vulnerable work situation or one that they know they could improve their standing [in]," she said.
More certificates
Generally, the eligible certificates in the Workforce Ready Grant program are in five high-growth, in-demand sectors–advanced manufacturing, building and construction, health sciences, information technology and business technology, and transportation and logistics.
When deciding which certificates to add to the list, the state worked with certificate providers Ivy Tech and Vincennes University and local workforce boards to look at wage and demand data. They also considered which programs could be completed quickly, given that Hoosiers have only until the end of the year to take advantage of the program's expansion, McGrew said.
Some of the certificates—certified nursing assistant, commercial driver's license and phlebotomy—were chosen based on demand created by the pandemic.
Lowery said officials also considered certificates and credentials that were stackable to help Hoosiers weather future economic changes, whether those changes be in automation, digitization or something else. They wanted to pick skills that could build on one another to create lifelong learning opportunities, guarding against Hoosiers becoming stuck in a career that might become obsolete.
"I think … what we're going to find is that, maybe individuals who have been so adversely affected by this are going to start to see a new pathway. Right?" Lowery said. "Maybe I was in a job where I was making more than minimum wage and I could get by sort of comfortably. That has gone by the wayside now, right? Because of the shifts in the service industry and others.
"And my hope is that, not only will the expansion of these Workforce Ready Grant programs help get people out of the current situation and help employers, but it'll start to accrue, in my view, in social and economic mobility."
Employer training
Since the Workforce Ready Grant expansion launched about six weeks ago, 400 employers have signed on to provide additional training, affecting some 4,000 employees, McGrew said.
Usually, the program reimburses employers up to $5,000 per employee who is trained, hired and retained for at least six months, up to $50,000 per employer.
With the CARES Act funding, employers are eligible for up to $100,000 of reimbursement.
The state has set aside $15 million of the CARES Act funding to reimburse employers who train their employees by the end of the year. Another $5 million has been set aside to specifically reimburse minority-, women- and veteran-owned businesses.
Fred Payne, commissioner of the Department of Workforce Development, said employers are seeing the value of the program and signing on in droves.•
Please enable JavaScript to view this content.