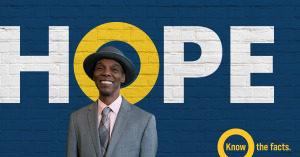 They've been through heroin, methamphetamines, pain pills—and sometimes prostitution, divorce and prison. And later, they found their way to treatment and recovery programs across Indiana.
Lately, a small but growing number of recovering drug addicts in Indiana is banding together in a new way. They have been speaking out as part of a state-sponsored marketing campaign that is trying to take the stigma out of addiction and spread the message that treatment and recovery are available.
Addiction remains a huge challenge for Indiana, which still has outsized levels of substance-abuse overdoses, deaths and opioid prescriptions, despite years of trying to fight the problem and millions of dollars spent on treatment programs and public-education efforts.
The stories are featured in the latest version of a three-year educational and marketing effort in Indiana called "Know the Facts," which aims to build interest through simple, understated messages on billboards, buses, broadcast commercials and social media. The no-frills message: Substance abuse affects every corner of the state, and many of those struggling with addiction are facing a wide range of stigmas that might prevent them from seeking treatment.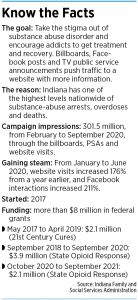 The marketing campaign uses simple, stark messages ("Addiction is a disease," says one. "Recovery is possible," says another.) and directs people to a state website that lays out facts and figures about opioids and other substance abuse problems.
Recently, the campaign began its newest and boldest tack: featuring stories of Hoosiers who have struggled to deal with drugs, and their journey to recovery.
There's Stacey, a former straight-A student and cheerleader from Terre Haute, who began dabbling in drug use in high school and later began using methamphetamines every day until the day of her arrest.
There's Alvina of Crawfordsville, who began drinking and taking pain pills and cocaine to cope with feelings of inadequacy and domestic violence.
There's Tony, the youngest of six kids in Muncie, who started smoking crack cocaine recreationally and over time realized crack was all he cared about.
And there's Cody, who became dependent on painkillers after a surgery, turned to heroin and eventually went to prison.
The four are featured on the state's "Know the Facts" website (www.in.gov/recovery/know-the-facts/), which also drives home a simple message: Addiction is a disease, but with support and treatment, there is hope.
Grim statistics
Yet, Indiana, which has been besieged with opioid abuse and overdoses in recent years, is still struggling to find a message that resonates and cuts back on the grim statistics. Overdose deaths, which declined 12% from 2017 to 2018 across the state, increased 6% in 2019, to 1,700, according to preliminary data from the U.S. Centers for Disease Control and Prevention.
And Indiana still ranks high—17th among states—for drug overdose deaths per capita: 25.6 per 100,000, according to the CDC. Indiana ranks 10th for opioid prescriptions: 65.8 per 100,000, far above the national average of 51.4, according to 2018 CDC figures.
The pandemic has added a whole new layer of stress, as treatment programs have sometimes had to suspend in-person group meetings.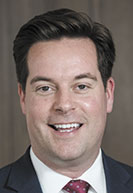 "As you know, connection is one of the main tenets of recovery," said Doug Huntsinger, Indiana's executive director for drug prevention, treatment and enforcement—or "drug czar"—a position created by Gov. Eric Holcomb in 2017.
"And while our treatment programs have been able to utilize telehealth and our recovery meetings and group meetings have been moved to Zoom in many cases, we know that is just not enough for some people."
"Unfortunately," he added, "we've had a number of people who've suffered setbacks during this time as people lost jobs and the family stressors that are there—it's been a really difficult time."
In the 12 months ending Nov. 30, Indiana saw 47% more overdose cases at hospital emergency departments than the year earlier. And in the 12 months ending Oct. 31, the number of naloxone doses used to treat drug overdoses increased 67%.
It's a discouraging setback, after the state had notched a few successes in combating opioids and other drugs. Since 2017, Indiana has opened seven outpatient opioid treatment programs at health centers around the state, with plans to add five more. The programs provide medication-assisted treatment in combination with counseling and behavioral therapy.
Opioid prescription rates have been edging down, although they still remain higher than the national rate. Indiana now has 130 certified recovery residences and a total of 818 beds.
Three years in
Yet, the message that treatment is possible is taking time to get across, Indiana officials say. And that's why they continue to push the "Know the Facts" campaign.
The state launched the campaign in 2017, funded by federal money, to help reduce the stigma around opioid use disorder. It was originally called, "Know the O Facts," specifically related to opioids. Over time, the state expanded the messaging to include all types of substance use disorders; the campaign is now called "Know the Facts Indiana."
In the past three years, Indiana has spent more than $8 million in federal grant funds on the campaign. It started as a pilot in five counties—Marion, Tippecanoe, Vigo, Allen and Monroe—mostly with billboards and bus advertising. The message was stark, often just the phrase "Know the O Facts" with a website address for more information.
The campaign, originally handled by Indianapolis ad agency Cabello Associates, focused on raising awareness that opioid-use disorder is treatable. The brief messages urged people to turn to the state's website to learn more.
The latest cycle of the ad campaign kicked off in October, with $2.1 million in federal money to buy space statewide on billboards, buses and social media and to air some TV and radio ads. The account is now handled by Caldwell VanRiper, an Indianapolis-based marketing agency.
Along the way, the state has tried to hammer a consistent message: Addiction is a disease, not a character weakness, and treatment is available.
"Addiction historically has been viewed as a moral failing," Huntsinger said. "But science has informed us that it's a disease—especially when we talk about opioids, or methamphetamines, how they begin to hijack one's brain."
Addicts often avoid getting treatment, and instead continue to feed the disease and, in the process, alienate their families and friends, he said.
So the most promising strategy for reaching addicts, he said, is to have addicts in recovery tell their stories—and in the process, remove the stigma and the silence.
"Our push has always been to do everything we can to create an ecosystem for treatment and recovery," Huntsinger said.
Addicts' stories
In its latest push, the state is leaning hard on the angle of having addicts tell their stories—in videos and short narratives—on the state website. The addicts featured are not identified by last name or current occupation. But the state also offered news outlets interviews with addicts who agreed to share their stories.
IBJ talked to three addicts, who agreed to provide their full names and highlights of their addiction and recovery stories. They all said they wanted to do so because the stigma of addiction is still so strong that it often keeps addicts from seeking help.
What is needed, they say, is plain facts. And the first fact is that addiction is a disease, and just like any other disease, addicts need professional help.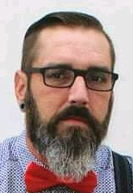 "A lot of people think, 'Why can't you stop using? Why can't you stop drinking?'" said John McIntyre, 44, of Kirkland in Clinton County, a former longtime user of heroin and painkillers, who later spent time in prison for obtaining illegal prescriptions and writing bad checks to feed his drug habit.
He added: "I have never, in my years of recovery, met someone who chose to be an alcoholic or an addict, just on a whim. No one wakes up and says, 'You know what? I think I'm going to stick a needle in my arm today.' It doesn't start like that."
How it often gets started, he said, is by dabbling in recreational drugs, or getting hooked on painkillers after an injury, and later feeding a craving. The first time or two, he said, might be a choice. But then the body and brain often take over, pushing a deep need to keep using drugs. After that, he said, it's a constant struggle.
McIntyre said his addiction cost him his marriage, untold thousands of dollars to feed his habit, and his freedom after being sentenced to prison. After being released, he began attending Alcoholics Anonymous meetings, where he eventually met another addict whom he later began dating.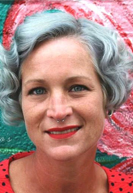 "We were two people who were broken, who completely understood where the other person was coming from or how the other person was feeling," McIntyre said. "We started our romantic relationship that has turned into a marriage since then."
McIntyre's new wife, Keree, used methamphetamines and other drugs and racked up 16 misdemeanors for bad checks and several felony charges for possession of drugs and paraphernalia. The two have since bought a house and started a landscaping business.
"I'm coming up on two years sober and it's still sometimes a struggle," Keree McIntyre said. "But recovery is possible."
More conversations
Another former drug user, Danielle Burkett, 40, of Danville, also agreed to take part in the Know the Facts campaign, saying it could normalize conversations about addiction and recovery.
"I'm seeing more open conversations, like just in my town of Danville," she said. "It's a pretty conservative town, but I'll randomly have conversations at the gas station about recovery and addiction. … The conversations [are] happening and they're helping."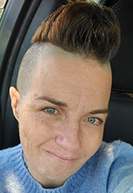 Burkett said she came from a family that abused drugs and alcohol and she was raped by a neighbor when she was 12. A year later, she began using mushrooms and LSD. Soon after, she began using ecstasy and other drugs. At age 17, she turned to prostitution to support her drug habit and got introduced to even harder drugs.
"And by 22, I was introduced to opiates," she said. "And those are kind of what brought me to my knees."
Along the way, she found a doctor who would give her prescriptions for Adderall and Xanax, which gave her a feeling of being high every day. In 2012, she was arrested and sent to prison for shoplifting and stealing. She spent 13 months behind bars, and when she got out, she got into recovery.
Today, she is working on a master's degree in social work from Indiana Wesleyan University. She works as a recovery coach at county jails and work-release programs and is manager of peer support with the Indiana Addictions Issues Coalition, a not-for-profit based in Indianapolis that promotes recovery for those affected by addiction.
The Indiana Family and Social Services Administration, which oversees programs for mental illness and addictions, said the Know the Facts campaign is reaching more people every year. Website visits climbed 176% in the six months ending in June, compared to the same period a year earlier. The campaign also showed a 211% increase in Facebook interactions during that time.
This year, the campaign also added Instagram as a channel and had more than 1 million impressions by June.
"While it's difficult to measure a nebulous concept like stigma, we have lots of indications of increasing engagement and interest in the campaign," said FSSA spokesman Jim Gavin.•
Please enable JavaScript to view this content.