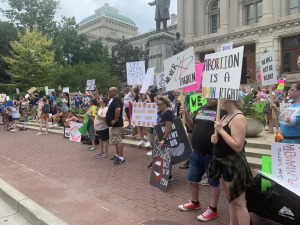 When lawmakers arrive at the Statehouse next week for the beginning of their special session, they are expected to be greeted by thousands of anti-abortion and abortion-rights activists.
Planned Parenthood, ACLU of Indiana and Women4Change have organized a joint "Bans Off Abortion" rally at 11:30 a.m. on Monday, with hopes of packing the Statehouse South Atrium.
Organizers said the purpose of the rally is to "demand state lawmakers keep abortion safe, legal, and accessible in Indiana," according to the ACLU's website. 
Indiana Right to Life plans to hold a "Love Them Both" rally the following day at 11 a.m. in the same location. 
The keynote speaker will be Angela Minter, president and co-founder of Sisters for Life, a Christian not-for-profit organization that advocates for unborn babies, their parents and families faced with unplanned pregnancies.
The organization grew out of Minter's personal experiences with aborting two babies as a teenager and what she describes as the devastating consequences the abortions had on her spirit, soul, body and family.
In anticipation of the crowds, state police will be staffing additional officers at the Statehouse to support Capitol Police throughout the special session, according to Ron Galaviz, chief public information officer for Indiana State Police.
The Indiana Department of Administration is working closely with state police to ensure safety at the Statehouse during the special session, a department spokesperson said.
The rallies come after the veil of secrecy that hung over Senate Republicans' abortion bill was finally lifted this week, and abortion rights supporters and opponents quickly found things they didn't like in the proposed legislation.
On Wednesday, Senate GOP leaders presented a bill that would ban nearly all abortions except in cases of rape, incest and pregnancies that threaten the life of the mother.
 Indiana Right to Life called the proposal "weak and troubling," saying it fails to provide any meaningful enforcement provisions, while Planned Parenthood said the legislation "eliminates access to basic health care in Indiana."
Please enable JavaScript to view this content.