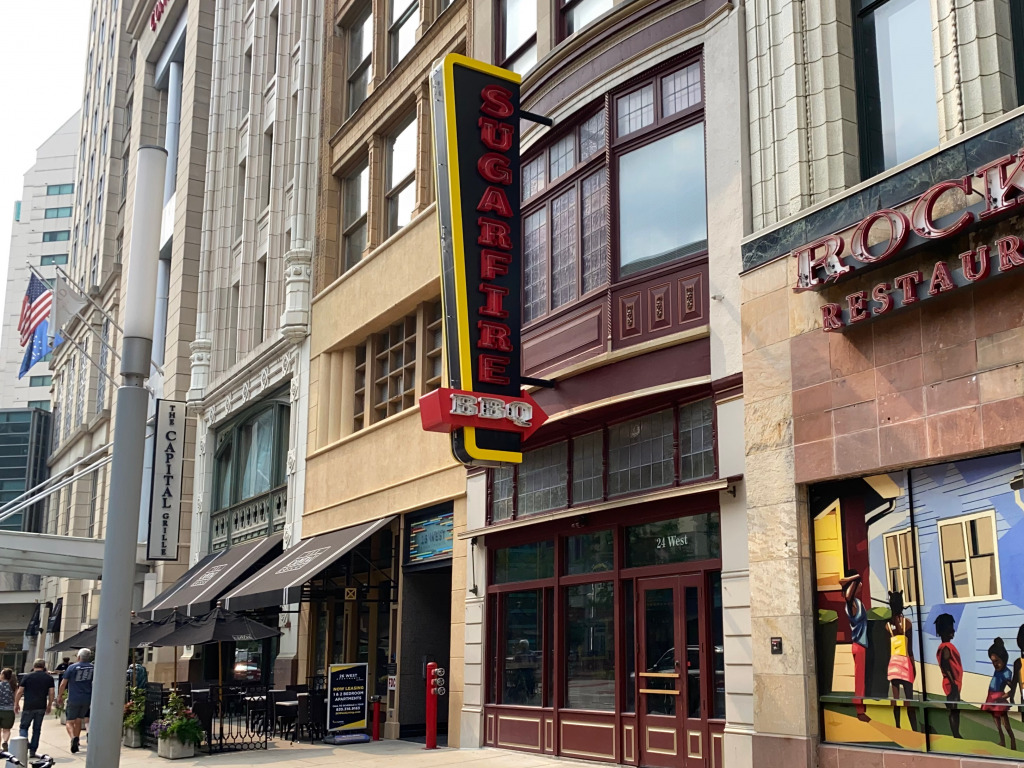 Taco Bell Cantina, a fast-food concept that brings together alcohol-infused drinks and Crunchwrap burritos, is expected to open in downtown Indianapolis.
The former location of Sugarfire Smoke House restaurant, 24 W. Washington St., has been leased for a Taco Bell Cantina by California-based Flynn Restaurant Group, according to Nick Wright, principal of Newbridge Commercial Real Estate.
Launched in Chicago in 2015, Taco Bell Cantina—known for serving alcoholic beverages and offering amenities such as wedding chapels and video game lounges—presently operates in 13 states and Washington, D.C. The Indianapolis Taco Bell Cantina would be the first in Indiana.
The restaurants serve beer, wine, sangria, Baha Blast margaritas and Twisted Freezes spiked with rum, tequila or vodka. Many locations stay open as late as 2 a.m.
Wright said the lease agreement includes 2,850 square feet on the ground floor of the Lieber Building, a structure next to the Conrad Indianapolis Hotel that was originally built in 1897 and rebuilt following a 1920 fire. Wright represented landlord Goodman Jewelers Inc., Goodman Court Street Inc. and Goodman Quad Limited in the agreement. The Goodman entities are collectively known as Two North Meridian Co.
An expected opening date for the restaurant was not provided.
Representatives of Taco Bell declined to comment for this report. Attempts on Monday to reach Flynn Restaurant Group were unsuccessful.
Flynn, the largest franchise operator in the United States, owns Taco Bell, Pizza Hut, Wendy's, Applebee's, Arby's and Panera locations that generate about $4.5 billion in annual revenue, according to industry publication Franchise Times.
The Sugarfire barbecue restaurant closed in 2020 during the pandemic and never reopened. Sugarfire's operators later filed a lawsuit against the landlord in a dispute over rent payments in a case that has since been settled.
Taco Bell, owned by Louisville, Kentucky-based Yum! Brands (also owner of Pizza Hut, KFC and the Habit Burger Grill), has a location in the third-floor food court of Circle Centre Mall across the street from the future Taco Bell Cantina.
Please enable JavaScript to view this content.