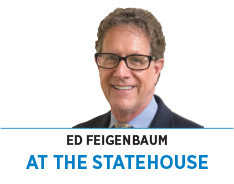 This will probably be the last full week of service as speaker of the House of Representatives for Rep. Brian Bosma, R-Indianapolis. He announced on Organization Day in November that he would not seek another House term in 2020, and planned to resign his seat shortly after the end of the 2020 session.
Bosma also pledged that he would relinquish the speaker's gavel before March 12, the planned last day of the session, to his successor, who was chosen by the House Republican Caucus late last year. Rep. Todd Huston, R-Fishers, will succeed Indiana's longest-serving speaker.
As speaker, Bosma helped achieve historic Republican wins—both legislative and political—but found his path to higher office blocked by circumstances.
Despite his political aspirations, after an initial rocky term as speaker when Republicans briefly took over the chamber for the 2005 session, Bosma adroitly discerned the most effective way to comport himself was as speaker of the House, and not speaker of just his party—a style also more conducive to his personality.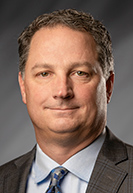 He paid more than lip service to minority Democrats, left much of the partisan debate to floor leaders, and—with a handful of exceptions notable because there were so few—largely allowed committee chairs to use their own discretion. There would not have been a front-page IBJ story last week about the Geist Conservancy District measure involving his own House District 88 had Bosma been less deferential last year.
He set the tone for policy discussion within his caucus, drawing up the initial agenda and trying to keep his caucus hewing to it and not skewing to issues that would split his membership—or the state.
Huston made his bones steering the current budget as co-chair of the House Ways and Means Committee (handling a delicate situation there deftly as well) and concurrently shepherding the omnibus gambling bill to passage. He ultimately voted against it, surprising even Bosma, while ultimately earning the respect of colleagues for listening to everyone on everything on both the budget and the gambling bill—and, for a change, the budget was more a House creation than one of the Senate.
Huston initially aspired to become the House fiscal leader, but found he had a gift for forming coalitions and voting blocs.
He impressed colleagues with a deft touch juggling the 2019 session's two arguably most important bills—listening to concerns and input from members individually—and standing up to Senate budget writers. He also performed the heavy lifting on an earlier gubernatorial workforce-development package.
Don't expect much from Huston in the way of policy changes, but you will see more policymaking based upon hard data.
Huston isn't wedded to policies of the past simply because they were justified when enacted and once worked. Early in his tenure, he questioned many shibboleths of gambling, leading to the omnibus gambling bill some five years later, in 2019—and his thought process also did not go unnoticed by a pre-gubernatorial guy named Eric Holcomb.
His work on gambling and workforce-development overhauls shows a willingness to step back to assess where we are, where we want to be headed, and whether the current rubric will help us get there in the time frame he's identified. He's willing to provide a glide path for those unduly affected by change.
A Huston hallmark is a propensity to compromise—if that compromise is in the state's best interest—and he will not let his personal feelings stand in the way of the will of his caucus.
The bottom line, as Huston said of one big measure he wrangled, is that "you just try to get it to the spot where four people can agree, with the support of their caucuses, to sign a [conference] report."•
__________
Feigenbaum publishes Indiana Legislative Insight for Hannah News Service. He can be reached at EDF@hannah-in.com.
Please enable JavaScript to view this content.