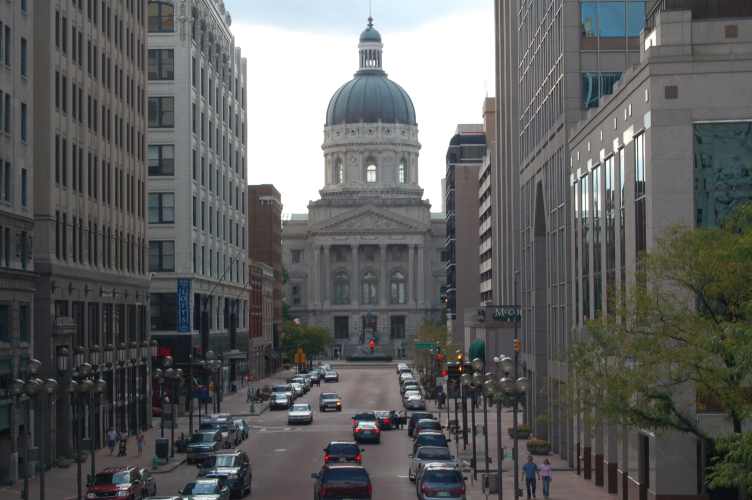 The U.S. Census Bureau says data needed for Indiana lawmakers to redraw the state's legislative and congressional districts will be ready Aug. 16, and legislative leaders are planning to hold hearings across the state that month to receive public input on the once-a-decade task.
Legislative leadership met last week to hash out some of the details but have yet to decide exactly when to call lawmakers back to the Statehouse to actually draw the new maps. Republicans will control the process because they hold supermajorities in the Indiana House and Senate.
House Speaker Todd Huston, R-Fishers, told IBJ in a written statement that it is still too early to set confirmed dates, but lawmakers should expect to return sometime in September.
"At this time, many details remain uncertain as we await the data from the U.S. Census. We've told our members to be ready to come back to session during mid-to-late September, and we will confirm a timeline as soon as possible," Huston said.
Senate Minority Leader Greg Taylor, D-Indianapolis, said last week's leadership meeting with Huston, Senate President Pro Tem Rodric Bray, R-Martinsville, and House Minority Leader Phil GiaQuinta, D-Fort Wayne, did result in discussion on some tentative dates for public hearings on redistricting across all nine of Indiana's congressional districts. Those hearings would be conducted before the legislature reconvenes to draw the maps.
Taylor said discussions centered on public hearings being conducted Aug. 6 and 7 in eight of the districts by members of both the Senate and House Election Committees, which are charged with drawing the maps. A final hearing would be in Indianapolis on Aug. 11 or 12, Taylor said. Details on the time and place of each hearing are still being worked out.
Taylor said under that timetable there would be no proposed maps to look at during the statewide hearings because the census data would not not be available until Aug. 16. He said Democrat leadership suggested holding hearings after Aug. 16, but GOP leadership insisted there would not be enough time.
Without maps, Taylor said, "it should be interesting."
Huston did not respond directly to questions about the timing of the public hearings. Bray's office did not offer a comment.
Once the Legislature receives the data from the U.S. Census Bureau, it could take about two weeks for the Legislative Services Agency to download the data and draw up some proposed maps.
The maps would then move through the legislative process in the House and then the Senate, which would include standard committee hearings open to the public.
Pandemic-related delays in the census data have pushed back the legislature's traditional map-making schedule by months. Redistricting is usually completed by the time the legislature's regular session ends in April, but this year lawmakers will have to return in September solely to focus on redistricting.
Taylor said the delay could cause a time crunch for any lawmaker who happens to get drawn out of their existing district and wants to move to improve their election chances in 2022.
Indiana law requires candidates to live in their district for at least a year before the November election. That means lawmakers would have little more than a month to move to their desired district for the 2022 election cycle if redistricting isn't finished until late September or early October.
Please enable JavaScript to view this content.