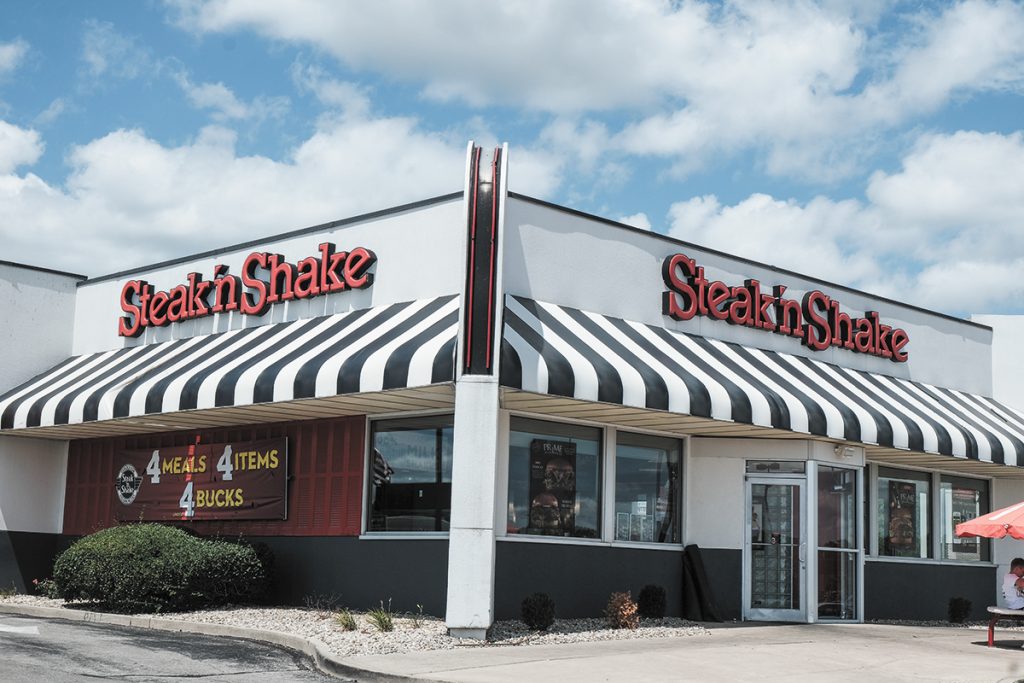 Indianapolis-based burger chain Steak n Shake has slowed the bleeding from its hundreds of restaurants during the pandemic but now faces a legal battle over its plans to raise cash by selling more than a dozen locations, including two in Indiana.
Biglari Holdings, the chain's parent company, reported on Friday that Steak n Shake lost $1.1 million in the second quarter, which was a vast improvement over the nearly $11 million loss that it posted in the first quarter of this year.
It closed 57 restaurants over the first quarter due to the pandemic, leaving it with 553 stores. At the end of the second quarter, the chain had 541 locations, after the closure of five company-owned restaurants and seven franchised stores, Biglari said in the quarterly report.
The $1.1 million loss in the second quarter also marked an improvement over its loss of $3 million in the second quarter of 2019. But the big difference in current operations is the chain's massive loss in revenue. Steak n Shake had revenue of $156 million in the year-ago quarter but just $78.2 million in the second quarter of 2020.
All of the chain's dining rooms were closed by the end of the first quarter due to the COVID-19 pandemic, but many locations continued to offer drive-thru, takeout and/or delivery.
Due to restaurants' scaled-back service, the cost of operating the stores shrank significantly. Restaurant operating costs during the second quarter of 2020 were $27 million, compared to $78.6 million in the same quarter of 2019.
"The decrease is primarily because of reduced labor costs," Biglari said in the report Friday.
Steak n Shake hopes to reopen its dining rooms for counter service, but doing so will require big investments in equipment.
"Steak n Shake intends to fund these investments mainly by selling owned real estate via an auction process," according to Biglari's report.
But its plans to sell 16 restaurants has hit a roadblock, Steak n Shake claims in a complaint for a federal lawsuit filed Aug. 4.
It alleges that Wilmington Trust, which represents lenders that extended $220 million in credit to the chain in 2014, has not agreed to release its security interest in the properties, and thus has blocked the sales.
Steak n Shake has identified 16 properties that it wants to sell in Indiana, Ohio, Michigan, Alabama, Pennsylvania, Iowa, Illinois, Florida, Missouri and Texas. The two Indiana restaurants are located in Bloomington and Martinsville.
It expects to reap between $6.2 million and $9.2 million in cash for the properties, according to the complaint.
Steak n Shake claims that it is clearly allowed within the terms of the credit agreement to sell the locations. But Wilmington Trust, which is a financial services company based in Wilmington, Delaware, so far has refused to comply with Steak n Shake's requests to release its interest.
"Wilmington has only delayed and interfered with Steak n Shake's efforts at every turn by issuing onerous requests for information that is either irrelevant, or that the Company has no obligation to provide—and that Wilmington had no right to demand," according to the complaint.
Steak n Shake has asked the court to declare that the transactions are permitted and that Wilmington must release any liens or collateral it holds over the properties. It also seeks damages, as well as compensation for its costs and attorney fees.
A representative of Wilmington Trust did not immediately respond to IBJ's request for comment on Monday morning.
Steak n Shake has struggled in recent years, with customer traffic counts sliding 22% from 2015 through 2019 and operating losses in 2018 and 2019 totaling $29 million.
San Antonio-based Biglari staged a startling turnaround in the second quarter of this year, according to its report. In addition to Steak n Shake, it has a broad range of investments. It holds nearly 9% of the Cracker Barrel restaurant chain, and also owns insurance companies, an operator of oil fields, men's magazine Maxim and steakhouse franchising firm Western Sizzlin.
In the second quarter, it reported net income of $42.5 million, following a $137.9 million loss in the first quarter. By far the biggest contributor to the rebound was income from its investment partnership, which swelled to a $59.2 million gain in the second quarter after a $175.7 million loss in the first quarter.
Please enable JavaScript to view this content.