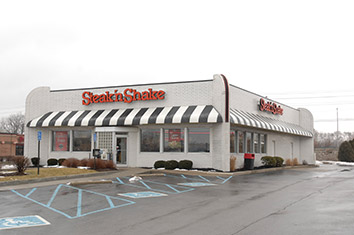 Indianapolis-based Steak n Shake Inc. is facing more setbacks in its already-suffering financial situation due to a new legal settlement and a downgrade in its credit rating.
The fast-casual burger chain has agreed to pay $8.35 million to settle two lawsuits that claimed the chain failed to pay managers for overtime hours they worked.
Additionally, credit ratings agency Standard & Poor's this week demoted Steak n Shake's credit rating from CCC to CCC-, a rating that falls under "junk" status, or non-investment grade.
The rating "reflects our belief that the company may be unable to meet its financial obligations because of its weakened liquidity and thus could pursue a restructuring or a distressed exchange in the next six months," S&P said.
Overtime legal settlement
The settlement likely puts an end to a drawn-out legal fight that began five years ago. One of the suits was filed by Steak n Shake branch managers in St. Louis in 2014. The other was filed in 2017 by two Illinois women on behalf of managers at locations outside St. Louis. Class-action status was sought for both suits.
The suits were settled together after mediation in May, according to Brendan Donelon, one of the attorneys involved in the cases.
Steak n Shake entered mediation after losing the first case in court in February. A jury awarded the managers about $3 million for lost overtime compensation. Then, on May 10, U.S. District Judge John A. Ross doubled the award. He also ordered the chain to pay the managers' lawyers almost $1.6 million in fees and about $40,000 in costs, putting Steak n Shake on the hook for about $7.7 million.
Faced with another court battle and possibly another hefty judgment, Steak n Shake opted to settle both cases. According to a July 22 court filing, $5.2 million from the $8.35 million settlement will be split among the managers, and the rest will be used to pay attorney fees.
The settlement payments are still pending approval from U.S. District Judge John Ross.
Donelon said he does not have any other cases pending against Steak n Shake. He declined further comment on the case, citing terms of the settlement.
Steak n Shake did not respond to a request for comment.
Financial woes
S&P's downgrade of Steak n Shake's credit rating came after the agency decided the chain was in increased danger of not being able to make near-term payments on its debt.
Steak n Shake is burdened with about $180 million on an outstanding loan, due to be paid off in March 2021. Meanwhile, its operations are struggling.
The company lost $10.7 million last year and another $18.9 million in the first quarter.
The chain has closed dozens of company-owned restaurants in recent months with hopes of reopening most of them under franchise agreements.
The chain, owned by San Antonio-based Biglari Holdings Inc., has seen a pattern of decline for several years. Steak n Shake's same-store sales declined 5.1 percent in 2018, the third straight year of declines in that category, according to a company report. Customer traffic counts have fallen 13 percent over the last three years and 7.7 percent in the first quarter.
Steak n Shake reported having 580 locations as of March 31, down from 626 at the end of December. The number has continued to decline due to further closures.
Please enable JavaScript to view this content.