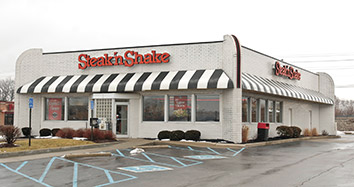 Steak n Shake has closed dozens of company-owned restaurants since the beginning of the year—including at least five in the Indianapolis area—but says those closures are temporary while it looks for franchisees to take over their operations.
The struggling Indianapolis-based restaurant chain, which has been plagued by shrinking sales and customer traffic for the past three years, shut down at least 46 corporate locations in several states in the quarter ended March 31. That number climbed to more than 60 by late April, according to  published report from a shareholder.
In Indianapolis, four Steak n Shake restaurants are listed as temporarily closed:
— 4105 E. 96th St.
— 5827 E. 71st St.
— 3810 W. Washington St.
— 5635 W. 38th St.
In addition, the Steak n Shake at 635 E. Carmel Drive in Carmel also closed late last month. Elsewhere in central Indiana, the restaurants at 3615 S. Reed Road in Kokomo and at 5901 National Road East in Richmond also are listed as temporarily closed.
Representatives of San Antonio-based Biglari Holdings Inc., which owns the chain, did not respond to questions from IBJ about the closures on Monday morning.
Via Twitter, the company has said that it has "temporarily closed select locations and they will reopen under new franchise agreements."
Calls to most of the local restaurants that have closed went unanswered, but an employee at the East Carmel Drive store said the location would remain closed until a "franchise partner" was found to take over operations. She said there was no timetable for that transition.
Steak n Shake Franchise Operations Chief Financial Officer Thomas Murray told Restaurant Business Magazine in late March that some restaurants that have closed already have a franchisee "in process of taking over the unit."
It's unclear if all of the local locations were closed to make room for franchisees. The location at 5827 E. 71st St., just off Binford Boulevard, was shut down by the Marion County Health Department in mid-April for pest and sanitation issues.
Steak n Shake owns more than 400 of its 626 restaurants but announced a strategy last year to move many of its stores into the hands of franchisees. In a program announced in August, the company said it wanted to convert company-operated restaurants into single-unit franchisee-operated restaurants by offering "franchise partnerships" for $10,000 each.
The restaurant chain's previous franchising model called for franchisees to pay a franchise fee ranging from $25,000 to $40,000 as part of an initial investment that varied from about $672,000 to more than $1.8 million per unit, depending on the size and location of the restaurant.
Those franchisees, however, had ownership stakes in their properties. The new franchise partners in the new model do not.
A shareholder who recapped Biglari Holding's annual meeting on SeekingAlpha.com in late April said shareholders were told that only four franchise partners were in place under the new model at the beginning of the year.
The shareholder also said CEO Sardar Biglari hinted that further closures could be on the way, but Biglari refused to answer questions about future closure numbers.
Biglari has said he favors franchising because it is less capital-intensive than owning restaurants and provides a steady, reliable stream of cash in the form of franchise fees and royalties on sales. He's also said another plus is that owner-operators are more likely to excel at restaurant management than traditional store managers.
Biglari Holdings announced Friday that Steak n Shake suffered a loss of $18.9 million in the first quarter, down from $992,000 in the first quarter of 2018. Revenue at the chain fell about $20 million, or 10.6 percent, to $170 million.
Sales at Steak n Shake restaurants open at least 18 months fell 7.9 percent and customer traffic dropped 7.7 percent compared with numbers from a year ago. Same-store sales at the chain have fallen for 11 of the past 12 quarters.
Steve Delaney, a veteran real estate broker with the local office of CBRE, said coming back from closures could be a tall task for new Steak n Shake franchisees.
"Restaurants such as Steak n Shake spend years trying to develop a customer base at a particular site, and then to close can sometimes be devastating," he said. "That customer base would then tend to go to the other nearby restaurants that have similar price points or food offerings.
"It can be very difficult to win that customer back, period, generally. And if a restaurant is closing temporarily, it means there was kind of a problem at that particular location, so that makes it even more difficult to recapture the customer base."
Stock in Biglari Holdings fell Monday, with Class A shares dropping 6 percent, to $627.65 each, and Class B shares sinking 8.2 percent, to $119.50.
Please enable JavaScript to view this content.