Republican Steve Braun has suspended his campaign for Congress due to health issues.
In a statement released Monday morning, Braun, 59, said during an annual visit to his doctor, an issue was identified requiring him to step away from his campaign for Indiana's 5th Congressional District.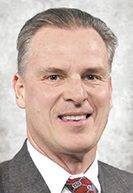 Braun, a former commissioner of the Indiana Department of Workforce Development and brother of U.S. Sen. Mike Braun, filed his paperwork to run in the 2020 GOP primary in August.
"I am both frustrated and disappointed to have to suspend my campaign at this critical juncture," Steve Braun said in the written statement. "Now, more than ever, we need to send individuals to Washington who have the capability, the experience and the willingness to address the problems we face."
The 5th District includes the northern portion of Indianapolis and the northern and eastern suburbs. The seat is being vacated by Republican Susan Brooks, who has represented the district since 2013 and announced in June that she would not seek re-election in 2020.
This would have been Braun's second run for Congress. The Zionsville resident unsuccessfully ran for Indiana's 4th Congressional District in 2018 in a three-way Republican primary. He did not live in the 4th District—which includes parts of Boone County, but not Zionsville—but federal law only requires that congressional candidates live in the state they are running to represent.
Prior to running for Congress, Braun served as the DWD commissioner under then-Gov. Mike Pence. He resigned in August 2017 to enter the 4th District race.
It's unknown whether Braun will be able to return his campaign. His campaign did not provide details on the health issue.
In his statement, Braun said he wanted to have serious discussions about the nation's debt and deficit levels, problems with the health care system and issues in education.
"That will have to wait," Braun said. "Families across the country face unexpected circumstances every day, but this challenge just happened to confront me and my family as we were launching a campaign for Congress. Nevertheless, my health and family are my priorities, and they will be my focus in the months ahead."
Four other Republicans are running for the open seat—retired Riley Hospital for Children doctor Chuck Dietzen, Indiana State Treasurer Kelly Mitchell, Noblesville pastor Micah Beckwith and Concise Capital Management fund accountant Danny Niederberger.
Please enable JavaScript to view this content.