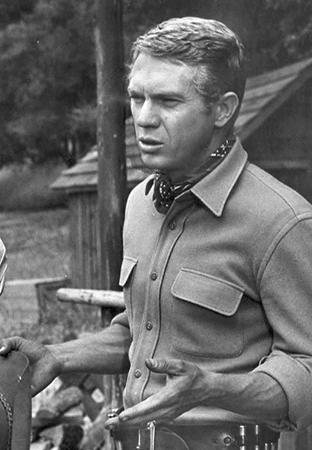 What Indianapolis native was inducted into the National Cowboy and Western Heritage Performers and the Motorcycle halls of fame, dubbed "The King of Cool," and ranked as the world's highest-paid film star? Nominated for an Academy Award, he starred in such screen classics as "The Thomas Crown Affair," "The Magnificent Seven," and "The Great Escape." The answer: Steve McQueen.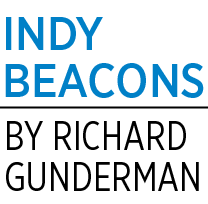 McQueen was born at the old St. Francis Hospital in Beech Grove in 1930. His father had been a stunt pilot and left his mother before the boy was born. His mother left him to be raised by relatives in Missouri, where he grew up on a farm during the Great Depression. When he was 8, McQueen returned to Indianapolis to live with his mother and her new husband.
McQueen did not perform well in school and his stepfather treated him harshly, driving him from home. He fell in with a gang. His mother sent him back to Missouri, then brought him to a new home in California to live with her third husband, whom the teenage McQueen found even more difficult to get along with.
McQueen landed in reform school. He left at age 16, eventually receiving his mother's permission to enlist in the U.S. Marines. After gaining an honorable discharge, he studied acting in New York. He also began racing motorcycles. At 25, he moved to California, where he started landing television and film roles, including his first starring role in the science fiction classic "The Blob."
McQueen then achieved wide fame through his role on the television series "Wanted: Dead or Alive," in which he played a taciturn, anti-hero bounty hunter. His first major film role, "The Magnificent Seven (1960)," brought accusations that he was stealing scenes, but the same director cast him three years later in "The Great Escape."
Commenting on his own acting ability, McQueen said, "I have to be careful because I'm a limited actor. I mean, my range isn't very great. There's a whole lot of stuff I can't do, so I have to find characters and situations that feel right. I'm not a serious actor. There's something to my shaggy-dog eyes that makes people think I'm good. But I'm not all that good."
In 1968, McQueen played the title role in "Bullitt," which featured McQueen's eponymous detective driving a souped-up Ford Mustang in one of the longest and most revered car chases in film history. Frustrated by budget overruns, the studio canceled a planned series of McQueen films, but in the decades to come, the movie's iconic status led Ford to issue three commemorative editions of the car.
In the 1970s, McQueen made a series of big-budget films, including the auto-racing film "Le Mans," "The Getaway" (in which he met his future wife, actress Ali McGraw), "Papillon" and the box office-smash "The Towering Inferno." In 1974, at the peak of his success, McQueen disappeared from films to focus on motorcycle racing. When he returned four years later, his three films performed poorly.
By the late '70s, McQueen had developed a nagging cough. He stopped smoking, but the problem worsened, and he was soon diagnosed with mesothelioma. He speculated that removing ship insulation during his service in the Marines had exposed him to large amounts of asbestos. By 1980, the disease had spread. He went to Mexico for experimental therapy but succumbed later that year at the age of 50.
For McQueen, life and acting intersected. He said, "When I did 'The Great Escape,' I kept thinking, 'If they were going to make a movie of my life, that's what they'd call it—the great escape.'" But he never ceased to prize his Midwestern roots, saying, "I'm out of the Midwest. It was a good place to come from. It gives you a sense of right and wrong and fairness, which is lacking in our society."•
__________
Indy Beacons celebrates the history of Indianapolis in the year leading up to its 2021 bicentennial by telling the stories of famous city residents. It appears the second and fourth issues of every month. Gunderman is chancellor's professor at Indiana University.
Please enable JavaScript to view this content.