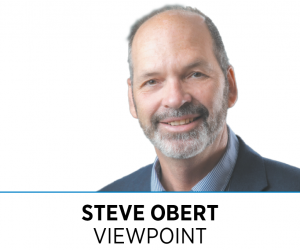 Parents across the country are scrambling to find baby formula. They're also seeing higher prices at the store for milk, cheese and ice cream. Congress can help address food shortages and inflation over the long term by passing common-sense immigration reforms. If dairy farmers could hire guest workers, we would have the skilled workers we need to care for our herds and deliver calcium and protein-rich dairy products to American families at lower prices.
My family has been farming and milking cows in Indiana since 1839. There have been lots of technological advances, but those cows don't milk themselves. Dairy farms need workers with livestock experience. We are talking about animals weighing one ton. If we don't have trained workers to care for our cattle, it becomes a safety hazard. And if America cannot feed itself, that becomes a national security issue.
Last year, the U.S. House of Representatives passed the Farm Workforce Modernization Act with bipartisan support. The legislation was a compromise among Democrats, Republicans, farmworkers' unions and organizations, and dozens of groups representing the agricultural industry. Now it is time for the Senate to take action. We need legislation that would allow farmworkers to get properly documented and continue to work in the agricultural sector as well as expand the H-2A guest worker program.
Dairy farmers like me especially need legislation that would allow dairy farms to participate in the H-2A guest worker program. The program applied only to temporary seasonal workers, such as those planting or harvesting crops. Because animals need care every day and dairy farms operate year-round, we aren't allowed to hire guest workers through the H-2A visa program. Allowing dairy farmers to hire guest workers is a much-needed change.
I talk to dairy farmers across America's heartland, and we are in agreement about what we need. We need to stabilize our workforce, introduce a year-round visa option for foreign-born workers, and increase stability in the wage structure so we can plan our expenses a year in advance. The House-passed legislation does all that. This legislation also addresses border security by establishing an E-verify requirement to check that workers are working legally.
It's up to the Senate, under the leadership of Sens. Michael Bennett, D-Colorado, and Mike Crapo, R-Idaho, to put forward a bipartisan workforce solution for the agricultural sector. This is a chance for Congress to do something rural America urgently and desperately needs.
We can't keep kicking the can down the road. A fifth-generation dairy farmer in Michigan decided to leave the business because he couldn't find qualified employees, despite offering good pay and benefits. In Maine, a 60-year-old dairy farm that used to produce 300,000 gallons of milk each year shut down because of the labor shortage. Two sisters in New York tried to revive their grandfather's dairy farm but sold their herd because it was too difficult to attract employees.
It is easy to see how our nation's food supply came to depend on foreign-born workers. Half of our nation's 2.5 million farmworkers lack proper documentation, even though they have been working hard and driving the agricultural economy for years. As essential workers, they kept food on our tables during the pandemic. We owe them dignity and stability, especially given that all Americans would benefit from addressing these workforce and supply chain problems.
It's been more than 35 years since Congress passed immigration reforms for the agricultural sector. Workers, farmers and American families have waited long enough. We need action now.•
__________
Obert is a fifth-generation dairy farmer in Gibson County and executive director of Indiana Dairy Producers.
Please enable JavaScript to view this content.